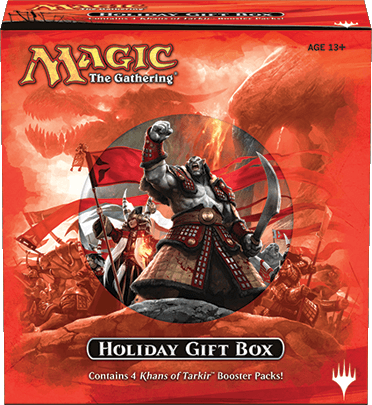 Magic: The Gathering 

Holiday Gift Box 2014


Publisher: Wizards of the Coast
Price: $29.99 official site here
The holiday season is once again upon us, and that means Wizards of the Coast have released this year's Holiday Gift Box. Focusing on the recently released Khans of Tarkir set, the Holiday Gift Box 2014 contains just about everything you could need to get your Magic: The Gathering collection off the ground.
Going on with the Khans of Tarkir theme, this year's holiday box is decorated in a vibrant red colouring that really makes it stand out. The artwork depicts the Mardu tribe as they prepare for battle on a rocky outcrop. It inspires passion, fire and just all around looks better than last year's green box.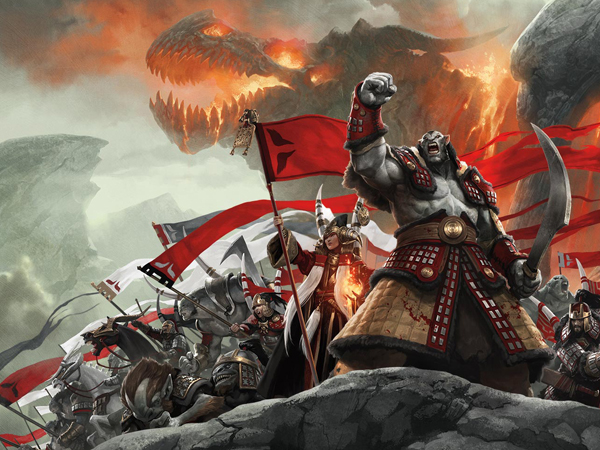 The contents of the box itself are almost identical to last year's, but with a Khans spin and includes:
4x Khans of Tarkis Booster Packs
20x Basic Lands (four of each basic land type)
1x Foil, Alternate-Art Promotional Card (Sultai Charm)
1x Storage Box for 2000+ cards
6x Plastic Storage Dividers
1x Sticker Sheet
Let's talk about the box itself. It is made of a thick cardboard and is not only study, but holds upwards of 2000 unsleeved Magic: The Gathering cards. Like previous boxes, I found this year's product to hold up to approximately 2300 cards, but doing so made them pressed together in a vice-like manner and it was difficult to take cards out without risking serious damage to the bunch.
My preferred use of this year's box is to hold my Commander decks. Having purchased one of each of the Commander 2014 decks, they each fit sleeved really nicely into the box, as well as all my tokens, dice and a pad of paper and a pen. To this end, it is exactly what I was looking for in terms of storage and transportation.
The sticker sheet is fun and they can be placed on the dividers in order to separate your cards in practically any way you wish. The stickers cover everything from card colour, set, rarity, mana cost, type, name and even the recently introduced wedge clan names (for the three colour clans present in Khans of Tarkir). Although it is disappointing that Wizards didn't include the Shard names in addition to the Clan names (Shards being the OTHER three colour combinations that were present in the Shards of Alara block from a few years back)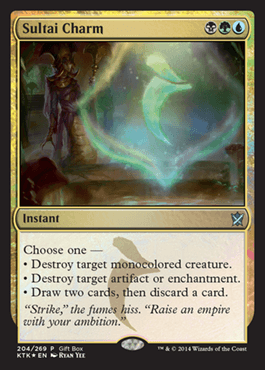 This year's included promotional card is the Sultai Charm. I'll admit, I don't play in the colours and Sultai charm to me ahs always seemed like the worst of Khans of Tarkir's five clan-based charms. Nevertheless, the artwork here is really beautiful and the fact that it is in foil is even better. The Sultai symbol on the card really pops and if I was playing the colours, I would definitely prefer those over the original art.
So in total, the Holiday Gift Box 2013 will net you – 81 new Magic: The Gathering cards, a thick and study storage box for almost 2300 cards, plastic dividers to separate your collection, and a sticker sheet to customise them to your liking. The box itself retails at $29.99, which is only $1 more than the current RRP for 4 booster packs (here in Australia, anyway). At time of writing, the alternate-art Sultai Charm is selling online for approximately $4, so really you are getting the storage box, and 20 basic land cards and potentially making a bit of a profit just by purchasing them this way.
I mentioned this last year too, but the best thing about the Holiday Box is that it doesn't discriminate. Anybody, no matter if they are pro tour veterans or brand new to the game, they can get enjoyment out of the product. The box is great for storage and the four booster packs are nothing to scoff at either. While it is almost the complete package as far as Magic products come, I still would love to see the inclusion of a d20 dice for keeping track of life totals.

Capsule Computers review guidelines can be found here.