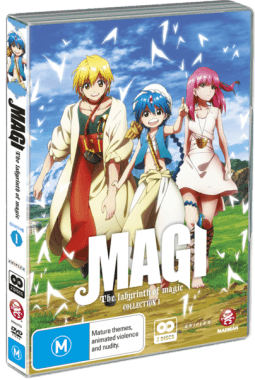 Magi: The Labyrinth of Magic
Studio: A-1 Pictures
Publisher: Madman Entertainment
Format: DVD
Release Date: April 16, 2013
Price: $59.95 – Available Here
Overview
What is there left for the shonen genre to cover? Having explored a vast array of genres and subject matter, the shonen genre now finds itself commonly retreading familiar territory, with new ground rarely being stamped out. Magi: The Labyrinth of Magic however bucks this trend with its unique setting, intriguing plot and deep characterization.
While Magi: The Labyrinth of Magic clearly bares allusions to tales such as Arabian Nights, it feels entirely fresh and new in the context of a shonen anime. The writing is superbly detailed, unexpected, engaging and even at times genuinely moving. Magi comes out of the gates hitting hard and just doesn't stop swinging. This may very well be the freshest shonen series in quite some time and its all the more exciting for it.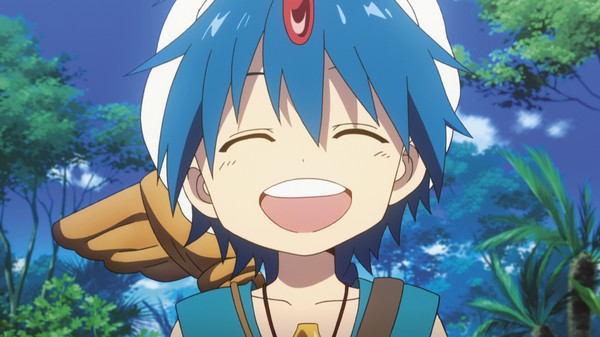 Story
Set in an Arabian Nights styled world, Magi focuses on a young boy named Aladdin who bares a great power in the form of a Djinn. Aladdin is a bit of a wanderer and manages to find himself entangled in all manner of conflicts. His carefree attitude is however juxtaposed with a wisdom that far surpasses his years. That wisdom is what makes his such a dangerous element in the mix with Magi and he gives off a Gon Freeccs (Hunter x Hunter) kind of vibe, with a gentle exterior in contrast with a darkened interior. As a matter of fact Aladdin the character represents the juxtaposition that is the series itself.
From the outside looking in Magi: The Labyrinth of Magic is a playful adventure tale, at its core though Magi is a deeply dark story detailing the worst of humanity's sins and the harsh realities of slavery. It is a stark comparison and a reminder that what you see isn't always what you get and that is a good thing.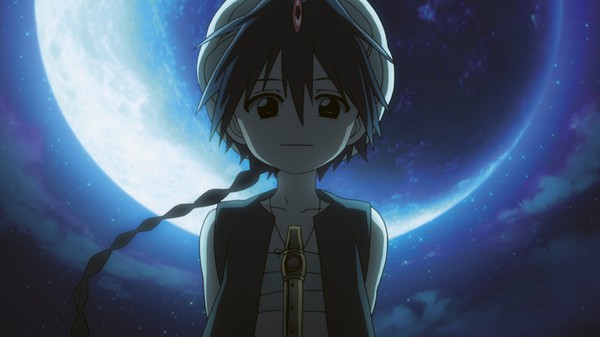 As far as the story itself, Magi is rather unpredictable, just when you think it is going in one direction is throws a spanner in the works and things go down a path that you would never have thought even existed.  It is the kind of story-telling you just cannot anticipate and that is a large part of its power. While it is said that a level of predictability can be a positive step towards giving the audience the things they want to see, Magi: The Labyrinth of Magic gives them things they didn't know that they wanted and then some.
This first part of Magi: The Labyrinth of Magic blasts through the early-goings of the manga at light-speed, a creative decision from A-1 Pictures that may frustrate fans of the manga, however it ultimately comes off as an exercise in cutting the fat. Unnecessary elements are trimmed and small cutaway scenes are omitted. What this results in is a series that sticks to the important stuff and keeps pushing forward with little moment to catch it's breath. It makes for an exciting ride but one can't help but feel like the series needs to slow down for a moment and let what is happening soak in a little.
Fresh and innovative, Magi: The Labyrinth of Magic marks a revival of the shonen anime genre that has been building up steam over the past couple years and it looks fit and ready to carry the flag of the new guard of shonen.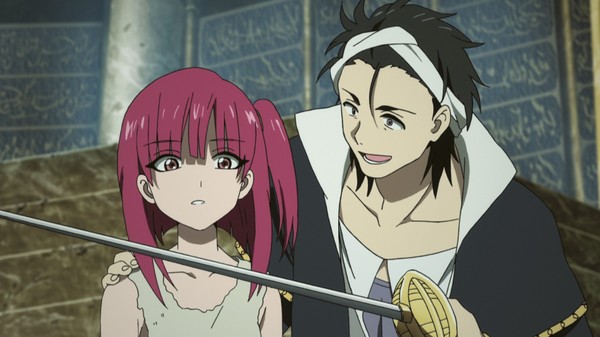 Visuals and Audio
Aesthetics are key to the setting and atmosphere of Magi: The Labyrinth of Magic and A-1 Pictures pull it off wonderfully. While there were reports of some questionable animation during its initial television broadcast in Japan, the series has been polished finely and the kinks have been ironed out for this excellent release. The animation is fluid and the art style is instantly memorable, it is familiar yet simultaneously brand new, a contrast on top of contrasts in this series that is encompassed by them.
The audio aspects of Magi are superb to say the least, the incidental music is stunning and the moods those tracks can whip up are tangible. The opening theme for the series is also worth noting, it is electric and sets the pace and tone for each episode with the deftest of ease. This release also happens to feature dual audio, with an English dub alongside the original Japanese audio track. The English dub is very well produced and features some solid voice work across the board.
Extras
This collected release of the first half of Magi: The Labyrinth of Magic is a phenomenal effort from Madman Entertainment. Included are a plethora of bonus content that make it well worth the asking price. Bundled inside the package is a special art book featuring some spectacular art from the series as well as a comprehensive episode guide that details each episode featured on the release. Also featured as on disc content is clean opening and ending themes as well as trailers. It all rounds out an all round excellent release for the series. The question is, how can Madman top this for collection 2?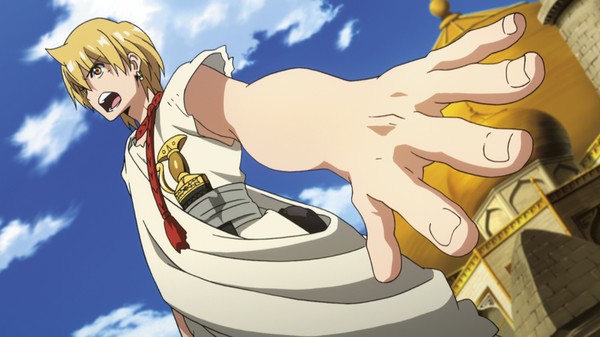 Overall
As one of the forerunners of the shonen anime revival, Magi: The Labyrinth of Magic rewrites the book on shonen with its innovative take on the genre. It breaks all the rules you've come to know from the genre and does it well. The series is light-hearted yet tragic, adventurous yet dangerous and full of hope yet in despair. It is an anime of contrasts, one thing leads to another and that thing leads to something else and in the world of Magi, it is never what you'd expect.
Unpredictable, edgy and in many ways epic, Magi: The Labyrinth of Magic redefines what anime fans know about the shonen genre all the while paving a path alongside groundbreaking shonen anime like Hunter x Hunter and Attack on Titan. This is a must watch series for all real shonen fans. It is a brand new day for shonen and Magi is the sun shining over it.

Capsule Computers review guidelines can be found here.