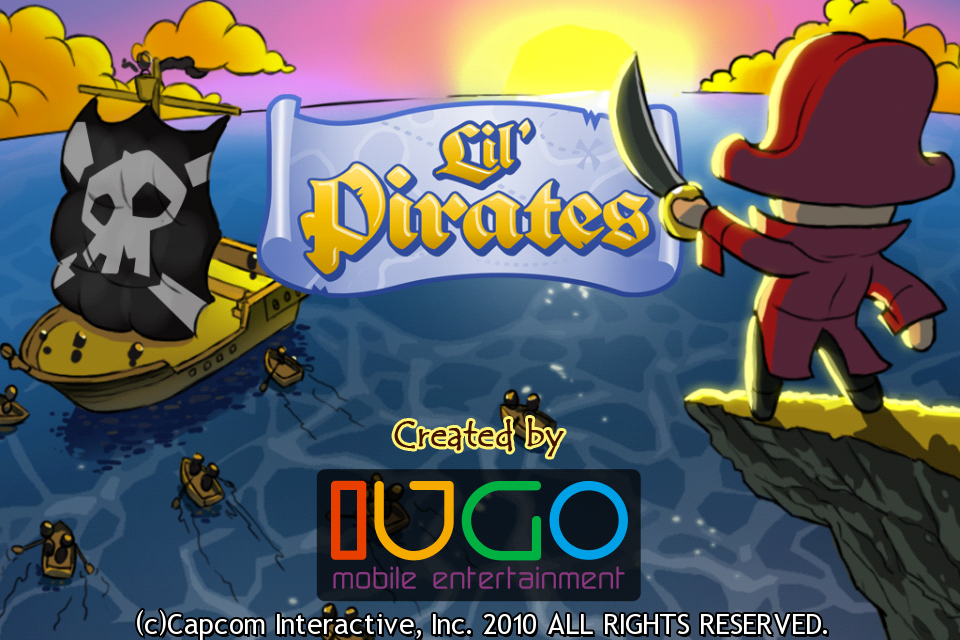 Game Name: Lil' Pirates
Platform(s): iPhone/iPod Touch/iPad (iOS 3.0 or later)
Publisher(s): Capcom Interactive, Inc.
Developer(s): IUGO Mobile Entertainment, Inc.
Genre(s): Simulation, Freemium
Release Date: 4th November, 2010
Price: FREE (GET IT NOW!)
Overview
Yo-ho-ho! Ahoy matey!! Welcome to the land of pirates and treasures! Capcom Mobile and IUGO Mobile Entertainment have worked together for the first time ever to bring you their latest freemium game. They are both great publishers and developers of games for the Apple handheld devices, with many great titles at their disposal. To name a few, Smurf's Village, Capcom Arcade, Cliffed XL, Toy Bot Chronicles, and so on.
Gameplay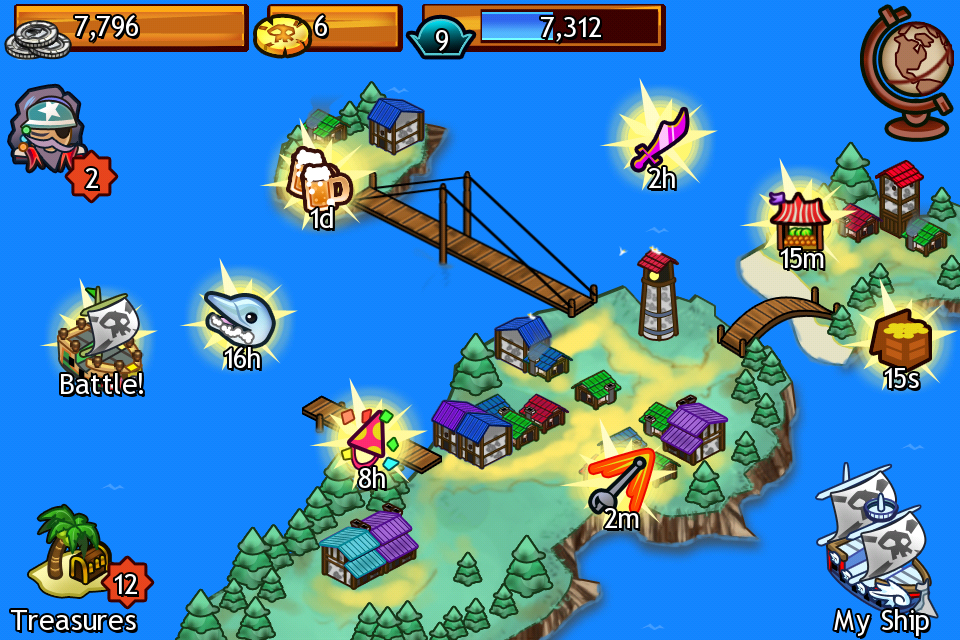 As the name suggest, you are a pirate in the land of no-where. You are now the captain of your ship (which is tiny to begin with), and you are to develop your crew and expand your ship crew to dominate the beautiful blue sea. There are a total of 12 maps and literally hundreds of locations for you to explore at the moment. More locations are accessible as you become higher level. Also, there are objectives available to set your goals and directions in the game so you are not lost in the sea of information. These objectives are of four categories, namely the basic, short-term, long-term and special objectives.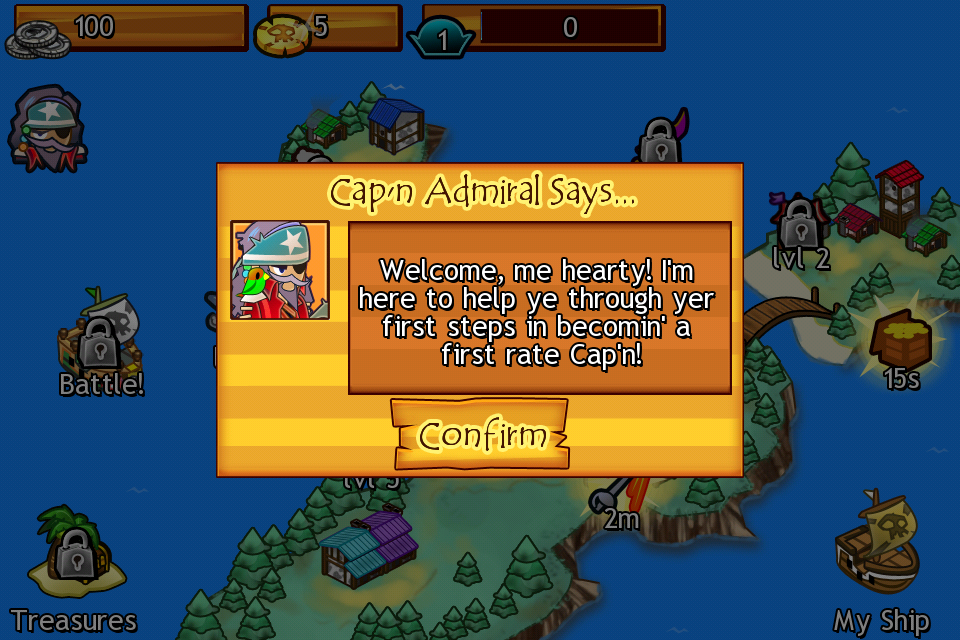 When you first started, you will be greeted by Captain Admiral. He will be the person-in-charge to guide you through the basics of the game. Simply said, the main thing to do as a pirate captain is to find treasures. Aye? Apart from that, there are plenty of mini games to keep you busy while you are waiting for your crew to come back from their exploration. You can catch the rats on your ship when you sent all your crews to look for treasures, do ship battles, play with your crew members, etc. These mini-games might be fun to begin, but it tends to get a bit boring later on as it is repetitive and easy once you get the hang of it. Other than that, you can also enjoy the beautiful scenery surrounding your ship. If you are lucky, you might even spot a pretty mermaid waving at you!
One of the thing that annoys me a lot is the turtle walking speed of *myself* on the ship. It is very irritating when I have to walk from one end to another, especially when I have a big ship. I'm pretty sure i can walk faster than that.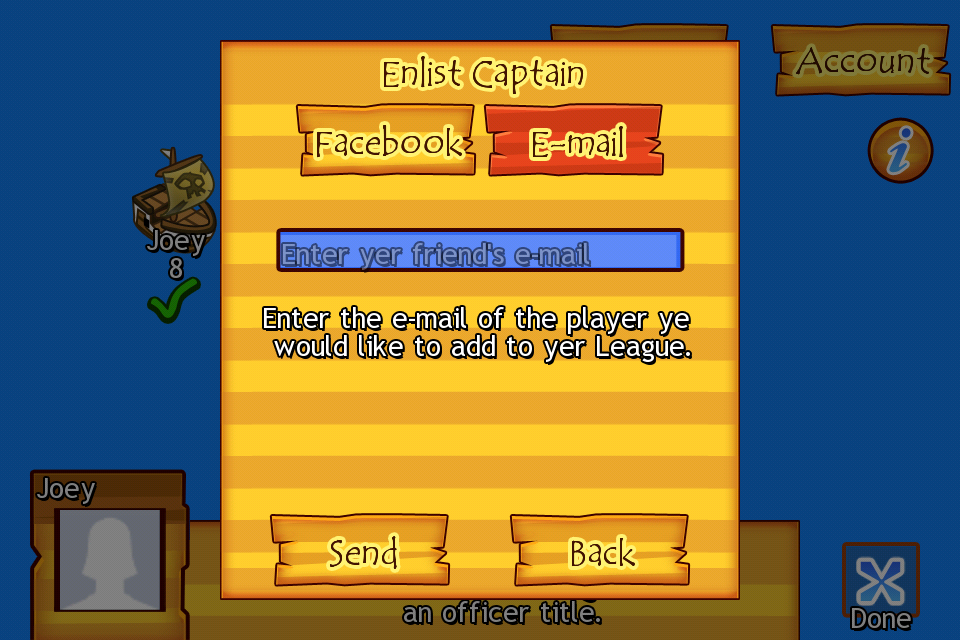 Furthermore, the social aspect is a bit lacking in my opinion. Twitter is not integrated, only Facebook. At the beginning, you will need to set up your Lil' Pirates's account to link with Facebook and add more friends from there. There is also an alternative for non-Facebook users where you add friends with their email (Seriously, how many of them don't use Facebook?). But this is much more tedious as you can only add one email at a time. Besides, you can only accept one gift at a time. I could not imagine if I have 20+ friends to add or 200+ gifts to accept. Perhaps integration of Twitter and Game Center in future updates to improve the social aspect of the game.
On the upside, they have included a great feature to exchange titles with your friends. Earning a title from your friends could give you some very nice reward to help you throughout your pirate-ty journey. You can invite your friend to join your crew too!
Titles available for exchange with your friends
First mate – get a chance to gain 25% more fame when completing a job
Quatermaster – get a chance to get 25% silver when completing a job.
Sailin master – increased the chance of getting extra treasure after a job
Appraiser – get more silver when selling any treasures
Graphics/Sound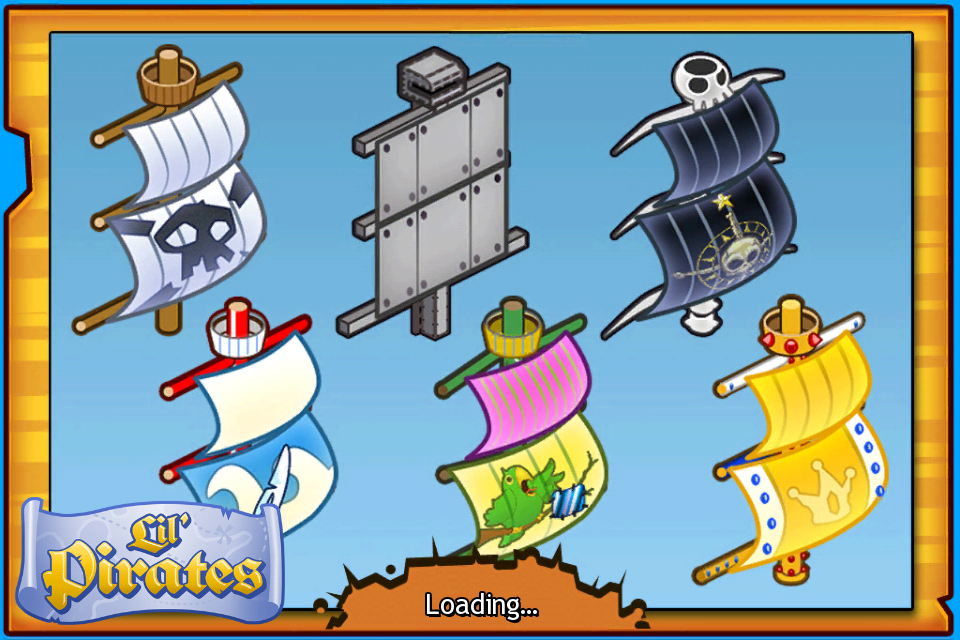 The graphical presentation of Lil' Pirates is very well done. I especially enjoy the loading screens; it's so pretty that I'd love to have them as my iPhone's wallpaper. Not to mention that it also gives you a preview of what to expect later in game, such as the different themes of your ship, premium items available to decorate your ship, etc. In addition, I also like the fact that the different type of clothing are reflected on the avatar itself. (Such as the pirate-ized clothing or the cowboy hat!) These little touches are things that made this a great game.
As for the audio, it complements the game well. It comes with a nice and cute background music that will keeps you happy while you play. The sound effects of the surrounding is also well designed, it feels like what you will really hear when you are in the middle of an ocean. There is also voice-over for some simple phrases when you tap each of your crew. Nothing fascinating, but it does the job.
Conclusion
All in all, I like the idea of being a pirate and explore the land. There are plenty of things to do and look forward to, which is very important in these genres of games. I'm sure that fans of Farmville or Restaurant City on Facebook would love to have this on their Apple mobile devices. Like the other freemium games, in-app purchases in this game are optional and available for peoples who want to speed through the game. With a free price tag, this one will worth your precious time and space on your iDevices.
I give this…