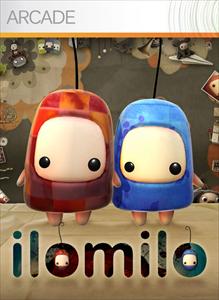 Game Name: IloMilo
Platforms: Xbox 360
Publisher(s): Xbox LIVE Arcade
Developer(s): SouthEnd Interactive
Genre(s): Platformer, Puzzle & Trivia
Release Date: 1/5/2011
ESRB Rating: E (Everyone)
Price: 800MSP ($10 USD)
Story
"Explore the visually lush dream world of IloMilo. Challenge yourself with exciting puzzles as you dive deeper and deeper into the story. Play along with a friend or family member and share the journey. Beautiful and full of charm, the game is equally appealing to seasoned gamers and young families alike. The puzzles are easy to learn, but challenging and deeply rewarding to find all the hidden surprises. Experience the unique, fun new co-op experience where you and a friend or family member can take control of ilo and milo and help guide each other through the exciting puzzles." [via Xbox.com]
Ilo and Milo are best friends, and regularly go to the park to have tea and crumpets; however, for some reason it is getting harder and harder to find each other within this park, which seems to be changing on a daily basis. Maybe it is just their memory, or the park could really be changing, but either way they need your help to find each other so that can be happy and have tea together.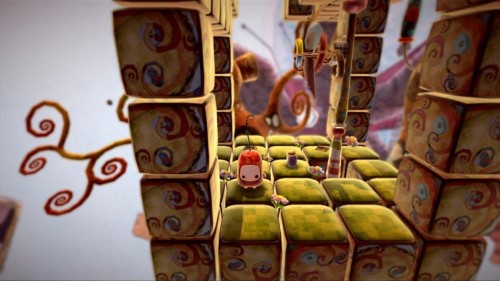 Gameplay
IloMilo has a pretty unique gameplay mechanic where you switch between playing as each character as you attempt to progress to the other character. The player must use each character to slowly get towards a location where both characters can meat up. As you progress you will find safkas to save and if you save all of one color in a zone you unlock a bonus level within that zone. There are also memory fragments to find, photos to collect, and CDs to discover as you progress through each level looking for your friend.
The puzzles are pretty interesting, and new mechanics are thrown in regularly and then combined with old one. The game starts off pretty slow and easy, but quickly increases to ever more difficult puzzles. A majority of the levels have multiple ways to beat them, and as you get better you may begin to find shortcuts and quicker routes to win; however, if you are trying to collect everything these shortcuts are pretty much obsolete. There are leaderboards to see who completed a level with the least amount of steps, and this may add some replay value but once the ultimate route is found, it isn't as if you can improve on it very much.
Co-op is the exact same game as singleplayer, except now one person controls Ilo while the other controls Milo. While it is co-op, both players can't play at the same time, you must take turns as you progress to the other person. It is essentially like playing singleplayer except you are only controlling one of the people yourself. It would have been nice if it was splitscreen, but it isn't. Co-op tasks you to progress through the entire game again from the beginning but now taking turns playing. There are a few extras, like the player waiting can fly an "IloMilo" bug and point out things, as well as find the secret easter eggs that can only be collected in co-op. The player waiting can also play instruments, which actually just gets pretty annoying if  your friend or relative keeps spamming the buttons for no good reason.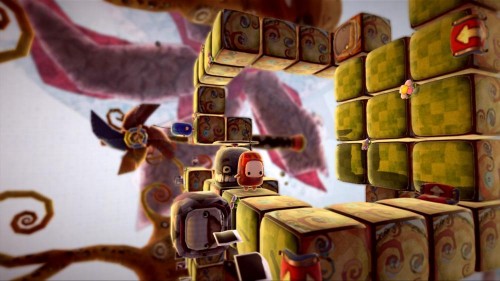 Audio & Graphics
The audio is pretty relaxing and doesn't make you feel rushed at all as you progress through the levels. This is a good thing, because some take quite a bit of working out and feeling rushed would ruin the overall feeling of the game. There are tons of audio extras as well, including an achievement that has to do with the audio and a bunch of CDs to find throughout the game.
The graphics are pretty cute too, and quite docile. everything around you is peaceful and serene and helps the player to relax. The game is basically designed to be picked up as you relax on the couch and attempt to solve puzzles. There isn't much action and there isn't a whole lot going on to distract the player, and in this type of game that is perfect!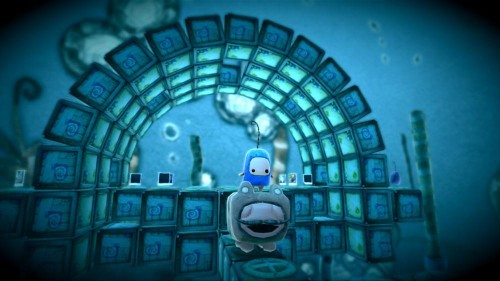 Achievements
The achievement difficulty is completely based on how well you can complete puzzles. A lot of the puzzles in this game are pretty difficult, and in order to get all the achievements you'll have to complete every single level. The co-op achievement isn't that bad, and if you know where all the eggs are, you'll easily be able to get those achievements by rushing through the easier levels in each chapter and going to the levels with the eggs. As for IloMilo Shuffle, it is an extra minigame located within IloMilo and while the achievement for getting 500 points may seem difficult at first, it is manageable after a few attempts. Just don't collect the safkas immediately after they come on the board, because the more that are on the board the more points newer ones are worth. There are also 2 avatar awards; however, both are incredibly easy to get and will be unlocked simply by playing a bit of singleplayer. You cannot unlock the Ilo and Milo avatar award in co-op because you don't collect memory fragments in co-op.
Below is the achievement list:
Anyone For Tea? – 20 – Get to chapter 2.
Halfway There – 15 – Get to chapter 3.
Smelly Jelly – 15 – Get to chapter 4.
Finally Together – 20 – Complete the game.
Meet Up – 20 – Completed a level.
The Student – 20 – Complete the tutorial.
The Hunter – 20 – Complete all bonus levels.
One Of Each – 20 – Collect one safka of each color.
The Egg Hunters – 10 – Help find all 10 floating eggs with the fly while playing cooperatively.
The Musician – 20 – Play the solo instrument to the music theme in the main menu.
The Shuffler – 10 – Get a score of 500 points or more in the ilomilo shuffle minigame.
You're In The Way – 10 – Defeat a Nabber in the same move as you complete a level.
The Avatar Awards Are:
IloMilo Shirt – Complete 3 Levels
Ilo and Milo – collect enough memory fragments to unlock a full memory.
Overview
IloMilo is an overall fun puzzle game that will get everyone thinking and may take a while to beat depending on your skill at puzzles. The audio is pleasant and the graphics are cute. Sadly, Co-op is a bit of a disappointment, but the option will help those who have people watching them. Instead of just watching, you can take turns solving the puzzles together. The only gripe I have with this game, is that there isn't much replay value, unless you are going for a good score on the leaderboards. Once you finish a puzzle, the chances of going back to that puzzle are extremely slim unless you forgot to get something the first time around. The best way I can sum up the feeling this game gave me is that it is like solving a Rubik's cube. Sure, I can solve it and it may take some people longer than others; however, once I solve it, do I really want to do it again? Only if I want to try solving it faster than I did last time, but not many people do that. So while it is fun the first time through, the second time and every time after that seem more like a chore.
I give IloMilo

Cross-Title Extra Content:
IloMilo is one of the Three titles being released as part of Microsoft's "Games for the Holidays" Promotion. By getting an achievement within either of the other two titles in the promotion (A World of Keflings and Raskulls) you can get exclusive in-game content for IloMilo.
By getting an achievement in A World of Kefling's you can get an in-game Kefling costume for Ilo or Milo.

By Getting and achievement in Raskulls you can get an in-game Raskul

l costume for Ilo or Milo.