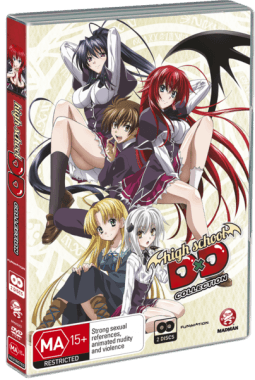 High School DxD
Studio: TNK
Publisher: Madman Entertainment
Format: DVD (Reviewed), Blu-Ray
Release Date: November 20, 2013
Price: $59.95 – Available Here
Overview
High School DxD is many things, subtle is not one of them. It is pretty much what you would expect, a unashamed fan-service heavy harem anime and if that is what you're looking for, you've found a pot of gold here in High School DxD. However if you're not into this type of anime, this is probably not something you'd be interested in.
The book's cover matches its content with High School DxD. As far as harem anime go, this one is king. Not only does it feature a great cast of characters, it also features a pretty deep story and mythos that transcends its ecchi elements. If you've come to High School DxD expecting some harem fun, you've got all that and them some. High School DxD may just be the next big harem anime.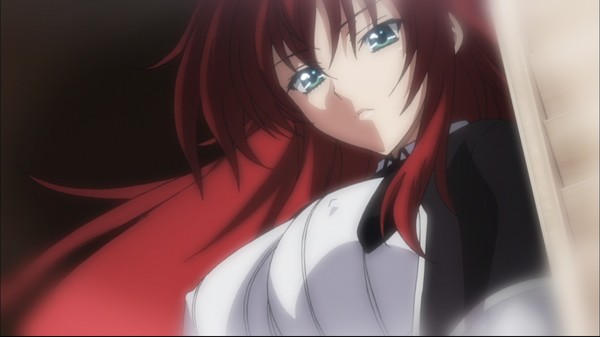 Story
As far as the harem genre goes, variety is something hard to come by. The genre is quite bloated with the same old cookie cutter harem anime, so when an anime like High School DxD comes along it is hard not to stand up and take notice.
High School DxD has quite an interesting setting to say the least, a world where devils and angels are at war with one another. It is about as left-field of a setting can get for a harem anime. While it does focus on a high school, very little of the series revolves around it, rather the series uses it more as a base of operations for its eclectic cast of sexy demonic misfits.
The series follows Issei Hyodo, a horny teen with dreams of becoming the 'harem king' which one can only presumes means that he will compile the greatest harem ever or something like that. From the get go Issei separates himself from the standard harem protagonist, he isn't at all ashamed of his perverted nature and doesn't even attempt to hide his intentions, thoughts or desires, even going so far as to voice them at any given opportunity. On top of that, Issei is no wimp, in fact he actually kicks ass. It's refreshing to see a protagonist who is so proactive and straightforward, something that anime in general doesn't often have.
The mythology behind the series adds immeasurably to it as well. The struggle between the devils and angels is a compelling one and as we come to see more and more of this world and its history we come to realise this is not your standard harem anime, this is something special, something with real substance to it.
Alongside the solid story-telling and brilliant characterization is of course the fan-service, which I'm sure most watching the series would be looking for. High School DxD is in no shortage for fan-service and actually features some pretty explicit stuff, in particular bare breasts being shown in every single episode. While this may sound a little overwhelming to some, High School DxD uses fan-service in a playful way, never coming on too strong, instead making for some sexy fun rather than throwing breasts on screen just because it has nothing better to do. The fan-service adds to the fun of the series greatly.
Ultimately High School DxD is a harem series with a great story and cast of characters, that doesn't take itself too seriously. It will having you laughing, excite you with some crazy action and undoubtedly have you hooked from start to finish.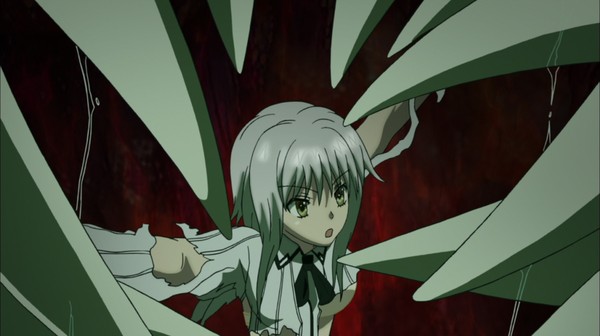 Visuals and Audio
In terms of aesthetics, High School DxD is simply gorgeous. It features superb sakuga animation and brilliant artwork. The character designs are each very unique and memorable in their own rights. The fan-service is conveyed very tastefully and is some of the best the genre has seen in quite some time.
As for the soundtrack, High School DxD impresses all around. Be it the excellent incidental music or the catchy opening and ending themes, there is a lot to like here as far as music goes. This release also happens to feature an English dub from Funimation and I must say it is one of the best dubs Funimation have ever put together. While there is instances of creative license from Funimation, deviating from the original Japanese, it actually turns out being far better than the original Japanese version. With some playful lines thrown in and about a million different variations on 'boobs', you'll be hard pressed to not laugh at this excellent dub. Of course the Japanese audio is also available on this release and it is very good as well.
Extras
If you are the kind of anime watcher who likes bonus content, Madman have got you covered with this release of High School DxD. This complete collection not only compiles all 12 episodes of the series, but it also comes jam packed with a bunch of other special features as well. On disc there are two episode commentaries, 'Fantasy Jiggles' featurettes, Japanese promos, textless opening and endings and much more. It is an incredible release from Madman and more than worth the price of admission.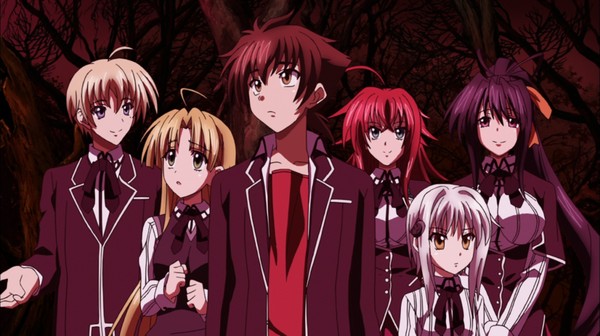 Overall
High School DxD is a harem lover's harem anime. It takes the harem genre to new heights and directions with its compelling story beneath its ecchi surface. This isn't just your run of the mill harem, this is something truly special.
It is hard to find an anime as fun as High School DxD is. Once it gets the ball rolling it just doesn't stop. It is a balls to the wall action comedy romp, that doesn't take itself too seriously. If you are looking for a fun anime to sit down and have a bit of a laugh with, High School DxD is one of the best choices available. However if you're not into such explicit fan-service, this may be one to avoid, however with how very good it is, that may be something you could look past.
High School DxD is honestly one of the best harem anime of all time. And what better way to sum up High School DxD then with the immortal words of Issei Hyodo, "Man.. Boobs sure are great!" What more can I say? This is the definitive harem anime. High School DxD is the harem king.

Capsule Computers review guidelines can be found here.