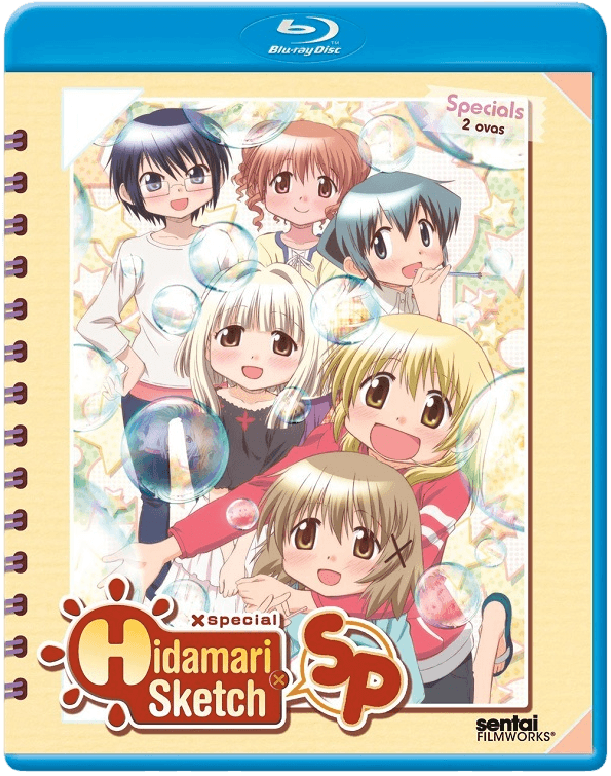 Hidamari Sketch x SP
Studio: Shaft
Publisher: Sentai Filmworks
Format: DVD, Blu-ray (Reviewed)
Release Date: December 16, 2014
Price: $24.98 – Available Here
Overview
Few slice-of-life can claim to have the longevity that Hidamari Sketch has enjoyed. Since the first season aired in 2007 four seasons of Hidamari Sketch and numerous specials have been produced and currently three of the four seasons have been released on Blu-ray in North America by Sentai Filmworks. Now while fans wait for the fourth season, the company has released Hidamari Sketch x SP. With these two OVAs now available on Blu-ray, should fans give this smaller release a chance?
Story
Considering this is only a set of two episodes that takes place three seasons into a series, viewers should likely be familiar with Hidamari Sketch in some form to get the most of these OVAs. That being said, since Hidamari Sketch is a series that lacks any real story and is simply a slice-of-life series full of happy moments and warm feelings, even newcomers could always try and sample the series this way. Especially since the 4-koma nature of the source material means that everything is as light and fluffy as possible with plenty of jokes mixed in.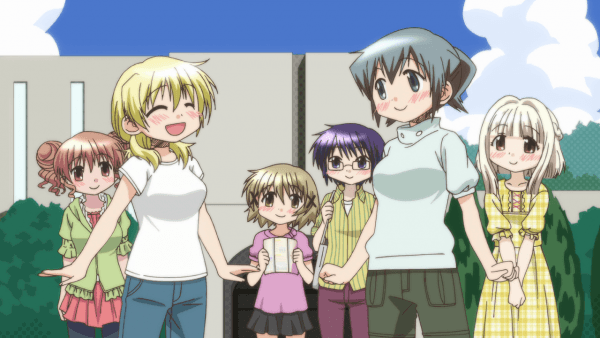 Hidamari Sketch x SP takes place after the new girls Nori and Nazuna were introduced in Hoshimittsu and although there are two OVAs, they are split into four days where all six girls go about their daily lives and spend their free time out of school. By jumping around to various days we see the girls visit an outdoor art museum where they examine the statues and try to match the strange poses while also attempting to analyze various paintings in the cutesy way that the series is known for.
Afterwards the focus shifts to the pool where Miyako, Nori, Yuno, and Nazuna mess around at the local pool with Yuno trying to learn how to float instead of simply sinking like a rock. Finally the first OVA closes out with a pajama party where Yuno ends up falling asleep first and the other girls sketch her sleeping.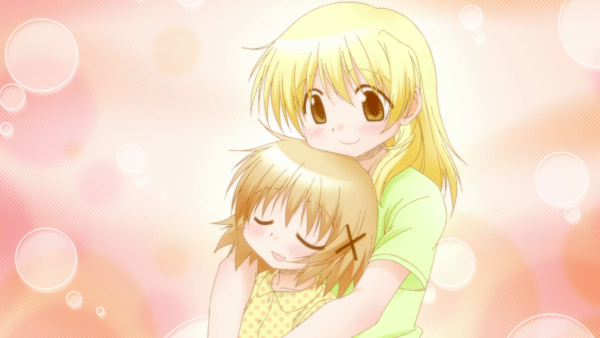 This is par for the course with Hidamari Sketch and the focus on variety in these OVAs is a great little addition to the series as these simple activities end up being rather entertaining thanks to the personality of the girls and the various gags throughout each sequence that draw humor from everyday life.
The second OVA features the same amount of variety, though we do see a little extra here as Yuno and Miyako's teacher is the butt of some jokes before the girls spend some time washing their curtains using a kiddie pool because why not. Later on the girls' landlord appears to take all six of the girls out to an all you can eat buffet as a treat that helps add an extra element to the adorable cast.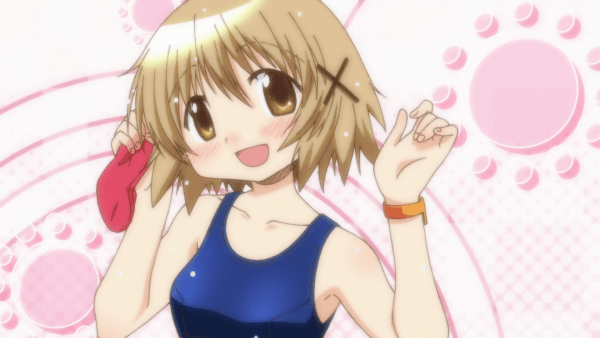 As mentioned before, fans will enjoy these specials the most but thanks to the easy to identify personalities and the well-written character interactions, newcomers will easily find themselves enjoying the series' brand of comedy. That being said, the relatively small amount of content in Hidamari Sketch x SP (less than 50 minutes total) may be something of an issue as the normal price for the release is over $20, but I can see many ignoring that in order to watch more of the endearing cast take part in various activities.
Visuals & Audio
Anyone familiar with Hidamari Sketch or Shaft will know what to expect as Shaft has given these two OVAs the same stylistic treatment they have with the rest of the series. This means that all of the unique transition scenes and sense of style all remains in Hidamari Sketch x SP which is a great fit with the soft colors used throughout the release. The same can be said about the designs of the characters which remain as familiar as ever, including the extra-wide reaction faces that they make in humorous situations.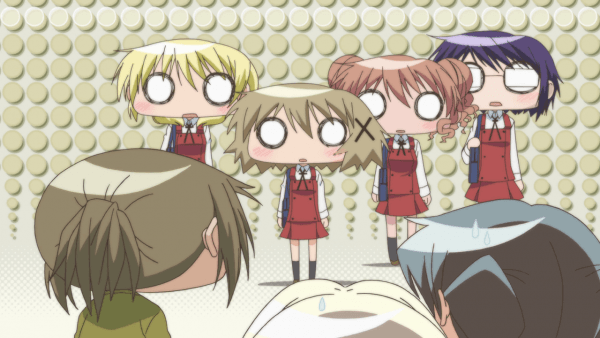 As with all of their other releases of Hidamari Sketch, Sentai Filmworks has released Hidamari Sketch x SP with only the Japanese voice track but at this point fans of the series are not only familiar with these voice actresses but will probably prefer it this way.
As far as the soundtrack goes, very little background music is used in these OVAs but any tracks that do appear are soft in tone and feel very fitting with the calming comedic nature of Hidamari Sketch. The opening theme for both OVAs is an upbeat song named "Kimagure, Jan-ken-pon" sung by the voice actresses for Yuno, Miyako, Hiro, and Sae set to an entertaining opening animation while the ending them is the calming "nora" by marble which once again is a perfect fit for the nature of Hidamari Sketch.
Extras
This release of Hidamari Sketch x SP only features the bare minimum as far as bonus features are concerned as the only extras on the disc are the standard clean opening and ending theme, disc credits, and trailers for other Sentai Filmworks releases.
Overall
Hidamari Sketch x SP remains a light and humorous series with a wonderful cast of characters that fans of the series will love. This release may be a bit small considering the standard price-tag, but the two OVAs that are included in Hidamari Sketch x SP are everything that fans of the series have fallen in love with and will definitely enjoy.


Capsule Computers review guidelines can be found here.