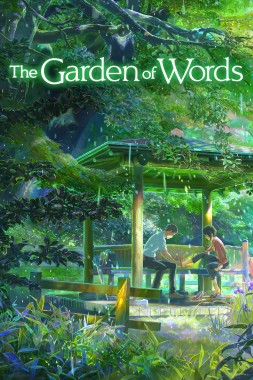 Garden of Words
Studio: Comix Wave
Publisher: Madman
Format: Cinema
Release Date: 26th September 2013
Overview
The name 'Makoto Shinkai' has become so thoroughly ingrained in the anime culture lexicon that it is almost impossible to separate the name from the work. The Garden of Words is a film that rather than being uplifted by the name of Shinkai is burdened with the expectations the name brings.
The Garden of Words is an interesting film for a number of reasons but the most intriguing thing of all is just how unlike Shinkai this film feels. This is a very different beast, one that is majestic, moving and thoughtful but all the while it is missing the magic Shinkai feeling that ties all of it together. Regardless of that it is still a great film albeit one that doesn't exactly live up to its pedigree.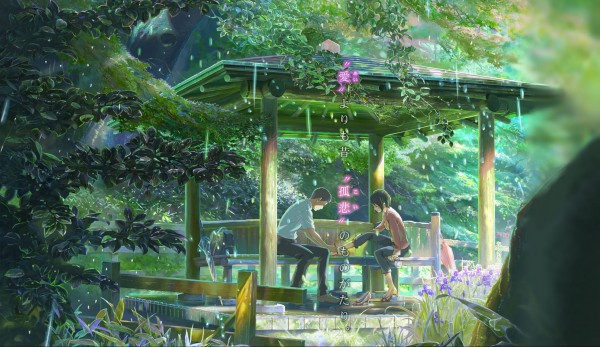 Story
Unlike his previous feature film Children Who Chase Lost Voices, The Garden of Words is a smaller story in every sense. The film runs at a mere 46 minutes in length (it is being billed as a double feature with Ghost in the Shell: ARISE at the REEL Anime Festival) and isn't as ambitious a tale as previous Shinkai works. It is a relatively simple tale free of much incident. This sets it apart from the rest of Shinkai's impressive resume of work, with the exception of his classic short film Voices of a Distant Star. Both this film and Distant Star draw a somewhat thin plot and attempt to explore the issues and feelings that spring from it.
While Voices of a Distant Star was admittedly a far better effort at this type of story-telling, The Garden of Words hits the nail on the head with its featured relationship.  In focus is a relationship between an older woman and a teenage boy. The teen named Takao happens to meet her on a rainy day in his favourite park. She bids him farewell with a mysterious poem, the words of which leave him utterly enchanted. Slowly but surely they return to that spot each and every rainy day and form a bond, all the while never truly discovering all that much about each other, not even a name. Eventually the rain clears up and the distance between them grows, without the rain they cannot find each other again.
It is a lovely story and Shinkai tells its with delicate care, but it is in its second half that it begins to lose focus. It ventures a little too much into the melodramatic side of the spectrum, but Shinkai knows better than to linger too long and brings things through to the sunnier side of the garden ending on a hopeful note.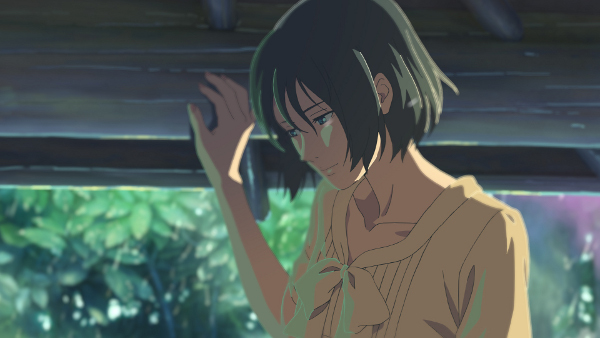 Over the course of the 46 minute length of the film we come to understand the relationship between these two strangers. The connection between the characters feels very genuine and develops naturally. The setting is unique and the titular 'garden' is a well realised locale that takes on a life of its own by film's end. The film hits all the right notes emotionally, but still struggles to bring it all together thematically. In the past Shinkai has used a through line for his story-telling, an over-arching theme that comes full circle, no such through line was evident in The Garden of Words.
This is far from Shinkai's best story-telling effort but it is a solid film all around that amounts to yet another feather in his cap that is already covered in them.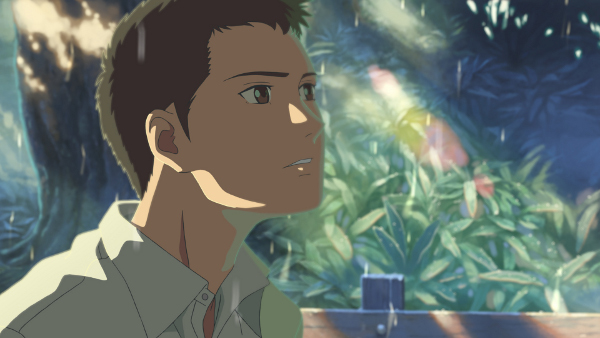 Visuals and Audio
The most Shinkai-esque part of The Garden of Words is its unmistakable aesthetics. It is a visual feast for the eyes and one of Shinkai's best work in terms of animation. The attention to detail is absolutely remarkable, with hundreds of leaves moving in unison each one highly detailed, the reflection off the puddles pooling up with rain beating down upon gravel. Shinkai captures the world in beautiful vibrant colour bursting with life. While it may not be as big and sprawling as his other artistic attempts, it is a lovely effort in aesthetics.
Much like its visuals, The Garden of Words features a stirring soundtrack that is every bit as beautiful as it is awe-inspiring. With sweeping tracks giving the sense of soaring through the rain and the quiet emotional instrumentals that hit right to the heart, this is an incredible composition from Daisuke Kashiwa. Also featured is the theme song of the film, 'Rain' by Motohiro Hata, a majestic ballad that captures the spirit of the film superbly. It caps off the film in stunning fashion, serving as the closing track as we see our two lead characters moving forward through life through the rain and all.
The film stars some pretty big names in the anime world. Miyu Irino voicing Takao and Kana Hanazawa voicing Yukari was a real masterstroke. Both had electric chemistry and bounced incredibly well off of each other. It was a showcase of voice acting talent at its best.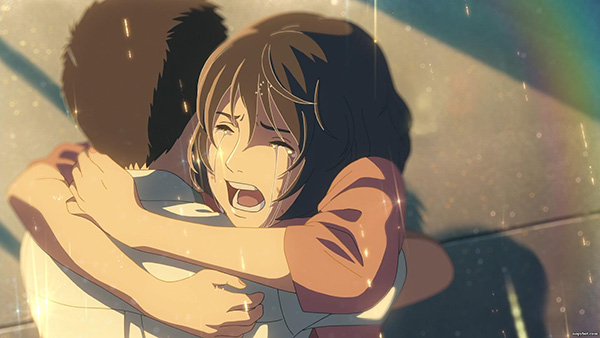 Overall
Sometimes a name can be a curse. The Garden of Words had the burden of baring the Shinkai name. It was far from his most ambitious film and it may come as a disappointment to those that watch Makoto Shinkai films with a certain expectation. This isn't a bad film in any regard, but we have seen that Shinkai and Comix Wave Studios are capable of excellence and The Garden of Words is a film that is great but falls short of Shinkai's usual standard.
The Garden of Words is a lovely enough film if you can disconnect it from the Shinkai name. This is no Children Who Chase Lost Voices or 5 Centimetres Per Second, but it is The Garden of Words and it is special in its very own way. It may not be the best film in Comix Wave's history but it is a remarkable film that is well worth watching, even if only on a rainy day.
Capsule Computers review guidelines can be found here.