Family Guy Season 14
Studio: 20th Century Fox
Publisher: 20th Century Fox
Format: DVD
Release Date: 3/12/2014
Price: $43.98 (AU) – Available Here / $29.98 (U.S) – Available Here
Overview
Family Guy returns for its fourteenth season. Containing a total of 21 episodes, the Griffins are back ruder, cruder and funnier than ever. After a few seasons in decline, does Season 14 return Family Guy to its once lofty standards? Read on to find out.
Story
Family Guy Season 14 continues the adventures of the Griffins in the town of Quahog. After being cancelled and brought back, the show's over-reliance on cutaway gags, especially real-life situations and one-note side characters contributed to an overall decline. It is a pleasant surprise that this issue is not present in Season 14 and while the season is not immune to cringe-worthy moments, it is a definite improvement on the past few seasons.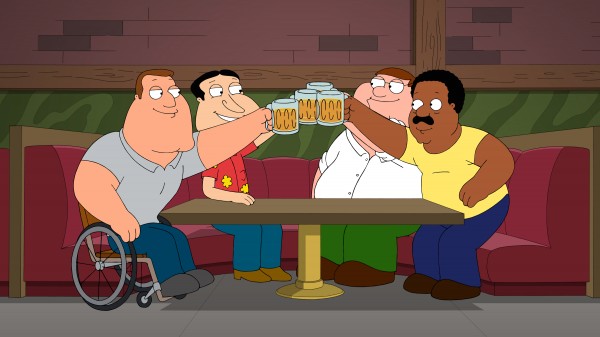 The opening episodes get the season off to a solid start. Episodes such as "Quagmire's Quagmire", "Boopa-Dee Bappa-Dee" and "Harmony's Way" are good examples of when Family Guy used to push the boundaries whilst maintaining a solid level of humour. "Quagmire's Quagmire" gave us a really good look into the character of Quagmire as he interacts with a woman who turns out to be even crazier than he is. This episode could have easily stepped over the line of bad taste but turned out to be a solid episode that played to the darker humour that is one of Family Guy's strengths.
This trend continues with episodes such as "3 Acts of God", "Secondhand Spoke" and "The Most Interesting Man in the World". In "3 Acts of God", Peter and his friend attempt to find God to ask him to stop interfering with the New England Patriots. Following on from the quality of the episode "Patriot Games", any episode that features the New England Patriots is typically well received. The challenge from God telling the guys to make Patriots Coach Bill Belichick smile was quite humorous based on prior knowledge of Belichick's personality, however those who aren't familiar with the NFL coach will still appreciate the humour in the episode.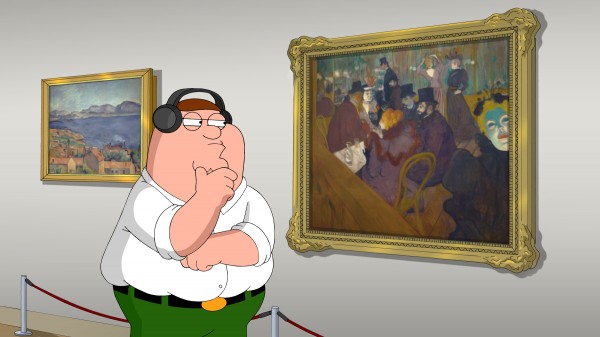 Unfortunately, for every quality episode, there was one that just fell completely flat. "A Fistful of Meg", "Peter Problems", "Fresh Heir" and "Baby Got Black" overstepped the mark in one way or another and at times were borderline unwatchable. "Peter Problems" commits one of the major sins of Family Guy and that is the overly long drawn out joke. Peter uses a forklift to save a beached whale but only succeeds in vulgarly tearing it to shreds. It isn't very funny for the first 30 seconds and definitely not funny for the next 30 seconds that follow. It raises the question of whether or not some writers actually care about their episodes or it is simply a matter of filling up time. Fortunately, these issues are fairly rare throughout.
To further iterate about some of the worst episodes on offer here, it does beg the question as to how some of these episodes are put together and at no point in the development process does someone stand up and say how terrible the idea sounds. Two big ones that baffle me as to how they made it past the writers rooms include the father-son incest and Meg getting constantly beaten up. I would much prefer shorter seasons with more quality episodes as opposed to having a regular length season that is padded with horrible ideas just to inflate episode count.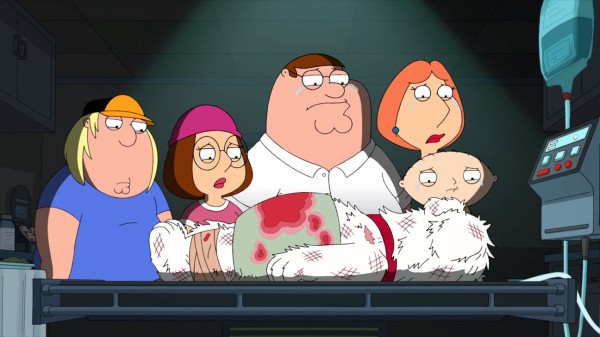 Although the quality episodes outweighed the bad overall, two stood above the rest. These episodes were "Life of Brian" and "Christmas Guy". "Life of Brian" was the much publicized episode where Brian Griffin is killed off. This was not only the major highlight episode of the season but also showed that Family Guy could convey a serious tone in what is arguably one of the best episodes since "Road to the Multiverse" more than five years ago. "Christmas Guy" sees Stewie figuring out a way to save Brian and restore order to the Griffin Family in another funny but touching episode. Season 14 also sees the return of Cleveland Brown to Quahog after the cancellation of fellow Fox show The Cleveland Show and it's good to have him back in the gang.
Visual and Audio

Since the introduction of High Definition Family Guy has never looked better. Presented in Wide Screen the viewer gets a full picture and this season is a vast improvement over the show's original run. The classic Family Guy art style is present here, with simple art, bold lines and bright colours with some CGI thrown in randomly normally for comedic effect.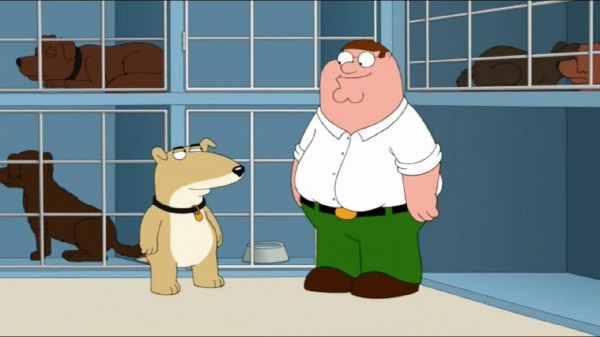 Each episode gives the option of Dolby Digital 5.1 in either English or Spanish, with the audio quality remaining high throughout. The voice acting continues its high standard, with each character being instantly recognizable and portraying their personality through their own unique sound. Celebrity voices used throughout the season include Bryan Cranston, Adam Levine, the late Lauren Bacall, with special mention going to Tony Sirico for his three-episode cameo as Brian's replacement Vinny. All do a fantastic job here especially Tony Sirico as the shady, Italian Vinny which helped eased the pain of Brian dying just a little.
Extras
The extras present on the DVD really add to the package here. Special features available include deleted scenes and commentary for each episode, a full episode storyboard animatic on "Christmas Guy". Brian Griffin: In Memoriam… sort of and a Consuela Mash- up which fans of the Spanish house cleaner will definitely appreciate. These special features are a great addition to an already quality package. Each episode also has subtitles including English, Spanish and Danish among others.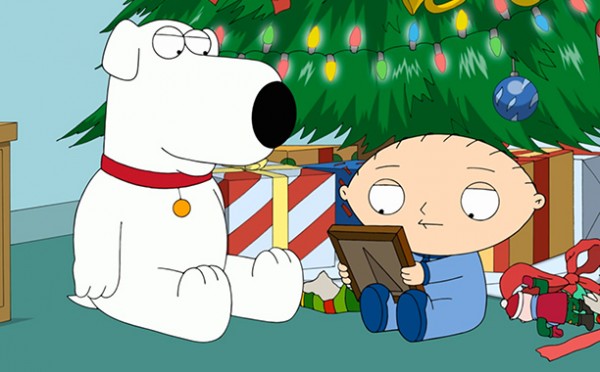 Overall
After seeing Family Guy go through both highs and the lows, it is hard to believe the show has been able to last this long. The series may no longer be reaching the hilarious heights of its earlier seasons, but Season 14 is definitely an improvement over the past few. The most pleasing aspect of this entire season is that the majority of long winded jokes seem to have gone and been replaced with some well thought out material which leads to a fairly successful season overall despite some poorly made episodes spliced in between. Stand out episodes such as "Life of Brian" and "Christmas Guy" deserve praise as does Seth MacFarlane for taking such a risk that paid off big time and episodes like these give hope that the show can return to the level of funny that once made it famous. Great visuals, voice acting and a good amount of extras make Family Guy Season 14 a good buy.

Capsule Computers review guidelines can be found here.