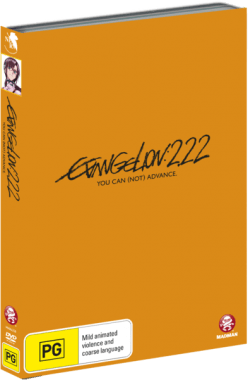 Evangelion: 2.22 You Can (Not) Advance
Studio: Studio Khara
Publisher: Madman
Format : DVD
Release Date: 15th June 2011
Price: $29.95 – Available Here
Overview
Neon Genesis Evangelion would have to be, by far, the most widespread and influential Anime series and franchise to have ever been created. It has spanned over 18 incredible years and, although it showed signs of slowing down during the 90s, it has been a fan favourite for most of those years. Every Anime fan knows Neon Genesis Evangelion and – between the original series, the End of Evangelion movies, the Rebuild of Evangelion tetralogy and it's countless marketing adventures – if you didn't know about it "back in the day" I'll guarantee you know about it now.
Story
This is the second of the four Rebuild of Evangelion movies and it takes place, story wise, directly after the first movie (you can see the review for the first movie here). It's crucial that you watch these movies in order, making sure not to skip even one, because they are incredibly story-driven and to miss one would be almost criminal. The characters from the first movie continue on into this movie with their pivotal roles still in play but with this movie comes the addition of a few more characters that play roles with the same, if not more in some cases, weight as the characters of Shinji and Rei. It is quite difficult, once again, to delve into greater detail because this movie just oozes twists and turns, if I'm to say one thing about the story in it's entirety it is that it becomes a lot harder to separate yourself from the world of Evangelion and it's characters, the way they grow and interact as well as the events that take place will throw you into both shock and awe. The stakes are raised in ways that are, almost, unimaginable and the story just forces you to think past the surface and into deeper layers of thought, while that sounds incredibly "artsy" and whimsical, that is exactly the kind of energy that the movie gives off.
We get to see, as an audience, the way that Shinji evolves and devolves mentally as well as how the people around him react to his continuing shift in and out of semi-sanity. The movie isn't all character based though, we see the appearance of more Angels and we see the battles become fiercer and more dangerous, because it's not like they were dangerous enough in the first movie. Excuse my sarcasm. These movies just pull the viewer into connecting with the characters in it. The movie hints at a great deal of things that you, kind of, have to grasp and understand yourself because a lot of it isn't exactly explained, which isn't a bad thing, it just treats the audience a different way, it doesn't hand feed us information, it gives us what we need and allows us to come to our own conclusions on what exactly is happening. Let me just end this section by saying that the end of the movie climaxes in such an incredible way, it's something that you won't see coming (had you not already seen the series) and it will leave you wanting a lot more. In a good way.
Visuals
Evangelion 2.22 is on par with Evangelion 1.11 when it comes to visuals, if anything it's actually better considering it was made years after the first movie and technology never really stops getting better so that adds to it all. I feel like they were pushing the limits with this movie, because of it's incredible story it seems like the animation team were allowed to run wild with what they could show and how they could show it and it really made for an incredible experience. With these movies there's no way they could go backwards in any part of production and that includes visuals. We get to see a lot more of the surreal side of Evangelion in this movie, we have more Angel appearances, more Eva battles and one big thing which I really cannot say because it would spoil the movie for so many people.
Audio
Everything I have said about visuals can also be said about the audio of 2.22. The quality of the voice acting and music has stayed, more or less, the same as how it was in the first movie, the voice acting cast returned for the second movie and they, once again, did an incredible job. Because of the increased tension within the story and the climactic battles and confrontational scenes, the voice actors really had their time to shine in a big way. If I have to say one thing about this movie that trumped the one before it is that during the final scenes a soft song was played, the song was actually very uplifting yet it was put in a scene of great terror and struggle which I believe was done to confuse the audience as well as scaring the audience at the same time. Such a contradiction didn't go unnoticed and it did the scenario a great deal of justice too.
Extras 

Evangelion 2.22 was released in a similar way to 1.11. The version I was given for review came with a simply-designed slipcase, instead of having a reversible cover we were just given a nice piece of art displaying the main characters on the flip-side. The movie release also came with another 20-page book which, one again, had a great deal of information from the movie alongside a huge note from the director. On-disc extras included the original release of the movie (2.02), U.S. Commentary, the Japanese original trailer, a train channel spot, DVD and Blu-Ray spots, Japanese TV spots, omitted scenes and remixed scenes. There are no lack of extras with this release.
Overall
Basically all I could say more about this movie is that it holds up nicely, it moves on perfectly from the first movie and watching this movie continues to prove that there is no slowing down for this franchise, not one bit. The fights, the characters, the visuals, the music, the tension; it's all perfect. I feel like this movie is the catalyst that separates the Evangelion movies from the series and it's done in such an epic way and I honestly don't know how the other two movies are going to get any more epic. Once again Hideaki Anno has produced another fantastic movie that does fantastically on all fronts, he's truly proven to be a man that doesn't let down his audience.

Capsule Computers review guidelines can be found here.