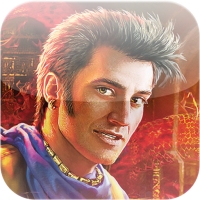 Diamon Jones: Devil's Contract
Developer: Game Factory Interactive
Publisher: Game Factory Interactive
Platforms: iPad
Release Date: April 4th, 2012
Price: $3.99 USD/ $4.49 AUD Get It Here
Overview
Diamon Jones: Devil's Contract is a hidden object puzzle game that follows world famous archaeologist Diamon Jones as he returns to his life of adventuring archaeologist. Players will need to conquer mini games that will test their puzzling skills and have a set of sharp eyes to help Diamon Jones in his adventures. Can Diamon Jones' mix of humour, hidden object hunting, and puzzles win over the heart of gamers?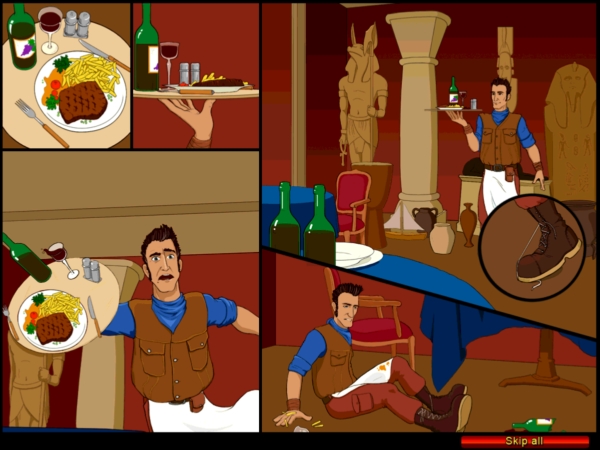 Story
Diamon Jones: Devil's Contract kicks off with our hero archaeologist enjoying a quiet life as the proprietor of a small Paris restaurant. His peaceful new career is suddenly shattered when a fat man attempts to seek refuge in his restaurant. The a demonic man with a three headed dog shows up and sets fire to Diamon Jones' restaurant. After putting out the fire, Diamon Jones learns that the fat man is seeking a sacred ink to get out of a contract. Always looking for an adventure, Diamon joins in the hunt, only to accidently sign a contract with the devil. Now Diamon Jones must get out of his contract and return to his quiet life at the restaurant. The story is told through comics and conversation throughout the game. I found myself laughing out loud several times over the course of the game. The humour misses the mark a few times, but overall Diamon Jones: Devil's Contract is a charming and funny story.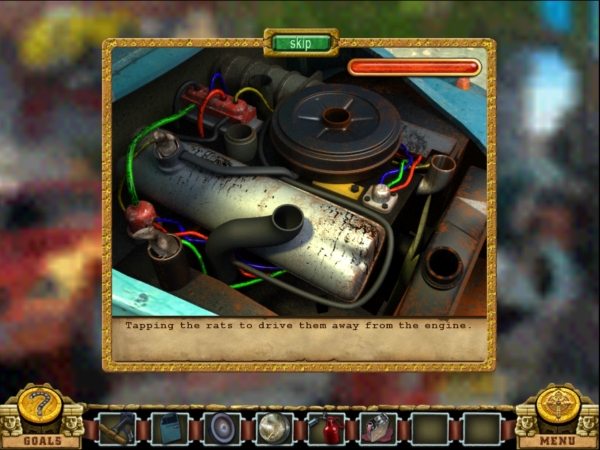 Gameplay
At its heart, Diamon Jones is strictly a hidden object game broken up with a variety of puzzles. The hidden object game play is not bad, but it isn't great either. The hidden objects are placed in a challenging manner. Often times, finding the last object were incredibly satisfying as they were left wide in the open, camouflaged almost perfectly against another object. Unfortunately, the game could use a zoom feature as some of the objects can be rather small. The touch controls were mostly responsive, but at times the objects were so small it took a few tries to actually pick up the object. The addition of a zoom would help make the clickable area of these items larger, making it easier to pick up. Also, items were hidden in or under other objects that were not always the most logically obvious spot. Thankfully a very generous hint system compensates for this, preventing players from having to click wildly around the screen with reckless abandon.
There were several occasions where I had to restart from a previous checkpoint due to a glitch in the game. The play area became unresponsive, requiring me to fully back out and restart the game. I found this occurred when I attempted to advance the story in the hidden object mode or triggering an event. This only happened four or five times over the whole game, but it derailed the flow of the game. We had no problems when we tried the game on an iPad 2, so this issue may be isolated to the new iPad.
The best part of Diamon Jones' gameplay is surprisingly not the hidden object portion of the game, but the puzzles used to break up the game. These puzzles were varied, smart, and fun. These puzzles ranged from a Bejeweled clone to a Rush Hour type puzzle. These puzzles can be skipped after a certain period of time if you're completely stumped, but you'll be missing out on the best part of the game. Overall, Diamon Jones: Devil's Contract's gameplay is a good, but falls short of great, thanks to its creative and generous use of puzzles to break up the hidden object game play.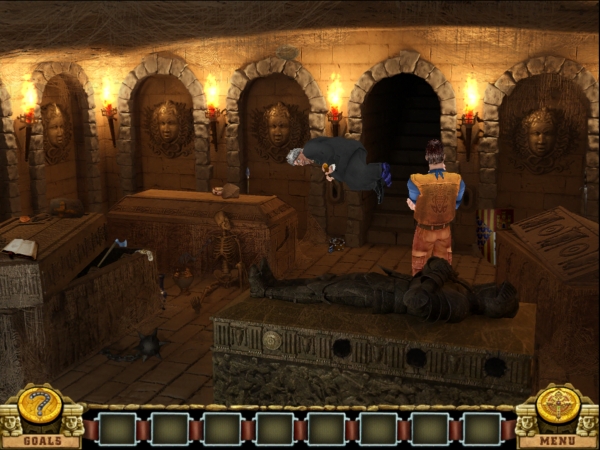 Visuals
Diamon Jones: Devil's Contract is a great looking game that mixes hand drawn and 3d graphics. It looks like great care has been taken for interesting and busy looking backgrounds to hide the objects in game. The character design is outstanding; the Elvis impersonating Devil is hands down my favourite thing in the entire game.  It is a nice change of pace to have the characters walking around and interacting with the hidden object scenes. It is a shame that the game lacks Retina support. But even without it, the game still looks great on the new iPad screen.  Diamon Jones: Devil's Contract provides strong visual experience that sets itself apart from other games with the use of 3d characters interacting with the environment.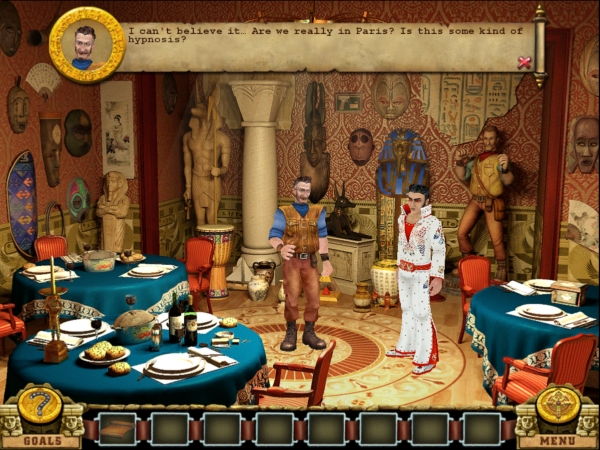 Audio
The audio in Diamon Jones: Devil's Contract is comical and light hearted, fitting well with the mood of the game. The sound effects and the music are varied, never getting tiring or boring at any point. The song played in each scene fits the theme and was an absolute pleasure to listen to. I would have loved to have seen some voice acting work done as there are plenty of conversations in the game that would have benefitted from some good voice actors. I strongly recommend playing Diamon Jones: Devil's Contract with the sound turned on, as it feels like an important part of the game experience.
Overall
Diamon Jones: Devil's Contract is a light hearted and funny adventure. Although plagued with some game play issues and glitches, Game Factory Interactive manages to deliver an entertaining game that adds some twists and varieties on the popular hidden object genre to great success. If you already dislike the hidden object genre, Diamon Jones will not change any hearts or minds, but fans of the genre and those looking for a solid casual game will find an entertaining game in Diamon Jones: Devil's Contract that is worth the purchase price.