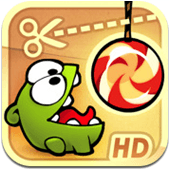 Cut The Rope HD
Publisher: Chillingo
Developed : Zeptolab
Platform: iPad (Reviewed), iPhone
Released: 7th October, 2010
Price: $1.99
BUY NOW
A mysterious package has arrived, and the creature inside has only one request…CANDY! Help get the candy to Om Nom, the adorable monster, in this highly innovative and addictive puzzle game. Combining outstanding physics, devilishly tricky levels, and bright colorful High Definition visuals, Cut the Rope is one of the most original and fun-filled games on the App Store.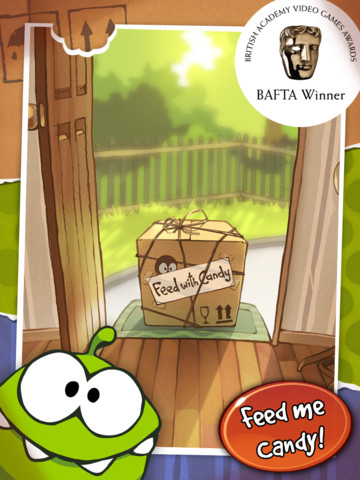 The fine people over at Zeptolab have provided us with another amazing puzzle / physics game that will keep you busy for hours.  If you're a fan of Angry Birds then step right up.  A little monster with a HUGE appetite called Om Nom has arrived on your door step and he needs your help.  The object of Cut The Rope is quite simple, all you need to do is cut the rope that's holding the candy and make sure it lands right into little Om Nom's mouth and collecting stars along the way (this is the challenging part).  You do this by slicing across the screen with your finger.  It sounds simple right ?  Well in the first  few levels it is.  But believe me the deeper you delve into this great game the harder it will become, but that's what you want right ?? A challenge …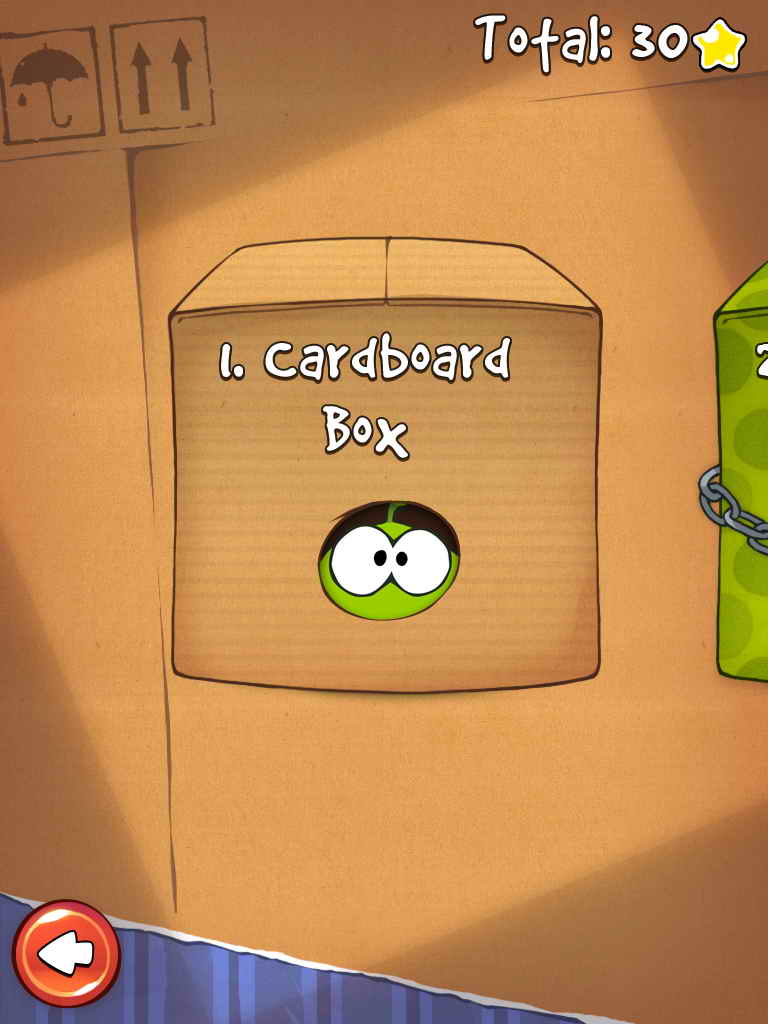 Cut The Rope has a fantastic physics engine behind it that is simple and works very accurately with the touch controls for the iPad.  It's simple but most of the time you're going to have to plan your cuts to avoid obstacles, such as spikes and enemies.  Each level has a different challenge to feeding Om Nom and getting all the stars, this will certainly keep you thinking and hooked and entertained.  The Golden stars in Cut The Rope are also what you need to unlock further boxes and also to obtain maximum points.  Some are easy to collect and some will have you pulling your hair out.  In the end it all comes down to quick reflexes and using your head as the levels get harder obtaining the stars become even more difficult as some don't stay on the level forever.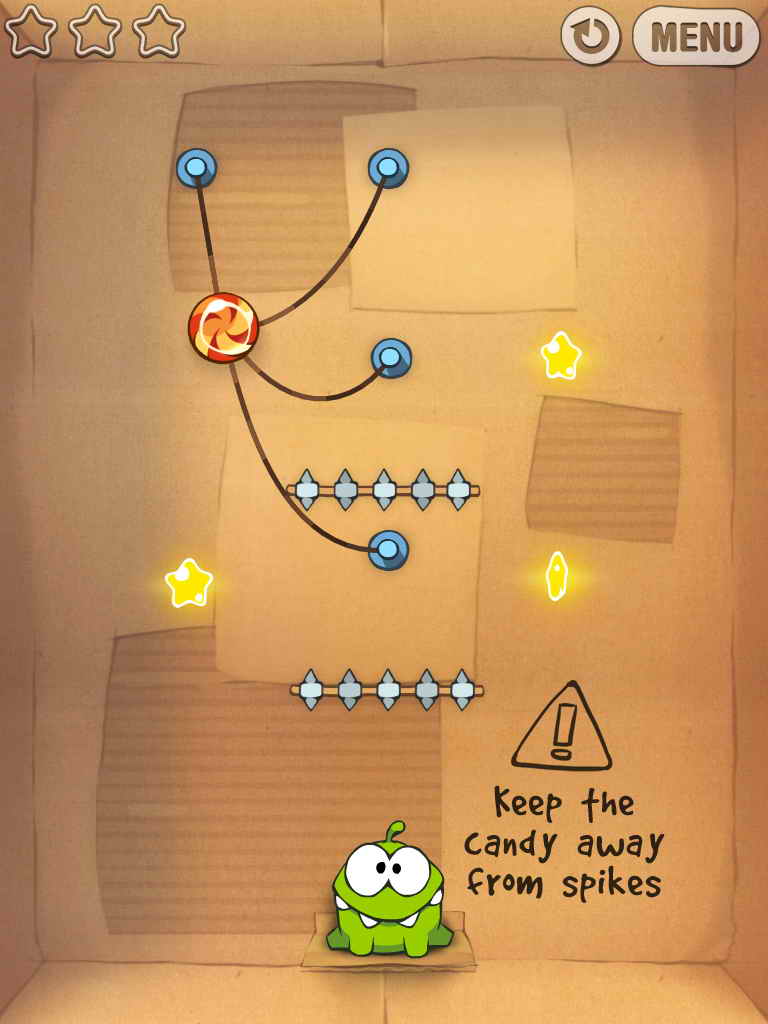 To help in your quest to feed Om Nom you wont just use ropes.  Other useful items will be available to use at your disposal on specific levels.  For starters you'll have Bubbles that float upward hopefully towards Om Nom's mouth, air pumps that can blow the bubbles in the right direction, hidden ropes, pulleys, tension ropes and a whole lot of other stuff that will help you get CANDY to OM NOM's mouth and hopefully the stars along the way.
There's a total of 4 levels (boxes) in Cut The Rope to progress to each level you will need to collect a specific number of stars to unlock that level/box.  For example, the final level, The Gift Box will need 190 stars before it opens up.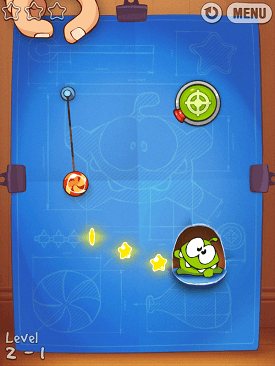 Accompanying this review is a full 10 mins video review for Cut The Rope.  Click on the play button below and watch how the game works along with other feature and options.
If your a fan of puzzle and physics style games then look no further.  Cut The Rope HD has amazing graphics, accurate and precise touch controls and will keep you busy and challenged for hours.  To start with the levels are quite easy and collecting the first box's 75/75 stars will be simple.  But moving forward that's where the real challenge awaits.  Do you have what it takes to feed that hungry monster in the box ?? I know you do.  Pick this up now from Apple iTunes store before someone else does and takes that adorable Om Nom home with them and leaves you with nothing.