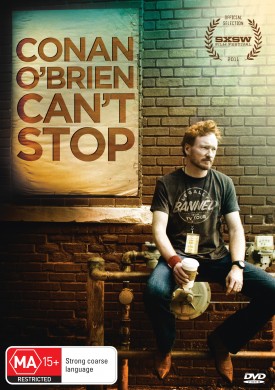 Conan O'Brien Can't Stop
Studio: Pariah
Publisher: Beyond Home Entertainment
Format: DVD (Reviewed), Blu-Ray
Release Date: November 1, 2012
Price: $19.95 – Available Here
Overview
Back in 2010, Conan O'Brien had to make a decision…a decision that was unselfish and kept the legacy of The Tonight Show pure, by not allowing it to move into the AM for the first time in it's history. Jay Leno got his old job back – the one he promised to give to Conan – and Conan left NBC with a fat pay-check for his troubles. This documentary gives us a candid look at Conan and his crew as they embarked on "The Legally Prohibited From Being Funny On Television Tour" soon after, and it suffices to say that you have never gotten an inside glimpse at the psyche and inner workings of Conan O'Brien, like this, anywhere else.
Story
The start of Conan O'Brien Can't Stop briefly recaps the widely publicised events that led to Conan being unemployed and him coming up with the idea for The Legally Prohibited From Being Funny On Television Tour. Moving forward, we see the beginning stages of the tour's preparation, while Conan speaks candidly to the camera about how he felt after the whole NBC Tonight Show debaucle. It's obvious that Conan harboured a lot of anger and resentment over it all and needed this new outlet to prevent himself from self-imploding and possibly falling into a depression. He jokes about it, but there's this unsettling truth behind the façade he puts up. Comedians and creative types famously deal with their issues in this way, so it's not a new concept.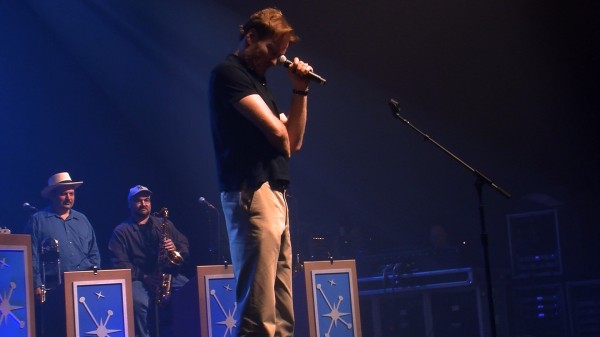 "Oh, I just rubbed this microphone into my leaking eye!…Seriously, no one touch this microphone!"
The tour gets rolling, and we see the utter and total commitment to perfection from Conan, putting more stress on himself than is necessary. But that's who he is. And it's not for himself, it's for the people; his audience; his fans. He recounts a story about a guy whose friend says Conan blew him off when he approached him for an autograph. Conan says "That's not possible! I said it with authority, like the way you would say when he says "a friend of mine says you shot at him with a 22 handgun!" That's not possible!" It's a very endearing trait, and one that is becomes all the more evident throughout the film as Conan just can't refuse a conversation, a meet-and-greet or a photo op with someone, even when he feels he is in danger of losing his voice for the next show. He even did a "secret show" with Jack White at White's studio!
As the crew travels from town-to-town, from coast-to-coast, numerous celebrities stop by to say hello backstage, including Jack McBrayer, Jon Hamm, Megan Mullaly, Nick Offerman and Jim Carrey. Carrey actually appeared on a couple shows throughout the tour, as did lead singer of Pearl Jam, Eddie Vedder and fellow TV funny-men, Stephen Colbert and Jon Stewart. Jack Black and Kyle Gass, Tenacious D, also meet Conan backstage at Bonnaroo, where they were performing and Conan was presenting the musical guests throughout the day. Seeing Conan constantly riff afterwards about hosting Bonnaroo and matter-of-factly proclaiming "I know Nas!" (he barely knows who the rapper is!) is hysterical! He never switches off, even when he is exhausted! At the end of the documentary, Conan states that "anyone who knows me, who watches this says "now, that's just raw you!"", and now the rest of the world can see it too. Personally, I gained a lot of respect for the man because of it.
Visual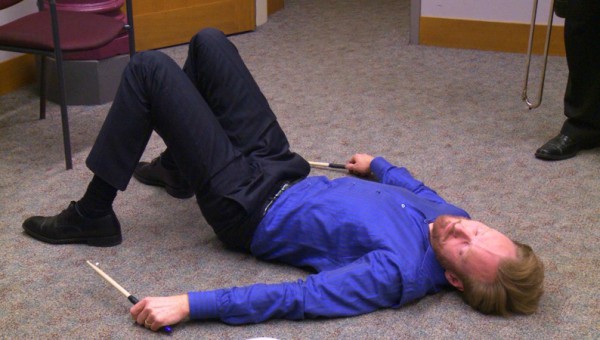 Conan waiting to voluntarily perform at his Reunion Class Talent Show!
In 16:9 widescreen format, Conan O'Brien Can't Stop looks as good as a standard definition shot documentary can look on DVD. Its very rare, nay, unheard of, for someone to renounce a documentary because of it's visual quality. In regards to other visual aspects, there is no artifacting other than a visible, but easily ignorable, vertical green line at the left side of the image border, and the disc menu is quite basic. I would have liked to have seen a scene selection sub-menu considering it is a full-feature length film and people will surely have their favourite moments that they might like to pick out and re-watch – a memorable scene with Jack McBrayer comes to mind. Poor Jack…someone needs to fight back against Conan!
Audio
Again, being a documentary filmed with inexpensive filming equipment, you get what you bargain for with the sound. Having said that, the audio is clear enough throughout in 5.1 Dolby Digital, and, bar a few off-screen quips, every word that is spoken is sufficiently captured. There are moments where director Rodman Flender's filming circumstances are not ideal or optimal for capturing audio from his subject, but this is again the very nature of a documentary. The footage on-stage in particular sounds great as every musical performance is crisp and clear. Naturally, there are no alternative language tracks, but also no subtitles either.
Extras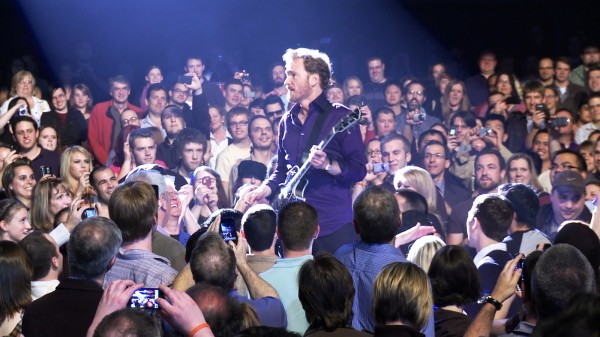 Conan rocking out amongst the crowd!
The special features on this DVD amount to a total of 10 deleted scenes, running around 42 minutes long. Some of the bonus footage revolves around the "8 Stages of Mourning" bit Conan did on-stage, during the tour, a look "Inside the Writer's Room" and the moment when Conan and Co. start "Tweeting the TBS" deal out to the public. I loved all of this additional footage, as it is the same quality as what was left in the film, but was only cut for a better flow and a tighter run-time. Going into this review, I had heard of some more extras that were nowhere to be found on this disc (an interview, interview bloopers and commentary track), although I assume they can be found only on the Blu-Ray release. If you've got a Blu-Ray player, and the extra cash to pony up, I would purchase the Blu-Ray version just for that reason alone.
Overall
Conan O'Brien Can't Stop is a great documentary. Being a fan of Conan's, I appreciate this release much more than the average person would, and I understand that. But, as a documentary, it holds up on it's own merits. The side of Conan we see here is completely foreign, and will either reinforce your love and respect for him, or it will catch you off-guard and change your opinions of him all together. Regardless, I think this is worth seeing. He truly can't stop, and it's a scary attitude, but also an admirable one. So if you'd like to gain a better understanding and appreciation for what makes the man, Conan O'Brien, tick, whilst also being entertained with inside footage of the 'Legally Prohibited' tour and its backstage antics…you can't stop here, buy the DVD!