Hi everyone,
Deathdude222 here bringing you the winner of the competition from April which was called "Post a review and win an xbox 360 retail game" *PAL Version*
The winner of this competition is Enzo3000 with a fantastic review of Halo 3: ODST
Congratulations and Capsule Computers thanks you for entering.  Your review is posted below for the whole world to see !
To all the other contestants who entered via e-mail and forum posts, thank you for your effort and try again next time!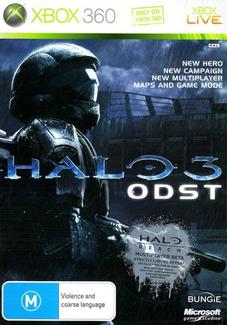 Title: Halo 3: ODST
Genre: FPS
Platform: Xbox 360
Developer: Bungie
Overview
For my review I have chosen to do Halo 3: ODST, the latest instalment in the Halo series released late last year. For those of you unfamiliar with the 'Halo' series, firstly I'm glad to see you found your way out of that deep, dark cave after ten years, but I'll briefly explain. In the first 3 titles, you play as Master Chief, the last standing Spartan soldier left with the mammoth task of protecting humanity from the 'Covenant' as well as a number of other alien races. However, Halo 3: ODST takes a slightly different turn.
Surprisingly, in ODST, instead of playing as the ever faithful Master Chief, you play through the single player campaign as an 'Orbital Drop Shock Trooper' along with your fellow squad members. Subsequently, there a few minor changes which differentiate ODST from the other games in the series, such as a silenced SMG and a new visor/HUD. However, these are merely quirks and change the gameplay very little. The storyline fits in around Halo 2, expanding on the plot in a bit more detail, making it a must for owners of the previous games. Unfortunately, the campaign is more of an expansion pack than a full blown story and although you won't be able to complete it before you can say "Orbital Drop Shock Trooper", it is rather short and once completed, there is little incentive to go back and do it again.
The other part to the first disk is 'Firefight' mode. This is basically a more advanced version of GOW 2′ s Horde mode, only on Halo. This again is fun while it lasts and a good laugh when played with a bunch of mates online. Although this too lacks replayablility, and once you and your friends have achieved the achievements you need to unlock the highly coveted 'Recon' armour for multiplayer play, you'll find you play it very rarely.
On the other hand, this could be because your so busy with the second disk, playing what is in my opinion and many others' opinions, the greatest online multiplayer experience available. I am of course talking about the Multiplayer disk, the second half of the Halo 3: ODST bundle. There is a massive 21 maps in total, promising to keep you occupied at the very least until the next instalment in the series is released. On a side note though, only 3 of these were exclusive ODST owners upon release, and since then these 3 have been released on the marketplace for 800 Microsoft points (Mythic Map Pack 2). For those of you who already own some of the map packs, this part of the ODST package is somewhat less spectacular as you are getting less new content, and for those of you who have already purchased them all, this disk offers nothing, other than a handy disk that contains them all.
Graphics
The graphics in this game are up to the same high standards of Halo 3, as it runs on exactly the same engine. Because of this, there are very little changes graphics-wise. The graphics and design on weapons looks good, and they range from some of the human guns looking realistic, to some of the Covenant weapons looking unique to the Halo series with their plasma, outer-space design. At times, some textures can look a little grainy in certain areas and on certain scenery, but other than that, the graphics are good, but nothing special.
Gameplay
The gameplay, similarly to the graphics, remains fairly unchanged in Halo 3: ODST in comparison to Halo 3. The first disk is the only place where new gameplay additions can be found, as the second multipayer disk is just Halo 3 with a complete set of maps.
As previously mentioned, there are two modes available for single player: Campaign mode and Firefight mode. The campaign is short but enjoyable, feeling more like an expansion pack than a full story. There is also the addition of a new HUD, which tries to create a more futuristic, advanced weaponry feel with the enemy tracking system. However, this has little impact in the game, and it will probably irritate you more than it will help. The other mode is Firefight which is a new offering to the Halo series. It plays similarly to Gears of War 2's Horde mode with the attack of wave after wave of numerous enemies of gradually increasing.
However, it is only when these modes are played multiplayer that they really come into their own. They can both be played on split-screen, or over xbox live, which tends to make them much more fun, especially when played amongst a group of friends. Overall, both modes lack replay value once completed, but the intervention of multiplayer can help to stretch the lifespan a bit further.
Audio/Sound
The Halo series generally has a good soundtrack, and this game isn't one to disagree with that trend. It features the same stirring orchestrated music as you progress through different parts of the levels in campaign, and has range of themed music from classical to rock in different levels, subtly playing in the background, which adds to the atmosphere and builds tension, without being overpowering.
As for the other areas of sound and audio effects, these are also up to a fairly high standard. The voice acting is high quality and helps to immerse you in the story, and the sounds of weapons and enemies of the Halo universe are interesting, and believable at the same time. With the help of surround sound, you can even feel part of the action in Halo 3: ODST. For example when you hear one of your comrades over the radio, it sounds very authentic, like you are listening to them from the radio transmission.
Pros
-More of the same brilliant Halo FPS action
-Interesting change of plot with alternative characters
-Great multiplayer on both disks
Cons
-Campaign is too short, it is more like and expansion pack than a full story
-Less value for those who already own the DLC
Conclusion
Overall Halo 3: ODST is another solid Halo offering. The Campaign and Firefight are entertaining, but lack replayability while the multiplayer aspect is one of the best on offer for both casual and serious gamers alike. It is a must-have for anyone for who has yet to delve into any of the Halo titles, if only for the multiplayer disk alone and even though the storyline of the campaign may not be quite so accessible, it should generate some enjoyment nonetheless. It is also highly recommended for owners of Halo 3 who didn't get round to purchasing any of the map packs as there will be a lot of new content to be explored. The same cannot be said for the those who have already bought the DLC though as there is slightly less when it comes to new material for these people.
8 Community Capsules out of 10