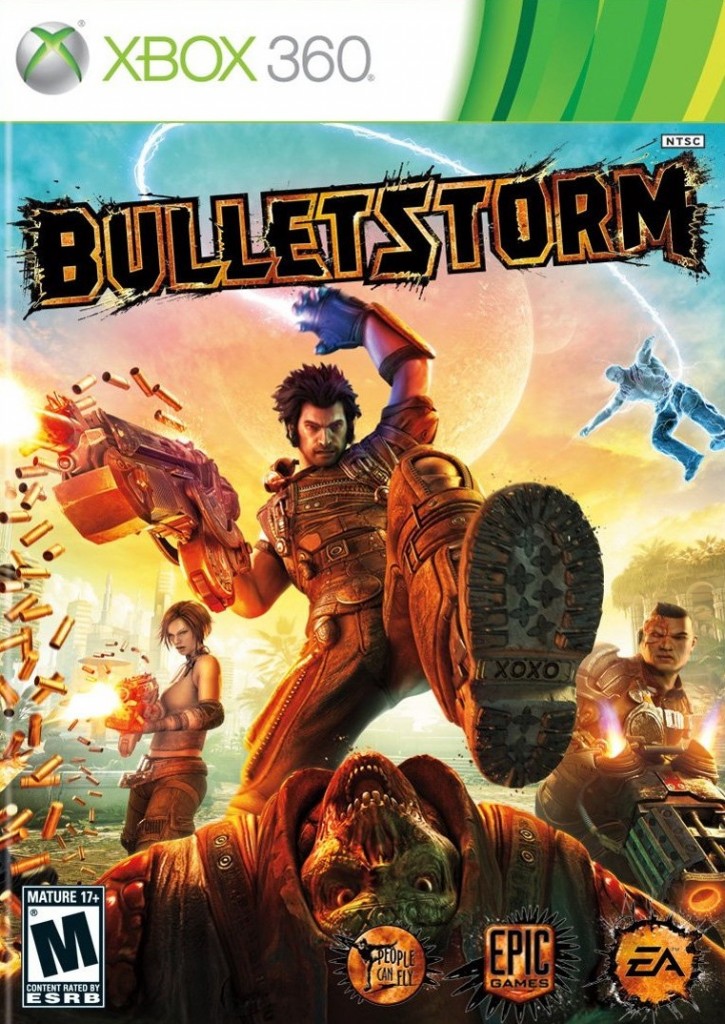 Bulletstorm
Publisher: Electronic Arts
Developers: People Can Fly, Epic Games
Platforms: Xbox 360 (reviewed), PlayStation 3, PC
Release Date: February 22, 2011
Price: $59.99 US – Buy Now!, £49.99 UK -Buy Now!, $109.99 AUS -Buy Now!
Overview:
Don't you think that the modern day first person shooter has set a certain standard of gameplay mechanics and go from point A to point B just trying to survive and kill anyone in your path? Well the people at People Can Fly and Epic certainly think so because they have created something that they are saying will break up that monotony of gameplay. That game is Bulletstorm. When a game says dick about as many times as you've heard it in your entire lifetime and in more variations than you can imagine then you know that you are in for a new experience entirely.
Story:
Bulletstorm places players into the distant future of the 26th century. They step into the inebriated boots of Grayson Hunt and his crew who are ex-assassins for the Confederation of Planets. Unfortunately for the rest of the Confederation, they have bounties on their heads and are not impressed with the number, meaning they are on the lookout to get some action, especially when that action involves getting revenge on their previous boss General Sarrano.
Of course alcohol and piloting a space cruiser while trying to shoot down a much larger space cruiser is never a good idea and the actions of Grayson quickly cause the ship to be shot down and crash land on the planet of Stygia. After their landing nearly all of Grayson's crew is killed by the violent local tribes that reside on the once colonized resort planet. Together along with his very angry cyborg partner Ishi Sato and a woman named Trishka he has to not only survive and escape from the world, but kick its teeth in and blow its nuts off.  The story can quickly draw you in especially with how well the characters interact with one another, even though the ending can be very disappointing and a blatant attempt to establish a sequel.
Now despite the fact that the characters and the majority of the dialogue you hear is very boorish and can be hard to take serious at first, it is all just the cover of a very well written story that has quite serious undertones. Not only do you experience a very big twist right near the start of the game, you will find yourself growing attached to your comrades despite the fact that they will call you so many names it'd be impossible to list them all. If anything else, the constant swearing makes your comrades feel like a major part of the experience instead of simply someone else shooting a gun. Also it is quite humorous more often than not and you will find yourself chuckling as long as you have a good sense of humor.
Graphics:
The world of Bulletstorms is a wonder to look at with amazing looking levels and character designs that will leave you wanting to take a look around. Even if taking that look around is to find something pointy to kick an enemy into. The game does not have any slowdowns from what I experienced despite the fact that the action kicks into high gear quite often and you can find yourself sliding around at high speed.  Bulletstorm even avoids the usual brown and gray color scheme that plagues most shooters by providing a variety of different environments and enemies that will keep your eyes happy as you turn a human being into nothing but a skeleton.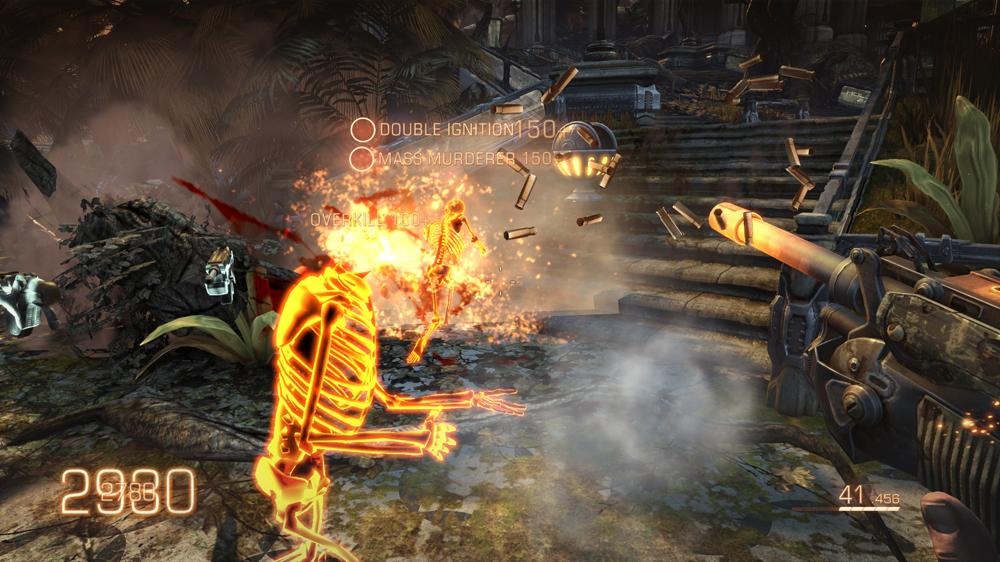 Audio:
The background music is well suited to the fact that the game is very fast paced and action packed. Meaning that there is plenty of rock-sounding background music to keep you on the edge of your seat as you skewer your enemies onto cacti and throw them off of cliffs. The various sound effects are also well done with explosions sounding as well as you can expect and enemies yelling in pain.
The true star of Bulletstorm's audio department is the voice work and the dialogue that goes with it. Each of the characters in Bulletstorm may sound like a cliché at first when you hear them talking, but their clichés match their personalities perfectly. General Sarrano is the perfect example of every military commander cliché that you can imagine, but it works. The amount of swearing and foul language is easily over-the-top but most players will find themselves chuckling rather than being offended and finding it childish. Still this is easily one that you shouldn't play with children in the room, unless you want to get a call from school about your child's new vocabulary.
Gameplay:
When a game's motto is to kill with skill you know immediately that you are in for something different, and that something different is the Skillshot feature which awards players points for the more elaborate kills that they perform. Rather than running through a level and shooting all the enemies in the chest players are encouraged to find elaborate ways to finish off enemies. Sure you can go for simple headshots but those are only worth 25 points. Instead you can take that very same enemy and shoot him in the ass instead and it will give you 50 points for a Rear-End shot. Or you could kick an exploding barrel into him and set him on fire for even more points. With 131 different Skillshots that you can perform you will find yourself always on the lookout to perform special environmental kills or trying to one-up your previous attempts at destroying the enemies in your path and it is a great feature.
In the campaign mode these points are then used to purchase new equipment and upgrade the gear that you already have. You have many different weapons at your disposal such as the flail gun which fires two grenades attached to each other, a magnum pistol, a bouncer grenade launcher and many more. Each of these weapons comes with a secondary fire as well which allows you to carry twice as much creativity once you have purchased them. For example the machine gun you start out with is able to shoot a hundred bullets at once, stripping an enemy's skin right from its bones.  These weapons provide a great touch to the Skillshots system, especially considering there are certain Skillshots that require a specific weapon be used.
Other than the story mode there are two other modes of gameplay which will be taking up most of your time.  One of these is called Echo mode and is perhaps the most addicting part of Bulletstorm because it combines the two best parts about the game. Killing enemies with as much variety as possible and the best parts of the levels from story mode. There are twenty different areas that you can select and each of these maps have a three star rating that you can try to achieve depending on how much time it takes you to pass the section and the amount of points you acquire from Skillshots.
These twenty areas have varying time limits and take some of the best parts of the story mode to allow the player's creative juices flow as they let their enemies' blood flow. In these areas you will be tasked with killing every enemy in your way as quick as possible and as creatively as possible to earn the most amount of points and reach the certain amount you need to reach a three star rating.  But the real enjoyable part about this is the fact that you can compare your scores with others around the world on the leaderboards and lets you show your friends that you can be more brutal than they are. The only negative I found during Echoes mode was the fact that, considering the amount of game time per Echo run, the load times for each area is relatively long despite the smaller area to load.
Now what FPS would be complete without a multiplayer aspect? Well rather than have a competitive multiplayer mode Bulletstorm only contains a co-operative mode. This mode is called Anarchy mode and will place players against waves of enemies. But instead of having to survive these waves, you have to reach a certain amount of Skillshot points from the enemies in the wave to advance. This means that the higher the wave level, the more score you will need to advance. The mode can be tackled by yourself, with friends, or with random people through a quick game join.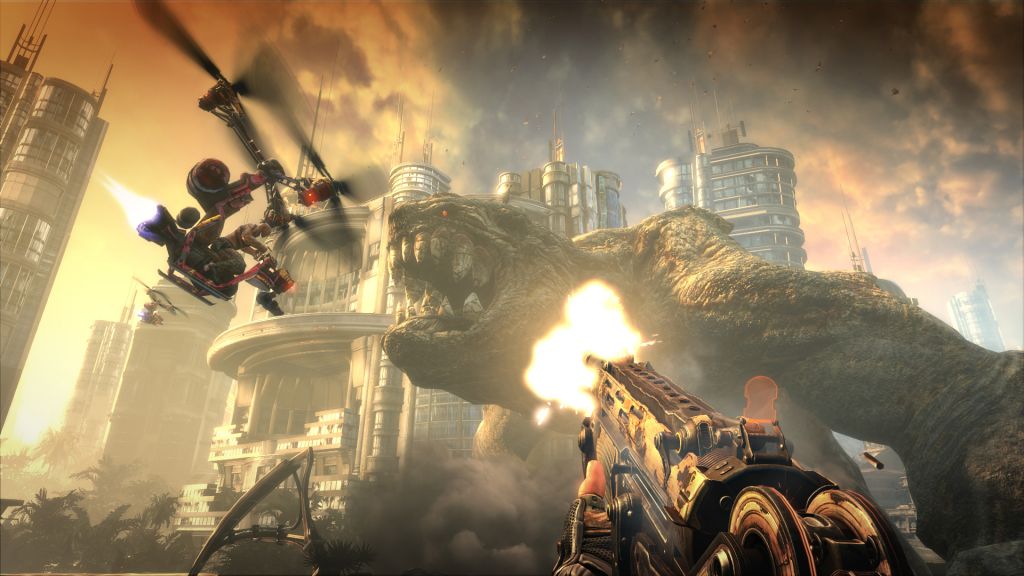 There are a few problems that come about with all of the players trying to kill the enemies in the area at one time however. There are a number of times that the Anarchy mode requested a specific enemy to be killed through an elaborate team kill. The game itself however seemed to have trouble recognizing the fact that the requested Skillshot was performed and often caused the Wave to fail because of this.
Overall:
Bulletstorm easily proves that it has much more to offer besides a foul mouth. There is something here for everyone especially if you are a fan of FPS games. For gamers who enjoy a fast paced and brutal shooter then they have exactly what they are looking for, but there is also something here for those who like to plan out their strategies and find the best way to kill their enemies, especially in Echoes mode. Despite a lackluster ending the storyline also proves that there is more than meets the eye as far as Bulletstorm is concerned. Oh and don't forget all of the swearing…
I give Bulletstorm