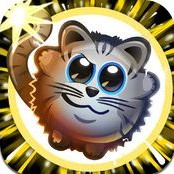 Bombcats
Developer: Radian Games
Publisher: Chillingo
Platforms: iPod Touch, iPhone (Reviewed), iPad
Release Date: May 15th, 2013
Price: Free – Available Here
Overview
Chillingo is pretty "Up There" when it comes to releasing pretty sweet iOS games and it's safe to say that it's release of Bombcats…is no different! Bombcats fits in well with Chillingo's already crazy line-up and is guaranteed to keep you occupied and really hooked for a while. It's a typical iOS game that I think works really well. It doesn't take itself too seriously and is just quirky and fun; the way it should be.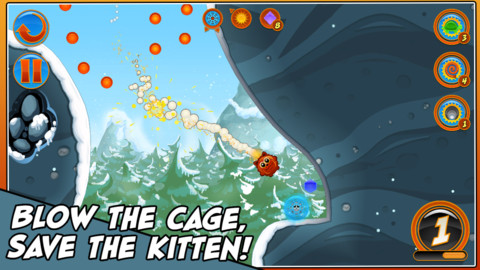 Gameplay

The gameplay is pretty chilled out to be honest. It's a game where you fling little cats around an area designed to be puzzling, that means a lot of loops, hills, crests and everything else. It's a 2D, side scrolling, "Flinging" game much like Angry Birds. In fact the execution is much like Angry Birds too. Basically your cat starts off in a specific place on the field and you drag your finger across the cat and fling it! You have to collect little gems for extra points and three suns to get the best score at the end of the game with the main point of every level being to release a baby cat from a blue sphere. THAT is where the Bomb in Bombcats comes from; you have to land as close as possible to the baby cat and explode him out of the cage, if you're good enough you can use the baby get to grab you some extra gems too. Pretty snazzy if you ask me.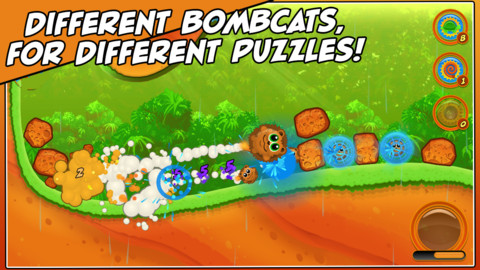 There's a tonne of awesome and interesting levels to play. I've played the game for about 3 or 4 hours in total and I am nowhere near the end of the game which is freaking awesome! They give you a chance to skip levels every 2 hours so if you do have trouble there's a way around it. The other thing I like about this game is, although they have in-game purchases, they're not frequent and they don't take anything away from the game. I find that awesome!
Audio and Visual
The music in this game is great, there's not a lot of variation to it but it IS a good little soundtrack, so to speak, that just fits well with the game. The type of music is extremely up beat and bubbly which rules when you're playing a cute game about exploding cats! The only thing I can say I was disappointed with was probably how there wasn't a lot of music variation. I did say it fit and I agree but two or three songs just gets old after a while. When it comes to THIS my problem isn't with the way the songs sound but how there isn't many of them. I just found that after about five minutes of playing I tended to turn the sound off because it actually got annoying and it doesn't do the game justice for the player to be almost forced to turn the music off.  Still the songs were cute and fit like a puzzle piece I just wish there was more. The actual sound effects were good, the exploding of the cats and the "bling" of the crystals you collect are actually really "rewarding", so to speak, you feel good when you get the jewels and perfect the level.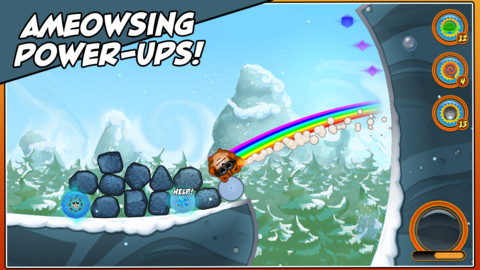 Now Visually this game had no flaws at all. That's completely honest. It didn't look like it was lazily designed or rushed, each of the little cats looked adorable, the levels were well-planned and looked great, it was just an all-round, good looking game. The colours are so vibrant and it makes the game pop in really lasting way. It's a game you will remember for it's colours and style more than how it sounds. Everything looks great in the game. The level select menu looks good, although can sometimes be cluttered, it is set out well. What stood out for me was as you go through the levels the little cat that you will use will stand out really well on the menu, it's just cool to know who you'll be using before you've even clicked on the level. The animation is really well done and not at all choppy or dodgy. Well done Bombcats.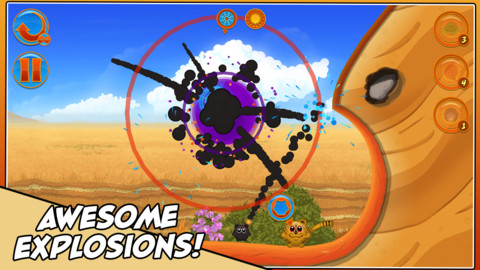 Overall
This game is top notch! There's no story so it's not a game for people looking to get sucked into a tale, what will suck you in is it's simplicity and accessibility, the fact that you can pick it up and play it any time, anywhere is what will keep you around when it comes to this game. It's simple, it's easy, it's exactly what you want from an iOS game. Don't pass this one up!

Capsule Computers review guidelines can be found here.