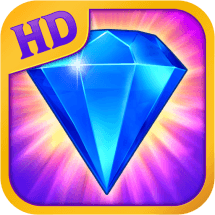 Bejeweled HD
Developer: PopCap Games
Publisher: PopCap Games
Platforms: iPad
Release Date: May 17th, 2012
Price: $3.99 USD/ $4.49 AUD Get it Here 
Overview
Bejeweled Blitz on the iPad is great. I have long wondered why the iPad has not received a Bejeweled game. My wait is finally over with PopCap Games' release of Bejeweled HD. Bejeweled HD is a slightly stripped down iPad port of Bejeweled 3 for the PC updated for the new iPad's Retina screen. Does it maintain the charm of the original?
Story
There is no story for Bejeweled HD. In fact I am hard pressed to be even able to make up a story in my mind to go along with the game.  If anyone is out there who can write a plot for Bejeweled HD for me, I would love to hear it.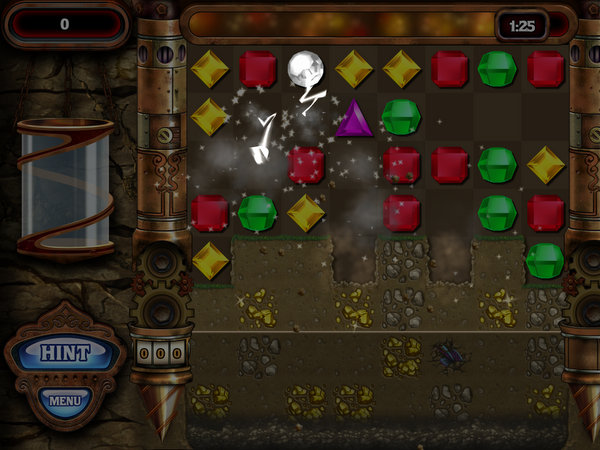 Gameplay
Bejeweled HD sticks to the tried and true formula of Bejeweled with Classic mode while adding three new modes exclusive to Bejeweled 3. Bejeweled is a match three puzzle game that requires players to move similarly coloured blocks into lines of three or more. Each move must create one of these groups. If the match includes more than three blocks, special gems are created that have a variety of effects.
In Classic mode, players must match blocks smartly in order to ensure future moves. As each match is made, the bar on the bottom of the screen fills. Once full, the level ends and the board is shuffled, ensuring fresh set of possible moves. The game ends when there are no more possible moves.
Zen mode is similar to Classic mode with a different purpose. Although the game play is the same, the game ensures that there will always be a move, providing infinite gameplay. The mode is designed to be a helpful relaxation tool that mixed ambient sound, positive textual affirmations, and a visual indicator to assist in breathing modulation. Although personally, Bejeweled is a source of intense competition, Bejeweled HD's Zen mode can be helpful for those looking for a way to zone out and relax for a while.
The Butterflies mode is the thinking man or woman's mode. There are no time constraints in this mode. Coloured butterflies simply appear at the bottom of the gem pile, every time a move is made, the butterflies advance one row unless gems are destroyed underneath them causing the butterfly gem to drop. Players must strategically make moves to ensure the butterfly gems do not reach the top of the board where they will be eaten by a spider.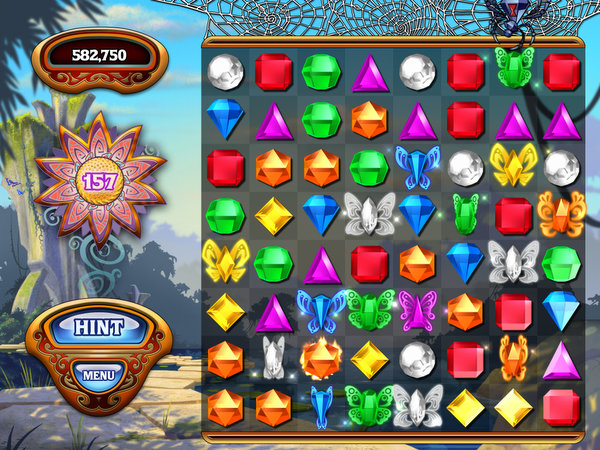 Diamond Mine is the last and final game mode in Bejeweled HD. Diamond Mine is best described as a fast and furious Bejeweled experience similar to Bejeweled Blitz. The bottom four rows are covered in dirt and rock that need to be whittled down to at least two layers of dirt before time runs out. Every time the player manages to make enough moves to lower the level of dirt, they are awarded 25 seconds of extra game time. If they manage to clear the whole screen of dirt, a bonus of 75 seconds is added to the clock. Players must make matches and keep the game going as long as possible for the highest score.
I found Bejeweled HD to be a solid gameplay experience. The touch controls were flawless and the game modes were varied in experience, pacing, and strategy. Out of the original Bejeweled 3 modes, PopCap Games has chosen the best modes to suit every type of player. Notably missing from Bejeweled HD versus Bejeweled 3 is the Lightning, Quest, Ice Storm, and Poker modes. I appreciated the support for multiple profiles in Bejeweled HD as I soon discovered my little sister stealing away my iPad at all possible occasions to obliterate my Diamond Mine scores. This maintained a level of competition not only online via Game Center, but locally at home. Overall, Bejeweled HD lives up to its predecessors and brings a great Bejeweled experience to the iPad.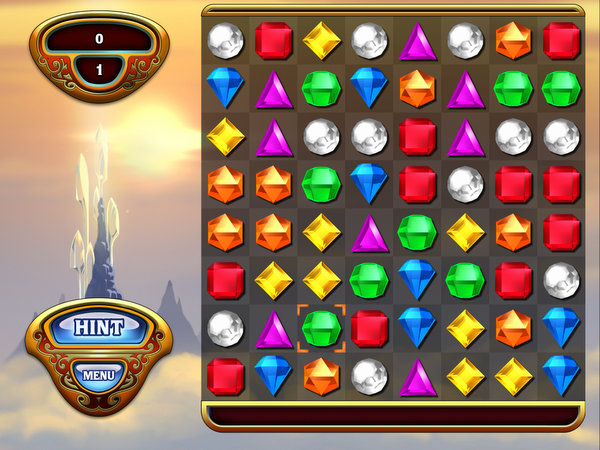 Visuals
One of the draws for Bejeweled HD is the Retina ready graphics. And boy do they look great. Everything is sharp as a razor with no hints of blurring at all. Although players may be too busy staring at the gems to notice, there are lots of beautiful backgrounds for Bejeweled HD. Many of them are fantasy based and would make wonderful desktop backgrounds.  PopCap Games may not bring fancy 3d graphics to the table, but they have executed a perfect UI and graphics to compliment the Retina's screen.
Audio
The audio is no slouch in Bejeweled HD. The classic sound effects are back with a great soundtrack that compliments the game. Although the game is perfectly playable muted with your music in the background, those who opt to play with Bejeweled  HD's own music will be treated to a solid soundtrack. Zen mode has its own special set of tracks for the ambient sounds. There is an impressive variety bundled in with Zen mode so everyone will be able to find their perfect place of Zen.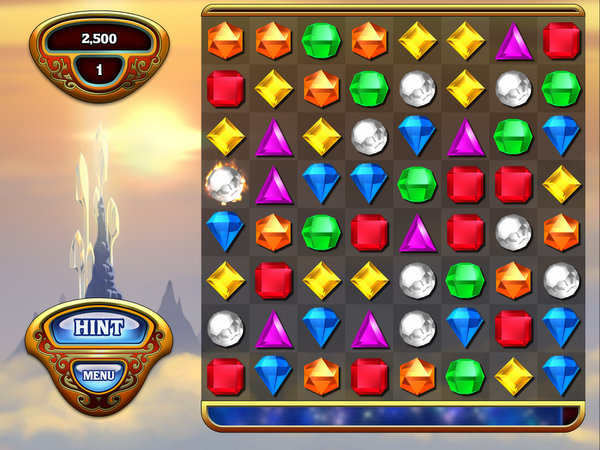 Overall
Bejeweled HD is a must have in every iPad owners library. There is no excuse to not have this game for the new iPad. Although missing several modes from Bejeweled 3, the $3.99 price point versus Bejeweled 3's $19.99 price point makes Bejeweled HD a great buy. Bejeweled HD provides solid gameplay, great visuals, and a wonderful audio experience.