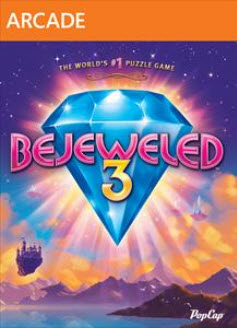 Developer: Popcap
Publisher: Popcap
Platforms: Xbox Live Arcade (Reviewed) Playstation Network, DS, PC
Release Date: 19 October 2011 (XBLA)
Price: 1200ms points – Here
Overview
Unless you've been living under a rock for the past ten years, you're probably familiar with at least the concept of Bejeweled. You match same-coloured gems in lines of three or more to score points until you're out of turns. This simple formula has turned the Bejeweled franchise into the best-selling puzzle video game to date. Have Popcap outdone themselves once again, or should this gem have been left buried in the sand?
Gameplay
Bejeweled 3 comes packed with eight modes, each of which is unique and caters to a different kind of player: Classic, Lightning, Zen, Quest, Diamond Mine, Ice Storm, Poker, and Butterfly.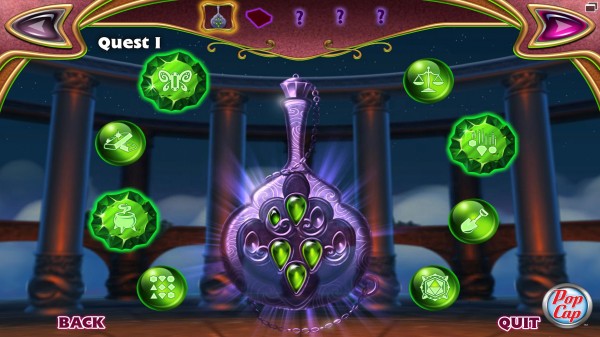 Classic is good old Bejeweled. You progress from level to level, matching gems for points until your moves run out. Matching three same-coloured gems is a basic clear, matching four creates an explosive flame gem, and matching five creates a power cube which clears the board of every gem of a certain colour. If you match six gems in an L-shape, you create a star gem, which when used clears every gem in the row and column it's in. As you progress through levels, you'll find yourself losing track of time entirely. Who knew gem-matching could be such a fascinating pass time?
Lightning takes the Classic gameplay and adds a timer. You have limited time to get as high a score as possible, with the occasional time gem dropping in to buy you precious seconds.
Diamond Mine is similar in concept, except there's a giant line of dirt at the bottom of the gem board. Under this dirt are gold, treasure, and time boosts that you can uncover by matching the gems that are adjacent to the ground. This strange match and mine and be pressured by time (and my, does it rhyme), combination creates a challenge mode that requires equal attention be paid to what kinds of matches you're making and your
matches as quickly as possible.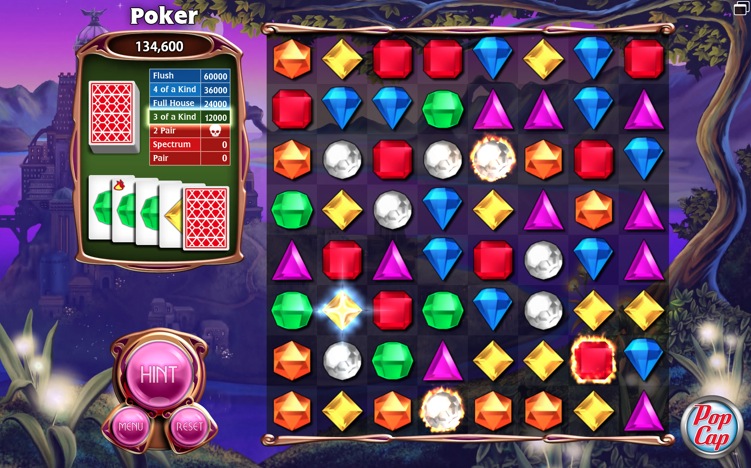 Zen is Bejeweled in its most relaxed form. There are no time limits or turn limits, just you, the board, and endless matching possibilities.  You can even adjust various meditation-esque settings such as ambient noises and breathing pattern training to give that relaxing, sleepy feeling you've always wanted from video games.
Seriously. I nodded off.
Quest Mode is there for those who like objective-driven gameplay. Rather than just shooting for high scores, you're given direct goals in lots of creative challenges that involve the various other modes of Bejeweled, or modes where you have to match certain coloured gems, and so on. As you progressively complete the challenges, you'll go through the campaign until you've revealed a collection of relics. Unfortunately, once you've completed a challenge, there's not much reason to go back and play it through again, meaning the most objective-based mission is also the least replayable.
Ice Storm is the most insane of the new modes, as ice climbs up the board, the only way to stop the board freezing over is to match gems. As time progresses, the ice begins to appear in more columns and move faster, so that you'll begin matching gems frantically all across the board, lest the next Ice Age freeze your precious gems.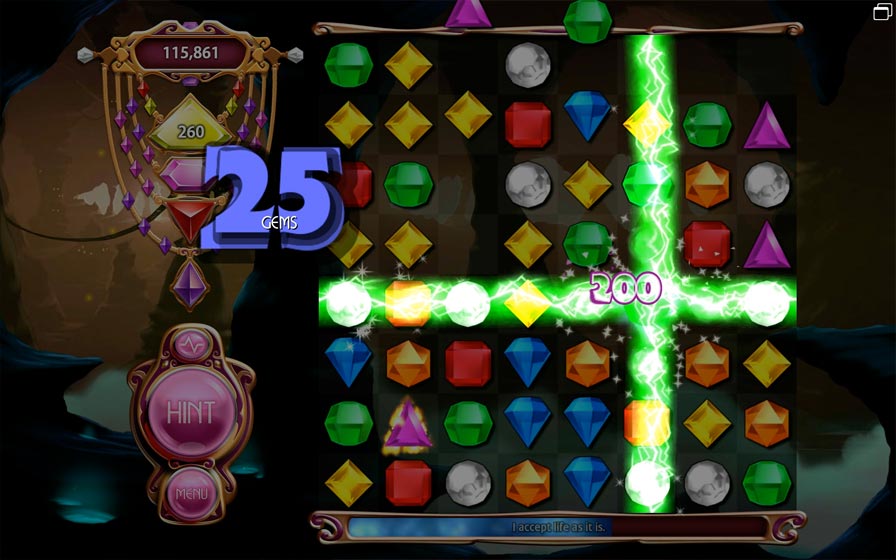 Poker Mode is the mode for those who like their Bejeweled calm and thoughtful. There's no time limit, but you only have five turns to make matches. Each time you match, the colour of the gems is transferred to one of five cards at the side of the screen. Once the turns are up, the five cards are put into poker-like hands based on the colours you've matched, like Pairs, Full Houses, etcetera. To mix it up as you go on, the mode throws in a Skull Coin. The Skull Coin is assigned to certain hands, like the full house, and if you're unfortunate enough to get one, the coin is flipped and there's a fifty-fifty chance your game ends right then and there. This ensures the mode really encourages players to look before they leap if they want to accrue a higher score.
Finally, there's Butterflies mode. As you match, different coloured butterflies move up the board. If they reach the top, there's a hungry spider waiting to gobble them up. It's up to you to match the butterflies with same-coloured gems, and save them from winding up in the bowels of an angry arachnid. This mode can be extremely frustrating if you're being dealt a bad batch of gems, or super satisfying if you've got a matching streak going. And it is frustrating to see the innocent, little butterflies bite the dust.
Of course, all your scores from all the modes can be shared on Xbox Live Leaderboards, though there are so many people playing, it's hard to see a casual Bejeweled player moving anywhere near the top 2000.
Visual
Bejeweled is Bejeweled. If you're playing a gem matching game, you're certainly not after Anti-Aliasing or Specular Lighting. Which is good, because it's not there.
The graphics do the job, but on each of the levels in Classic mode is a gorgeously detailed background vignette showcasing "the world" of Bejeweled. If nothing else, the vistas provide a great background for the time you spend matching gems together.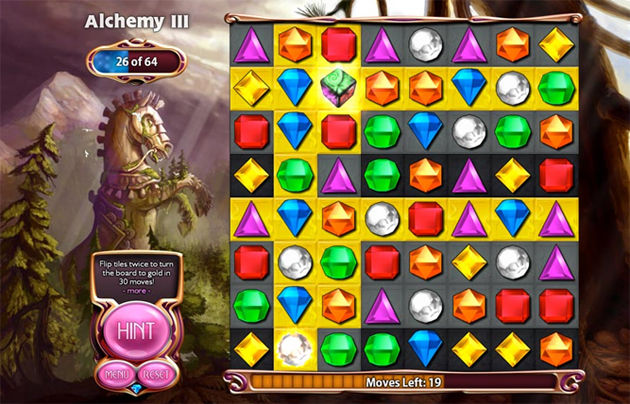 Audio
The sound effects of Bejeweled are what you'd expect. Gems clink when you move them, go boom when they explode, and lightning effects shake your speakers when you set off a power cube.
The medieval-sounding themes are surprisingly catchy, and I may have found myself humming them in the hours after playing. Then I realized how embarrassing that was. I'm a hardcore gamer dammit!
Conclusion
Bejeweled 3 is everything you could want from a puzzle game. It's got an insane amount of modes, solid gameplay, and Popcap has a way of turning the hardest of the hardcore into people who just want to match strangely-coloured jewellery all day long.
The game isn't free of flaws, as you're often at the mercy of the randomly generated gems that appear on the board, you can have particularly amazing games or horribly embarrassing ones where you choke out before really having gotten into it. And the game is definitely more suited to
mobile platforms, like the DS or a laptop, so if you've got the option, go for one of those.
But it's fun, it's addictive, and it's slowly turned me into a casual gamer (*effects may be temporary).