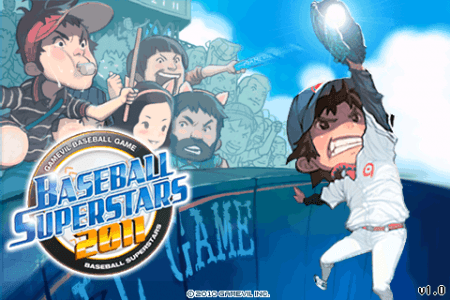 Game Name: Baseball Superstars 2011
Platform(s): iPhone/iPod Touch
Publisher(s): Gamevil Inc.
Developer(s): Gamevil Inc.
Genre(s): Sports, RPG
Release Date: 4th November, 2010
Price: $4.99 (BUY NOW!)
Overview
Gamevil has done it again. The latest addition to their popular baseball franchise is not to be miss by any baseball fanatics out there. This game will even appeal to the non-baseball fans. Do not be fooled by its name, it is not just another sequel. In fact, many new features and enhancement have been made in this new version that it feels totally different than the previous versions.
Gameplay
Gameplay wise, there is a huge amount of content for both casual gamer and hardcore baseball fans here. If you want to have a quick game before you leave for class (for example), you can try Exhibition mode. With all the different settings allow (chance setting, inning setting, detail setting), you can have a quick game in 5 minutes, or one full game which completes in an hour, your choice. These settings allow you to determine in which situation you would like to play, and how many innings you would want to play. You could also choose to play in the stadium of your choice. There is just so much room for customization here.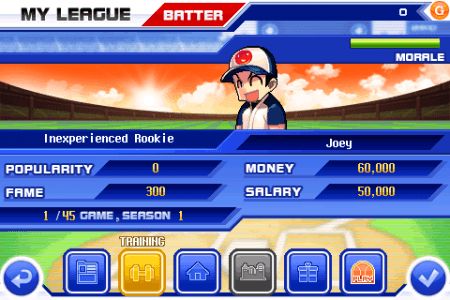 Then, there is this "My League" mode to those who want to develop their own baseball character, let it be pitcher or batter. Baseball manager-wannabe is not left out either, as there is the Season mode for team-managing purposes. If that is not enough, there are also Homerun Race to enjoy the excitement of hitting homeruns combo (which I love), Mission mode and Match Play to satisfy all your baseball desire.
In addition to the already-robust game modes, RPG elements were embedded within the game. Different endings can be achieved as a batter or a pitcher with vary popularity and fame stats as you proceed in "My League" mode. Players can visit the stadium, downtown, school, hospital, or the broadcasting station to unlock various events with various NPCs, which adds more twist to your game. Also, your batting position may be change depends upon your batting performance; you may negotiate your salary (and get turn down after, with some very horrible punishment).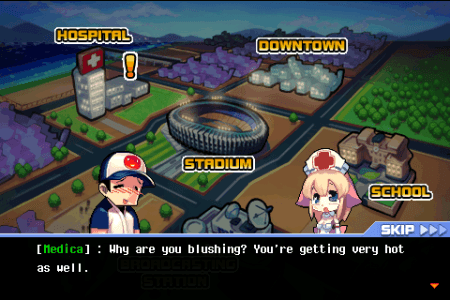 Overall, the baseball gameplay is much more challenging than the previous version, but that is in no way a bad thing. Pitching and fielding are much more robust. The batting timing is way different from the previous versions, which takes some time of getting used to when you first lay your hands on the game.
Many people might disagree with their in-app purchase (IAP) model. Not to worry though, you do not need to spend anything more than $4.99 (to buy the game!) if you do not want to. It's optional. Buying golds through IAP is faster, but you can choose to earn them yourself instead. It does not restrict your gaming experience at all since it's not hard to earn the gold coins, by completing achievements and missions in game. Ongoing events will help players in accumulating gold coins as well. For a start, Gamevil announced their latest event which allows you to earn up to 10,000 coins per game. (For more details, look HERE).
Graphics/Sound
The graphics in this game is absolutely stunning. So much improvement from the last version. (Of course, I also love the bigger-size-batter). It is not Retina Display graphics as expected, but it goes easy on your eyes. Its sleek interface complements the game's graphical presentation to give you a comfortable baseball-ing experience throughout. That is what's important and Gamevil nailed it down perfectly.
The audio aspect of the game has got to be one of my favourite. There is an amazing mix of soundtracks, which immerse you into the game and keeps you entertained throughout your gaming session. Not to mention that the sound effect is so well designed, it feels extremely realistic. The different collision sound effect between the bat and the ball, the crowd roaring, the voice-over commentator (Strike! OUTTT!), everything is right on, awesome.
Controls
The controls are nothing too complicated. The game fully utilize the on-screen touch controls like the previous releases and honestly, that is one of the best control scheme you can have in this genre. Nothing beats having dedicated buttons for specific action in sports game. The controls are further enhanced with customizable controls, in terms of size, visibility and placement.  No more worries about your thumb being too big or the buttons being too small. I do look forward having gyroscopic/accelerometer control in future releases, adding more difficulty to the game.
Conclusion
I am not going to lie. This is one of the best full-featured baseball simulation games yet on the App Store, hands down. It's the brightest superstar in the franchise, a highly recommended buy to everyone unless you really really hate baseball. You will not be disappointed. There is one problem though, it is highly addictive. Be warned. *evil grins*
This game scores..