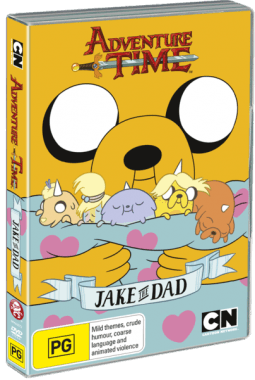 Adventure Time (Collection 5): Jake The Dad
Studio: Frederator Studios/Cartoon Network Studios
Publisher: Madman Entertainment
Format: DVD (Reviewed) 
Release Date: 4th December 2013
Price: $19.95 – Available Here
Overview
We live in the great, yet dwindling, age of loveable cartoons. Cartoon Network was once a juggernaut in the industry with its extensive roster of toon shows, all of which were fan favourites and while they're still in the game now I feel, as a fan of old-school "cartoonery", that they just don't live up to the reputation they once wore with pride.
Fortunately enough it is shows like Adventure Time that keep Cartoon Network in high regard of all its viewers and I think the same types of shows will bring us out of what I'm calling the "dark age of toons" and into a brand-new age where series' like Adventure Time and the Regular show can prosper and inspire new cartoon creators. Adventure Time has been on the air for a while now with its popularity only ever rising, never dipping, and if that's not an indication of a superb show than I don't know what is, what I do know though is that it has fans of all ages and never ceases to amaze them.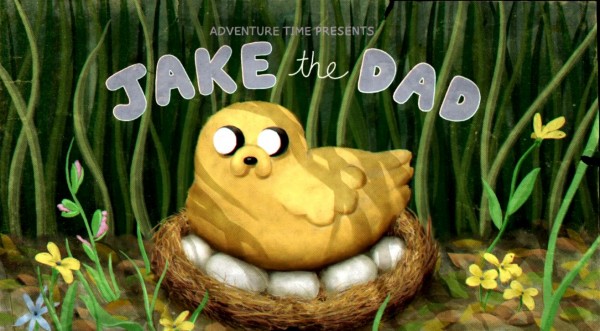 Story
The fact that Adventure Time episodes, apart from a handful of select ones, never really continue off of each other is a good thing for those out there who want to try the series out to see what it's like but it's not good for someone like me that has to review it because now I don't know exactly what to talk about in this section. Obviously I'm only kidding with you all, I know exactly what I want to talk about when it comes to Adventure Time and it's no single episode, what I feel like you should all know about is Adventure Time in its entirety, only then can you get a true feel of what this release is going to be like.
If you've never heard of Adventure Time at all, let me give you the basics: Finn the Human and Jake the Dog are brothers (through adoption) that live in the wonderful yet mysterious land of Ooo, they fight mystical monsters while going on amazing adventures across the land. Each episode is like a brand-new adventure and while there are certain elements that carry over from previous episodes, you can pretty much understand what's happening in an episode at anyyime, I use the word "understand" lightly because, yes it is easy to follow but the duo get themselves into some crazy situations which you could accurately compare to the hallucinations of a drug-user.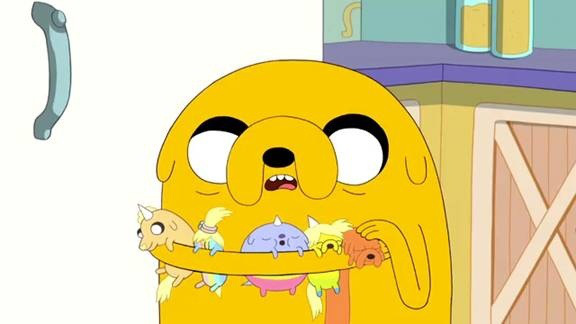 Adventure Time: Jake The Dad is the fifth collection of the series, the only real reason it's called "Jake The Dad" is because that's the name of the first episode on the list, the episodes on the disc are mostly from season 5 of the series but they aren't set out in the same order as they were released and aired which, as I noted above, isn't a bad thing at all because there's no connection from episode to episode.
I have to say though, if you're just getting into Adventure Time maybe start with the earlier episodes just to familiarise yourself with these characters, Jake become a dad isn't going to mean that much to a person who is watching Adventure Time for the very first time. What attracts me to Adventure Time is how free the stories and adventures seem to have been written, it's almost like there is no such thing as a bad idea to the writing staff and no matter what happens in the episode, big or small, they always find a nice way to wrap things up and end the episode in almost the same way as it started; with Finn and Jake.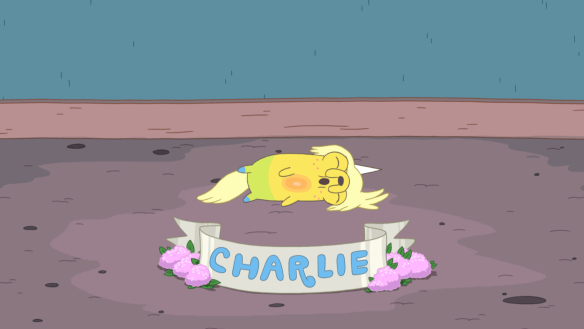 There is a great deal of comedy written into each and every story within Adventure Time and nothing really gets lost when put across to such a large and diverse audience. Much like a Disney or Pixar animated movie there are just as many jokes for adults as there is for kids and I'm extremely envious of people who can write this way because it is a very intelligent thing to be able to do, it tends to continuously prove that the show isn't just a bundle of fart sounds and silly talks about "butts".
The stories are all very clever and they also have a lot to offer, this goes for all Adventure Time episodes, I've never really seen one that I didn't particularly like and when one of those came about it wasn't because the stories were bad it was maybe because I certain favourite character of mine wasn't present, something incredibly simple like that. Adventure Time: Jake The Dad, much like any Adventure Time release, is full of the most pure form of adventure and delight, and a few of these episodes even show a deeper side to the characters, it really has so much to offer.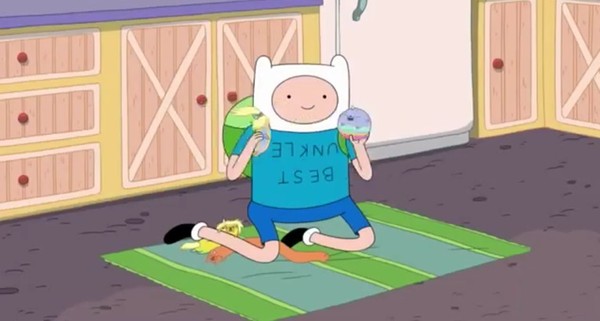 Visuals
Much like a great deal of "traditional" cartoons, Adventure Time has a very simple style to it, characters twist and turn in abnormal ways simply for the sake of comedy, it's an extremely effective technique that has been employed since the days of Bugs Bunny, why fix what isn't broken? What Adventure Time does better than any other cartoon in circulation at this present time is walk the extremely thin line between cute and creepy, having a character like Finn who can go from being cute to grotesque in a matter of seconds is something that is just so funny and so amusing, while others like Spongebob Squarepants do this I feel as though they don't do it to the same degree as Adventure Time, at least these characters can still look semi-adorable while looking incredibly gross.
Adventure Time seems like it has a good grasp on using colours, the entire world is populated with this immensely vivid colours that conflict in incredibly attractive ways, mix that with some very smooth animations and a very unique style and you've got yourself one hell of a good-looking animated series.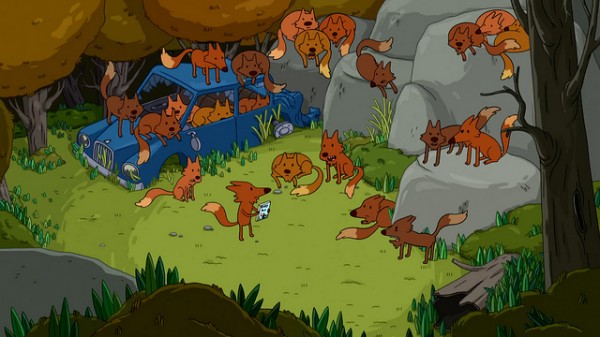 Audio
Adventure Time's audio is very similar to that of its visuals, each character is extremely unique-sounding (as well as looking) and the music is just…nice, that would actually be the best way to put it; nice. First and foremost the voice-acting in the series is nothing short of perfect, each character has a distinct way of talking and each character is funny in their own little ways, the voice actors and actresses really know how to put their characters across and how to execute their lines with a high level of professionalism and an even higher level of confidence.
The music is an odd one to pin down, I can't exactly say that each track fits under a genre unless there was a genre or sub-genre called "Wacky Fantasy Stuff" which, to my knowledge, does not exist…yet. Adventure Time music plays jumprope with genres, in one episode it could be entirely 8-bit, in another episode it could be a twisted version of what you'd hear in medieval movies, it's an ever-moving target and it connects well to the series in its entirety.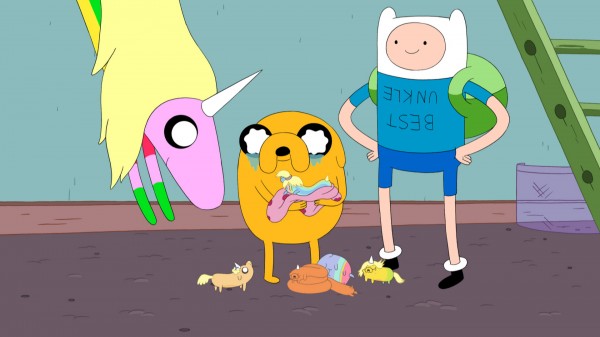 Extras 

Jake The Dad is a fairly usual release, it comes with the standard extras like some nice artwork on the flip-side of the DVD cover and a groovy-looking disc that is meant to look like one of Jake's puppies, I have to say…it's very cute. On-disc extras are fairly normal too; there's the usual trailers there but there's also a selection called "Little Did You Know" which, on this release, gives information on all of Jake's puppies.
Overall
Adventure Time is an absolutely fantastic show that so many people from all walks of life and all ages will enjoy. I can see a small percentage of people being turned off by its, seemingly, mindless visuals and idiotic characters but it isn't a show that can be judged at first glance and Adventure Time: Jake The Dad is a real testament to that fact, the episodes go from heart-warming to pulse-pounding in the span of 10-minute episodes, it packs all it can into as short a time as it can and it always comes across flawlessly. Adventure Time (Collection 5): Jake The Dad, is a great addition to the many Adventure Time releases that have come out so far and does justice to the very awesome and incredibly crazy Adventure Time name, add it to your collection now!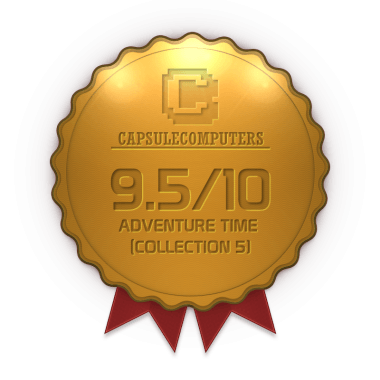 Capsule Computers review guidelines can be found here.