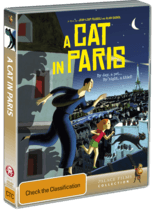 Genre: Animation
Director: Jean-Loup Felicioli
Starring: Dominique Blanc, Bruno Salomone, Jean Benguigui, Oriane Zani
Running Time: 62 minutes
Available for purchase at: Madman Online Store ($34.95)
Overview
I confess: although I'm well over the age where loving cartoons is socially acceptable, I still love watching animated shorts and full-length films. There's something absolutely magical about how animation can create a world and capture the imagination in a way that regular film cannot, and the truly astonishing cartoons can transport any viewer back to an age where toys, playtime, and eating sweets were the most important things in life.
It's fair to say the French are not the ones I would generally associate with creating stunning animations – that title would go to the Japanese for films like My Neighbor Totoro and The Cat Returns –, but A Cat in Paris was definitely an imaginative, fun, and enjoyable experience.
Plot
A Cat in Paris tells the tale of a little girl, Zoe, and her cat, Dino. By day, Dino lives with Zoe and keeps her company (her father was killed and her mother is constantly busy with work); however, at night he sneaks off to aid a thief named Nico in his search for treasures. One day, Zoe follows Dino to find out where he goes – in doing so, she gets caught up in a world she could never have dreamed of, and learns more about Nico, Dino, her family, and herself.
Despite being called A Cat in Paris, Dino the cat is not the key character in this film – rather, he acts as a catalyst that is essential for the rest of the narrative to progress. The narrative is not intricately weaved with plots within plots, but the story it does tell is well-developed, imaginative, and heart-warming.
Of course, as it is an animation which is designed for a family audience, the narrative cannot house deeply dark subject matter; however, the narrative is littered with themes of murder, psychological distress. These ideas are handled in a subtle and light way as to not be too terrifying for a younger audience, but are definitely evident enough for the more mature in the audience to comprehend.
Characters
A Cat in Paris houses one of the best set of characters I have come across in any form of animation. The characters are all complex enough – think Shrek and the peeling of the onion – to make the film a sophisticated examination of humans; at the same time they all reside on one side of the good-evil spectrum. The breadth and range of characters is quite impressive, and Jean-Loup Felicioli made a good exploratory choice in choosing to include a multitude of figures as opposed to just one protagonist.
The 'main' character (if you could call her that) in the film is Zoe, a lonely little girl who struggles to speak to anyone. Zoe is still dealing with the grief of losing her father, and has issues with trusting and opening up to anyone. While Zoe doesn't really speak throughout the film, her presence and her actions drive the storyline as much as Dino's. At times, Zoe can be adorable; at others, she is simply irritating. However, with that being said, it is wonderful that (DIRECTORS NAME) created a character that holds more psychological depth than ordinary child protagonists who worry about playtime or parental restrictions.
The other 'main' characters in the narrative are Nico, the thief, Dino, the cat, and Jeanne, Zoe's mother. Dino is the stereotypically loyal pet – he captures the imagination of kids, but he's really nothing special. By contrast, Nico is an interesting one: sculpted as a Robin Hood figure, he steals but ultimately works for the greater good. One key issue I had with his character was that Felicioli really didn't explore Nico's character more in depth – while the other characters are well-rounded enough, Nico really had the potential to be fleshed out and his story could have added more layering to the narrative.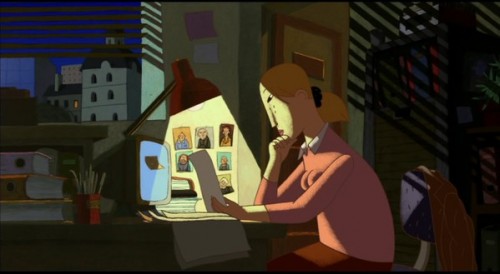 Zoe's mother, though, was the exact opposite: I feel as though she was given enough psychological depth. In between losing her husband, dealing with a stressful job, and trying to maintain a relationship with her child, Jeanne was a great look at the trials and tribulations of being a parent and a widow.
As I mentioned previously, A Cat in Paris also houses characters that reside more on the 'evil' side of the good-bad spectrum; however, these characters are not all just 'good' or 'bad'. The main antagonist is probably the closest to being wholly 'bad' – Cosca is a gangster who does everything only for self-gain, but even his psyche is delved into a bit. All of the other gangsters are more comedic than 'bad', and one even mentions he is only a gangster because "I don't know what else I'd be good at" – an interesting reminder that not everyone or everything is black and white.
Animation/Audio
The animation in A Cat is Paris is most definitely unique and has more of an artistic treatment than many other cartoons I have come across in the past. Done primarily using coloured pencil, each image that appears on the screen has a unique style of shading and construction. The animation is most definitely a steer away from the realism of some animations, or the flatness of others – it looks much like a child's drawings, which brings to life the imagination that is introduced through the narrative.
The best aspect of the animation is that – while the image is 2D – the pictures come alive in their own dimension, like a coloured-in picture springing to life. The backdrops of Parisian icons, such as the Eiffel Tower and the Notre Dame, are brought into an entirely new light with this new treatment. The amount of detail put into this animation is also incredible: on Zoe's wall, there's a picture of her and her father, and the background of Zoe's home has appliances and adornments. All of these elements bring Felicioli's world to life.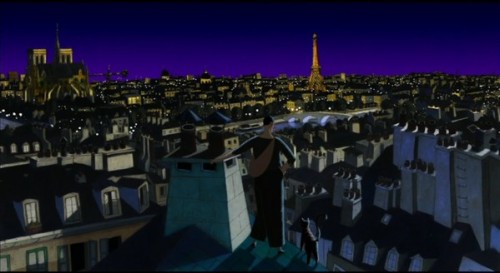 As for the soundtrack, it tends to navigate between blues and jazz to music that can't be described in any way other than 'French'. The opening sequences of the film feature a smooth, blues soundtrack while the rest features pianos or violins. While the soundtrack is very subtle for most of the film, it adds a somewhat unique element and really complements the animation on screen.
The voiceover acting was on par and suited the characters; however, the real gem in the audio department was the sound effects. No matter how small of subtle the sound effects were, they were still included. What results is a detailed aural depiction of the world of A Cat in Paris, which captures the senses and the imagination.
DVD Extras
Luckily, the DVD is loaded with extras for us animation enthusiasts. If watching the film in French with English subtitles isn't quite to your liking, there's an English language version – however, something about the magic of the film is just lost in the translation. Want advice? Watch the film first in French, then return to it a few weeks later and watch it in English.
The DVD also features a Making of, and believe me – after watching the film's animation, you will definitely want to know how it's made. Of course, standard to all DVD releases, there is a Theatrical trailer as well.
Final Comments
Overall, A Cat in Paris is an imaginative, beautiful, and enjoyable animation that accomplishes the oh-so-difficult task of being enjoyable for all the family. With wonderful visual elements and an engaging narrative, this film is definitely one to pick up and keep on the DVD shelf for years to come.