Game: 3D Twist and Match
Publisher/Developer: Bulkypix/Sanuk Games
Price: Varies from $.99 on Apple devices to £1.74/€1.99 on Playstation
Platforms: PSP (Reviewed), PS3, iPhone, iPad, Nintendo DS
Genre: Puzzle
3D Twist and Match is the latest game from Sanuk Games and Bulkypix.  These indie developers have been known to produce quite a few amazing games that offer a lot in the way of originality.  This new game aims to continue the streak.  Can it overtake the developer's previous offerings?  Does it offer much in the way of originality?  How come there is a chainsaw next to a trumpet in the picture up there?
The game play is very simple, but it is extremely difficult to master.  A shadow of an item, like a baseball cap, appears on the screen. Overlaid on top of it, there is the actual item, but is in the wrong position to fit the shadow.  Your job is to use the directional buttons and right and left triggers to rotate the item to match the shadow. And of course, do this in the fastest time possible.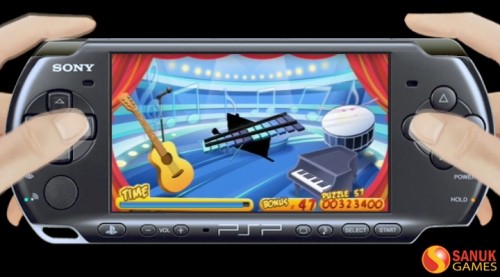 There are three modes to choose from in the main menu: classic, rush and practice.   Classic mode challenges you to match as many pieces as you can in the time given. You are also scored on each match matched.    If you fit the item in just a few moves and a couple of seconds, you receive the "awesome" award and a bonus on the score.  Take too long messing around, and the next puzzle will take its place.  After about 10 items, the environment will change, as will the puzzle pieces. All the puzzle pieces are similar to their backgrounds. For example , a beach umbrella is on the beach environment, and a Santa is placed on the winter background.
Rush mode is more or less the same as classic mode, except that your rushed and harried while playing this mode because, instead of having a large timer to complete all the puzzles, your task is to twist each piece into the desired slot within a few seconds. Once you do, the next item is placed on the board and the timer restarts, again with just a few seconds on it.
Practice mode allows you to choose what background you would like to play and which puzzle piece you'd like to practice on. There are no time limits present either. The puzzle piece you want to learn will show up with every possible angle that is present in the classic or rush modes. This allows you to have the opportunities to learn what each shadow looks like and it will hone your bonus scoring skills.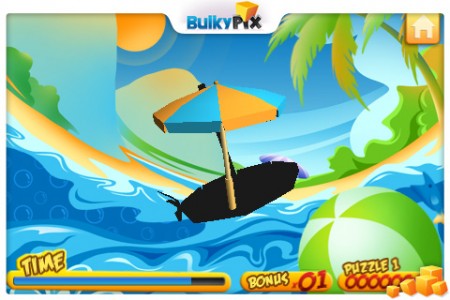 Unfortunately, I found the game to pretty dull in the game play department.  The game is built solidly; there are no technical difficulties or problems with  execution.  Its just that the entire premise is boring.  Even when you score a puzzle in one move and one second, all that pops up is the word "awesome."   Unless your in desperate need to sharpen your three dimensional thinking, or you need a puzzler to keep you occupied, there is no point to the game.   The lack of an online leaderboard makes this even more apparent. (Although, of course, this can't be fixed due to the fact that PS Minis are restricted from having online access.)  There are countless other games that can fulfill the needs mentioned above.
Making matters worse is that the graphics are pretty bland.  Backgrounds  appear to be badly drawn pictures, like a glove, layered over a standard, unoriginal picture, like a baseball field. Snore.  At least there are quite a few different items and environments to break the tedium. There are hundreds of pieces, from skulls to palm trees and speakers to guitars.   Quite a few backgrounds are also crammed into the game.
Possibly the one redeeming feature of the game is  that the soundtrack changes from artwork to artwork. As an example, the city street has rap beats in the distance, and the Halloween one has spooky sounds.  These aren't wildly unique compositions, but they fill the void fairly well.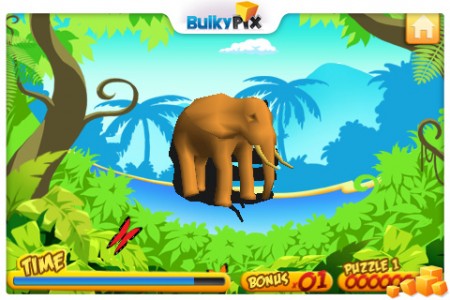 In conclusion, this game is only a few dollars and it is solid; there are no game breaking problems or glitches.  But, with only a few modes and boring puzzling, don't buy this game.  3D Twist and Match scores points for its fun soundtrack, and it could possibly whittle away a couple hours of the day.  Nevertheless, tepid graphics and other mechanics bring the game down.  These developers make so many other games that are so much better. For example, take a look at Pix'n Love Rush for the PSP or iPhone to satiate your gaming habits; you will have a ton more fun.