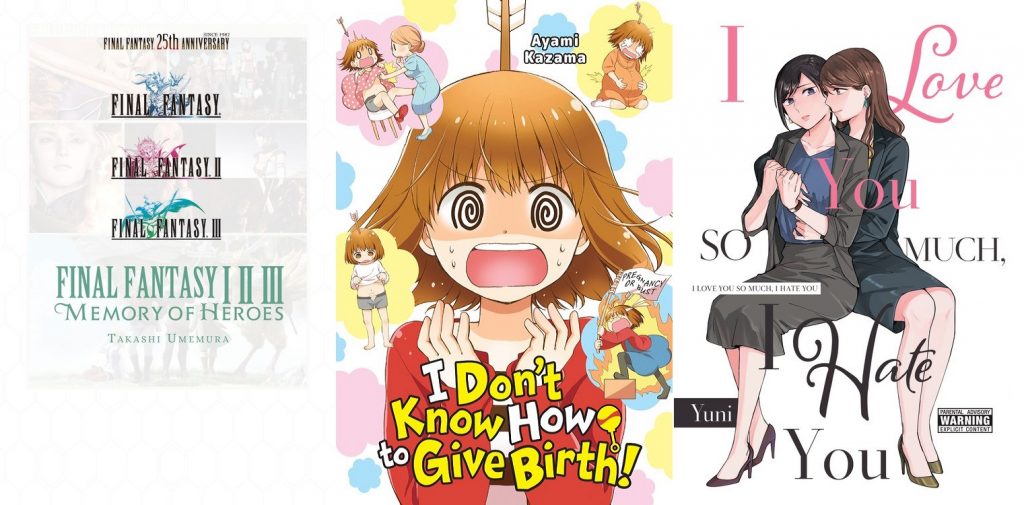 With August rolling around Yen Press has a number of brand new titles releasing for the first time mid-way through and at the end of the month. These series range from standard light novels, omnibus' of popular series, one-off manga, and more. Starting on August 18th the company is releasing Final Fantasy I, II, III: Memory of Heroes by Takashi Umemura that tells the story of three times the balance shifted-and the three bands of friends who came together to save the world.
I Don't Know How to Give Birth! by Ayami Kazama will also be releasing that day and is a humorous and heartfelt autobiographical comic essay of a manga artist new to the challenges of motherhood. Following this we have Yuni's I Love you So Much, I Hate You which follows the story of Saori Fujimura and her boss, Ayako Asano who are unbearable at work together but after hours their relationship takes on a different color, but with Ayako already married, how far will this go?
On the more raunchier side of things, we have the light novel adaptation of Interspecies Reviewers Volume 1: Ecstasy Days also releasing on that day with artwork being handled by Amahara, W18, and Masha and telling the tales of Stunk, Zel, and Crim on their erotic adventures to sample everything that the variety of humanoid species have to offer.
Fans of the Puella Magi Madoka Magica franchise will be happy to hear that the Complete Omnibus Edition of the manga will also be releasing on August 18th in an oversized format. When a new girl joins her class, Madoka Kaname thinks she recognizes the mysterious, dark-haired transfer student, from a dream where Madoka is approached by a diminutive critter with an offer to change destiny. Madoka had always thought magic was the stuff of fantasy…until she sees the transfer student fighting with that very animal.
The popular anime series' Rascal Does Not Dream of Bunny Girl Senpai will also see its first manga volume releasing on the 18th with the light novel spin-off Rascal Does Not Dream of Petite Devil Kohai also dropping at the same time. In this spin-off, Mai is no longer invisible – she's acting again, and she finally said yes when Sakuta asked her out for the millionth time. Life couldn't be better for Sakuta…until he wakes up and finds himself reliving the morning before she agreed to date him.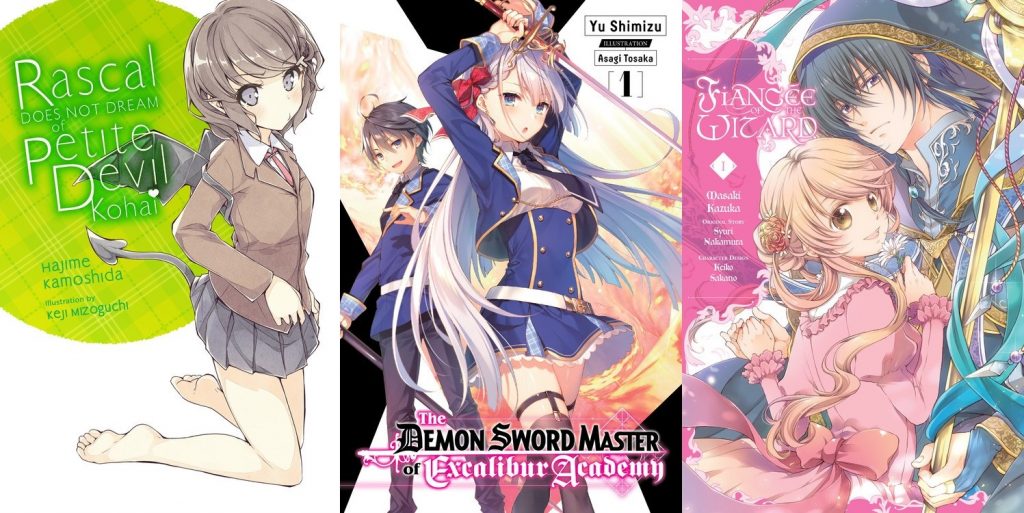 The final book releasing on the 18th happens to be a new light novel by the name of The Demon Sword Master of Excalibur Academy where the Dark Lord Leonis suddenly finds himself in the body of a ten-year-old boy after awakening from magical stasis after a thousand years. He quickly meets Riselia, a girl confronting the Voids, creatures that have nearly exterminated humanity. Determined to uncover the mysteries of this strange new era, Leonis enrolls in Excalibur Academy, a school that trains students to fight back against these enigmatic monsters.
As for the last two releases, they arrive on August 25th and happen to be the first volume of Fiancé of the Wizard manga where Filimena via Adina, daughter of nobility, awakens one day with the realization that she had been reborn into a world of sorcery and given a second chance at life. In her new country full of heroes, she expects this means she's a chosen one, yet her lot is not as she dreamed-instead, her path crosses with the improbably powerful stepson of a wizard, and as a young noble lady, her place is at his side…as his fiancée. Finally the novelization of the popular The Garden of Words film will also be released on this day. Sample images of the cover volumes for all of these releases can be found below and for everything that Yen Press is releasing this August the full list can be found here.