Kickstarter launches today!
Oxford, July 1, 2020 – Rebellion Unplugged, the new tabletop division of one of Europe's largest independent studios, is proud to announce the launch of Adventure, a brand new series of roleplaying games specifically designed to remove traditional barriers to play.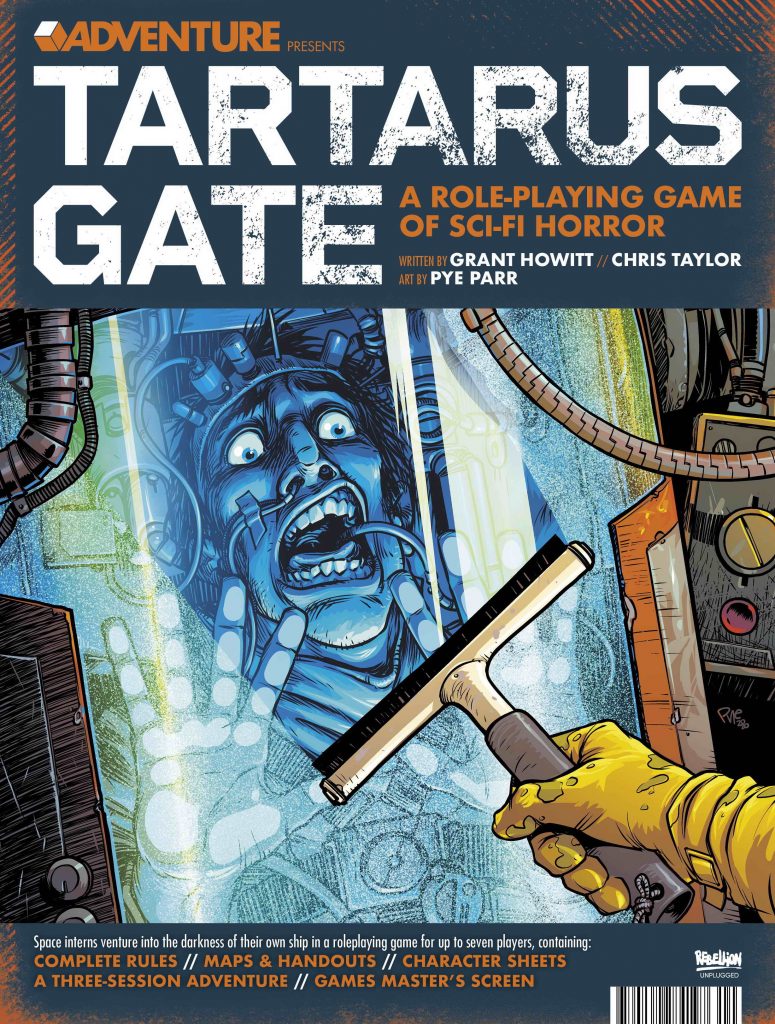 The project launches on Kickstarter today with Adventure Presents: Tartarus Gate, a journey through sci-fi horror. Tartarus Gate is designed by Grant Howitt & Chris Taylor, the creators of Spire and Honey Heist, and their work has been featured in the likes of Critical Role and The Adventure Zone. In Tartarus Gate, players will take on the role of unpaid interns in deep space trying to secure permanent jobs in the face of cosmic chaos.
Adventure Presents is a complete role-playing game in a single magazine. It operates as a series of pull-out supplements, leaving players with a complete rule set, character sheets, in-game handouts a GM's reference and a 24-page adventure. To assist in remote play, Rebellion will be providing a digital asset pack including copies of the illustrations and character sheets to backers of both the physical and PDF editions.
"We've been working on Adventure for over a year, developing it to be a game that works equally well in person and remotely", said Duncan Molloy, head of Rebellion Unplugged. "With everything that's happened recently we've brought it to the top of our development plans to meet the evolving needs of our audience.
"We're superbly suited for this too – we've been delivering 2000 AD to our many subscribers on a weekly basis throughout the lockdown, so we've got the systems in place to ensure we can deliver physical copies of Adventure Presents to players by the end of August."
Rebellion Unplugged launched in November 2019 with a remit to release new physical games and collectibles based on Rebellion's extensive collection of properties. Sniper Elite the Board Game is currently in development and scheduled to launch later this year.
COPYRIGHT ©2020 REBELLION. THE REBELLION NAME AND LOGO ARE TRADEMARKS OF REBELLION AND MAY BE REGISTERED TRADEMARKS IN CERTAIN COUNTRIES. ALL RIGHTS RESERVED.
About Rebellion Founded in 1992, Rebellion is one of Europe's biggest independent multimedia studios. Its flagship Sniper Elite series is renowned for its authentic stealth and sniping gameplay with more than 20 million players worldwide. 2000 AD is synonymous with the absolute finest in British comic book art. With the acquisition of a $100m film studio and the world's largest archive of English language comics, Rebellion continues to grow from strength to strength.

Rebellion now operates across books, comics, TV and film, but at its core it's still a leading developer and publisher of games. Whether it's the breathtaking intensity of Sniper Elite 4, the face-hugging terror of Aliens vs. Predator or the grindhouse frenzy of the Zombie Army series, the Oxford-based studio is revered for creating stand-out games designed to thrill.