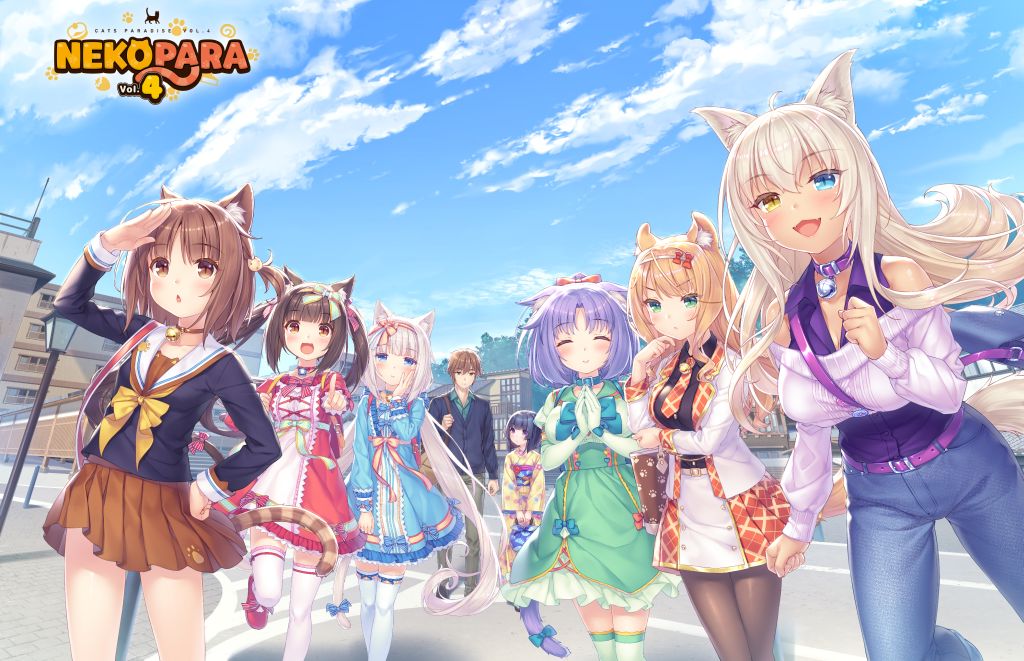 After keeping fans waiting a bit longer than usual, it looks like Sekai Project now has a narrower release window for Nekopara Volume 4 as well as a number of other PC visual novels that have been scheduled to be released this year. The company has announce that the English version of the game is "nearly complete" and it will be releasing sometime in November 2020 under the name Nekopara Vol 4: Noel avec les filles-chat et Patissier.
Despite the popularity of Kashou Minaduki's patisserie, "La Soleil", his father continues to disapprove of it. Seeing how troubled Kashou was, Shigure offers up a suggestion as a change of pace. A hot springs trip with Chocola, Vanilla and the other catpanions. With Azuki and Coconut's encouragement, Kashou is determined to confront his father while Maple and Cinnamon suggest a trip to France to seek advice from the teacher who taught him his craft. But why is Shigure also tagging along!? And an encounter with a new catgirl in France…
Alongside Nekopara Volume 4 the company also revealed that Island Diary, developed by Watakubi, will be releasing in Winter 2020 and tells the story of a young man found unconscious on a beach by a bear-eared girl named "Momo". According to Momo, the young man was washed up on this isolated island and had no recollection of what happened to him before.
Returning to the beach where he was found, he finds his belongings and from that he knows that his name is "Ryou". However, Ryou still cannot remember how he ended up on this island and what happened before that. Ryou learns about the island from Momo. She tells him that other girls like her such as the cat-eared "Kuro" and the rabbit-eared "Mocha" also are here. The three girls put their energy together to live together but the possession of a certain diary has taken them further and further apart.
Alongside these two the company also revealed that Harumade Kururu developed by Sumikko Soft and Love's Sweet Garnish 2 by Canvas+Garden will be releasing sometime in 2020, and that the short fan disc for The Ditzy Demons Are in Love With Me will be arriving in Q3 2020. A number of CGs for Nekopara Volume 4 were released to accompany this announcement alongside a bit of artwork for Island Diary, and a trailer for The Ditzy Demons Are in Love With Me were also released and can be found below.