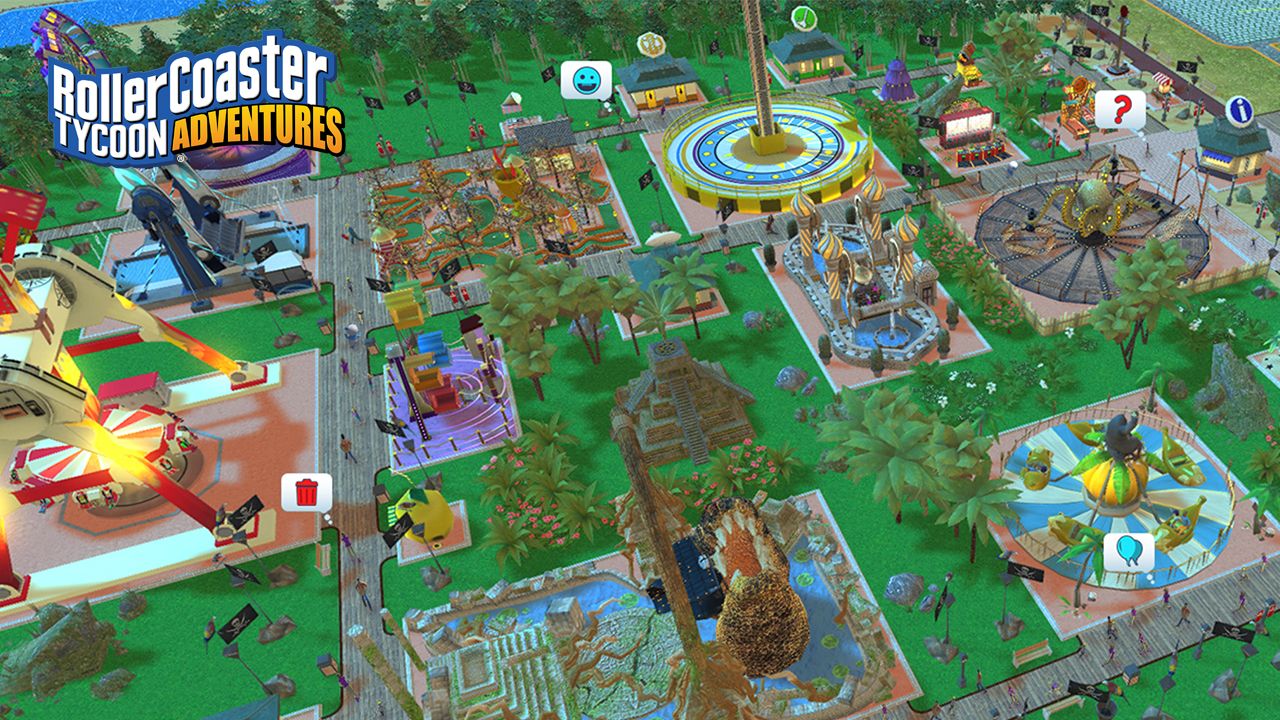 We sit down with Mark Perloff, a senior producer at Atari, to talk about RollerCoaster Tycoon Adventures. The game is available now on Switch.
The title is based on the mobile version Rollercoaster Tycoon Touch, was it a no brainer to bring this version to the Nintendo Switch having the touchscreen–controls in mind?
We saw the unique portable/console capabilities of the Switch as a great fit for RollerCoaster Tycoon. Considering our success with RollerCoaster Tycoon Touch on mobile, using that title as our base was an easy decision – the colorful presentation and streamlined interface and gameplay of RCT Touch lent itself well to the Switch. However, there are tons of changes between the mobile title and RollerCoaster Tycoon Adventures, and it's just as easy to play with Joy-Cons as it is with touch controls.
RCT Adventures features a totally different game economy and research-based progression system (with no IAP or micro-transactions), a brand-new Adventure Mode where your decisions affect how your park grows, a free-form Sandbox Mode, four game environments, new decorations, improved graphics and lighting, and a lot more. We used RCT Touch as a jumping off point, but this is not a straight port of a mobile title.
Additionally, we saw a great opportunity to present RollerCoaster Tycoon to a whole new audience on the Switch. The game is a great entry point for new or younger players, offering a lower barrier of entry to the joy of building and managing a park than previous RCT PC titles.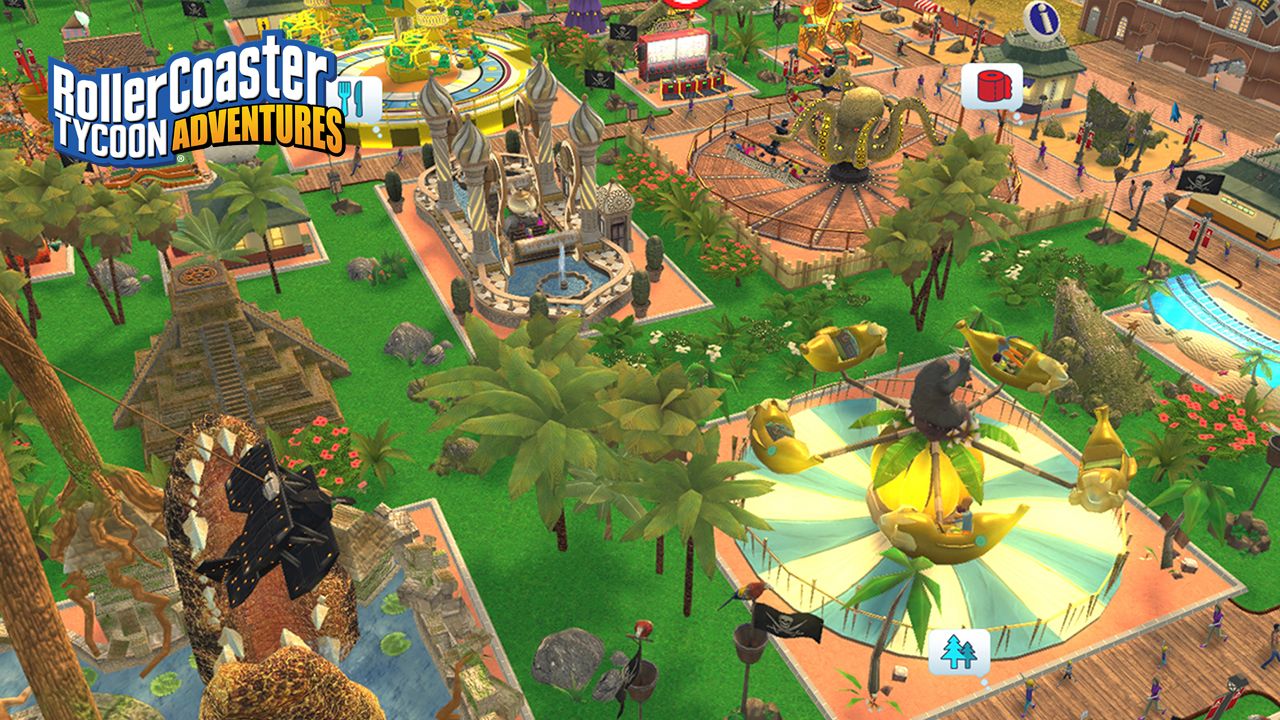 Construction and Management + strategy games are having a hard time to get a release for consoles – mostly due to difficult controls – do you personally think that the Nintendo Switch changed the game with recent releases from titles like Rollercoaster, Civilization, etc
It certainly seems that way. Aside from RCT, you see games like Civilization VI and Cities: Skylines popping up on the Switch. With RCT Adventures, the touchscreen capabilities of the device give players more freedom to play the game as they want. And more importantly, our interface is streamlined in a number of ways from previous RCT titles, which makes for a more accessible play experience considering the limited button inputs of the Switch. I think we did a great job of translating the feel of RCT onto console.
Do you see a big risk for developers/publishers bringing these kind of games onto consoles? Especially creating a new game instead of porting/modifying an already existing title.
I can't speak for other developers and publishers, but I think there are always risks inherent in the release of ANY title on a new platform. For us specifically, the classic RCT games loom so large in the imaginations of our players, so we needed to find the line of respecting the fundamentals of those titles while moving the series forward in new directions.
For RCT Adventures, our decision to use RCT Touch as our base informed the rest of our design process. We built RCT Adventures to be an accessible entry point for new players into the series, with a streamlined economy and simulation. We also felt like this made it an excellent match for the Switch as a platform, where players could play for a few minutes at a time or a few hours and have a rewarding experience.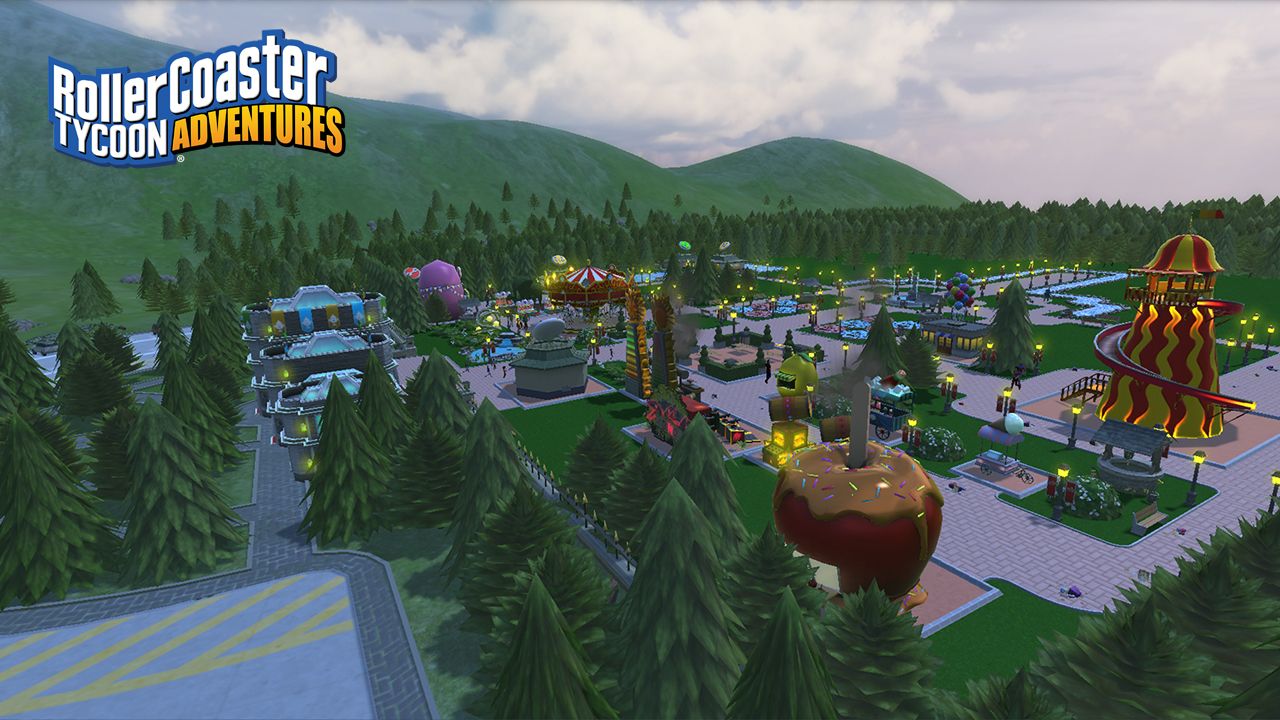 I personally like the tools that the game offers me to create massive rollercoasters on my own including the height, curves etc. I feel like I'm spending way more time in the editor than actually "observing" the park – compared to the classic games if I remember my experience correctly – it was the other way around. Any comments on this – and why you took this decision? Was the community asking for more freedom for example?
I think everyone plays RollerCoaster Tycoon differently and aims to get different things out of their play experience. As we were designing RCT Adventures, we often looked at it from a new player's perspective. What would someone fresh to the series want? What would a Switch user want? The ability to design wild coasters and layout your park quickly and easily was paramount to us, so we emphasized that as we were building the game.
What do you think can players expect in this specific genre in the next years (also from Atari?)
You'll have to wait and see!