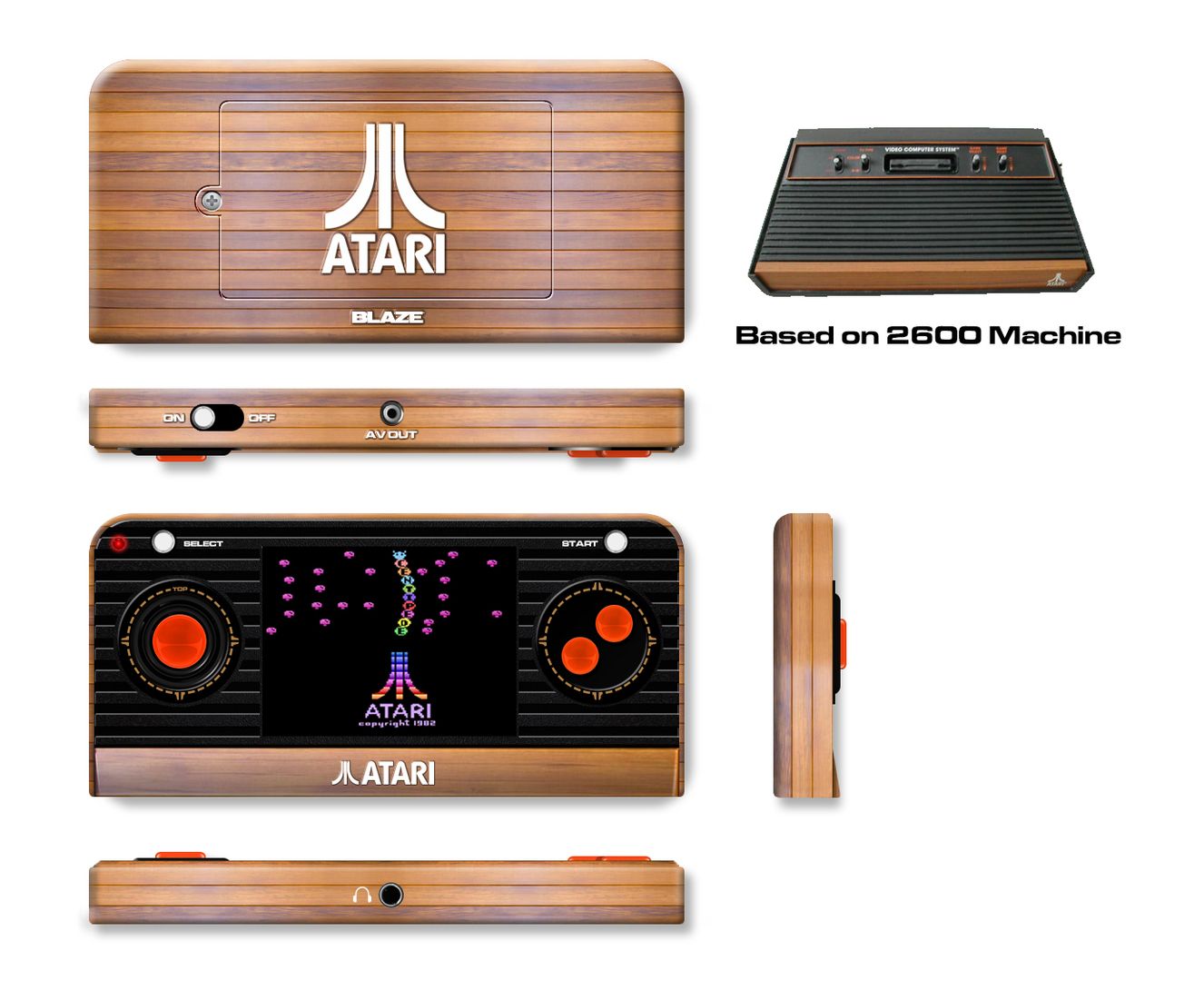 While it is not the AtariBox, Atari announced they will be rebooting the classic Atari 2600 console in handheld and TV console formats this Christmas. The Atari Retro Handheld features a wood effect inspired by the Atari 2600's design. The handheld sports at 2.4″ screen with A/V output and an analog joystick. An optional HDMI adapter will also be available, allowing owners to plug the device into a TV. It will have an MSRP of £34.99 at Funstock Retro.
For those preferring to enjoy their games at home, the Atari Retro Plug and Play TV Joystick channels the classic Atari Joystick with modern plastics and connectivity. The joystick can be plugged into the TV directly with the included A/V cable or with an optional HDMI adapter. Funstock Retro will be carrying the joystick for £24.99.
No word if either console will be carried by retailers outside of Europe.
Both consoles come with the following 50 classic titles:
1.3D Tic-Tac-Toe (31 in 1)
2.Adventure
3.Air-Sea Battle
4.Asteroids ®
5.Black Jack
6.Bowling
7.Breakout ®
8.Canyon Bomber ®
9.Casino
10.Centipede ®
11.Circus Atari ®
12.Crystal Castles ®
13.Demons to Diamonds ™
14.Desert Falcon ®
15.Dodge 'em
16.Double Dunk
17.Fun With Numbers
18.Golf
19.Gravitar ®
20.Haunted House ®
21.Home Run
22.Human Cannonball ™
23.Maze Craze
24.Millipede ®
25.Miniature Golf ®
26.Missile Command ®
27.Night Driver ™
28.Off the Wall
29.Pong – Video Olympics
30.Quadrun ™
31.Radar Lock ™
32.Realsports Football ®
33.Realsports Tennis ®
34.Realsports Volleyball ®
35.Sprintmaster
36.Star Raiders ®
37.Steeplechase
38.Stellar Track ™
39.Street Racer
40.Submarine Commander
41.Super Baseball
42.Super Breakout ®
43.Swordquest: Earthworld ™
44.Swordquest: Fireworld ™
45.Swordquest: Waterworld ™
46.Tempest ®
47.Video Checkers
48.Video Chess
49.Video Pinball
50.Yar's Revenge ®