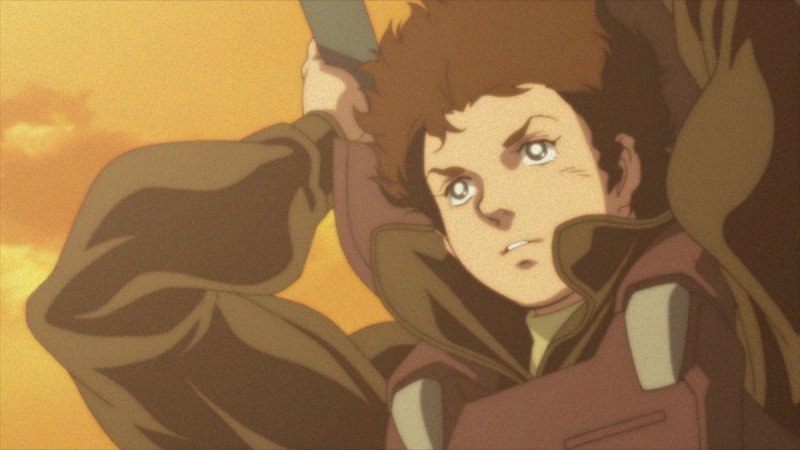 Right Stuf and Nozomi Entertainment made three announcements during their panel at Anime Central 2017 two days ago. Right Stuf announced its plans to release the compilation film collection Mobile Suit Zeta Gundam: A New Translation on Blu-ray as a part of their deal with Sunrise. Nozomi Entertainment announced that they have licensed Galaxy Angel Z and will be releasing it soon, and that they will be releasing Ninja Nonsense on Blu-ray.
Mobile Suit Zeta Gundam: A New Translation will be available on Blu-ray later this year with Japanese audio and English subtitles. There will be a trade-in program for customers who previously purchased the DVD release of the films. Right Stuf describes the story as follows:
Universal Century 0087. The Titans, a bellicose faction among the Earth Federation Forces, grows powerful and tyrannical, even using poison gas to suppress a civil unrest. Dissident soldiers from the same military stand against them, forming a resistance group called the A.E.U.G.. Kamille Bidan, a civilian student, gets entangled in this conflict when he accidentally steals the Gundam Mk-II and joins the A.E.U.G., running away from his home space colony. Then he begins to fight along with Char Aznable, a former Zeon ace pilot who has infiltrated the Earth Sphere for reasons of his own.
All 18 episodes of Galaxy Angel Z will be released on Blu-ray with English audio and Japanese audio with English subtitles in 2018. Nozomi Entertainent describes this sequel as follows:
The five Galaxy Angels are back with a mission for more gut-busting laughs! For their newest assignment, the girls must investigate a haunted mansion – but as it turns out, it's a hideout for thieves. Later, Ranpha receives free tickets to a wrestling match, but ends up facing Great Muscle, the strongest man in the universe, in the ring! Then, Milfeulle and Mint pick up a tribal leader who happens to have a costume of a fabled creature for the tribal festival. Mint can't help herself… She puts on the costume, and ends up the village celebrity!
Ninja Nonsense will be released on Blu-ray in 2017 with English audio and Japanese audio with English subtitles. This adaptaion of Ryoichi Koga's manga was produced by Ufotable. Nozomi Entertainment describes this series as follows:
This is the story of super-handsome Onsokumaru, beautiful girls, and their animated adventures of love, lust and tears!!

Shinobu, a voluptuous young ninja-in-training, is a student of the great ninja master Onsokumaru – a lecherous, loud, shapeshifting yellow ball. Onsokumaru sends Shinobu out on a mission of vital importance: to stealthily acquire the panties of local high school girls! In the midst of failing miserably, she manages to befriend hot-tempered schoolgirl Kaede, and the two quickly find themselves embarking on countless outrageous adventures with Onsokumaru and his ninja clan.
More details about these releases will be posted when they become available.