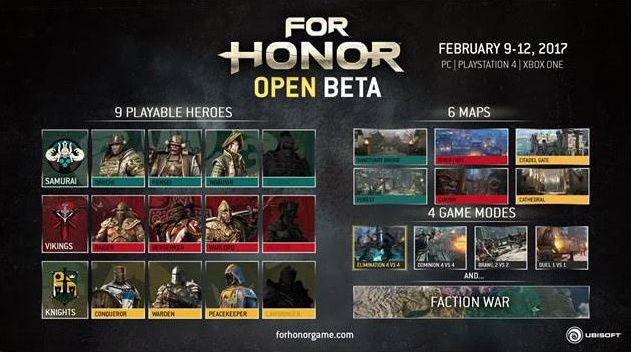 Good news for those who missed the For Honor Closed Beta test this past weekend. Ubisoft will be running an Open Beta from February 10-13 on all three platforms. The Open Beta will feature the same nine characters and six maps featured in the Closed Beta. New to the Open Beta is the Elimination mode that pits two teams of four against each other in a no respawn, best of five match.
The War of the Factions event returns in the Open Beta. Players fight for one of the three factions in the game and all their progress will go towards overall faction scores. The winning faction will earn special rewards when For Honor launches. Based on the progress in the Closed Beta, the Vikings are winning; however, there is still time for a come back!
For Honor launches on PC, PlayStation 4, and Xbox One on February 14.