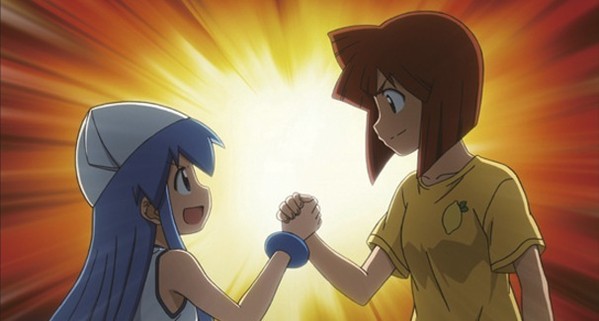 Sentai Filmworks announced today that they have acquired the rights to the entire Squid Girl anime series. This includes seasons one and two and the OVAs. Sentai Filmworks' license not only includes the right to distribute the series on home video, but also includes television broadcast rights as well. It has not been revealed if this means that the series will be broadcast on Adult Swim's Toonami block.
Sentai Filmworks describes the series as follows:
The cutest little tentacle-haired invader from the sea, Squid Girl, has come to subdue humanity! Unfortunately, she's in hot water with the Aizawa siblings after a demonstration of her squid powers destroys their restaurant, the Lemon Beach House. Now, she's forced to work as a waitress for them until she pays off her damages. Between her aquatic puns, bickering with the Aizawa sisters, tiffs with customers, and the many misadventures that come with seaside life, Squid Girl has her hands, and her tentacles, full!
The original manga series was drawn by Masahiro Anbe. It was serialised in Akita Shoten's Weekly Shounen Champion from 2007 to 2016. Tsutomu Mizushima directed the anime adaptation and Michiko Yokote handled the series composition. Mizushima and Yokote both worked on the original anime series Shirobako. Diomedea produced the animation for the series.