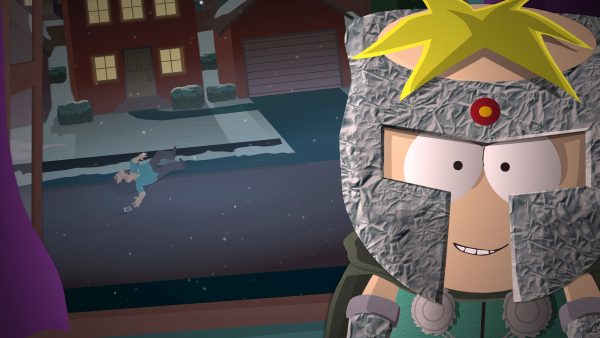 Ubisoft announced during their E3 2016 press conference that they are planning on releasing South Park: The Fractured But Whole for the PlayStation 4, Xbox One, and PC across North America and Europe on December 6th. The company also announced that Anyone who purchases South Park: The Fractured But Whole before March 31, 2017 will receive South Park: The Stick of Truth for PlayStation 4, Xbox One, or PC free of charge as well as "Towelie: Your Gaming Bud" as an in-game assistant that will provide unique assistance to players at key locations in the game.
South Park: The Fractured But Whole was also given a couple of new videos and a story summary that you can check out below:
With crime on the rise in South Park, the streets have never been more dangerous. As the sun sets on the quiet Colorado town, havoc and chaos unleash a reign of terror and the seedy underbelly of the city comes alive. The town needs new heroes to rise! Eric Cartman seizes the opportunity to save the town and create the best superhero franchise ever, his own Coon & Friends with himself as the leader, The Coon. Continuing in their role as the New Kid, players will become a member of Coon & Friends and fight for fame and their place beside the other kids.

Players must harness their fart-based powers to fight crime and become part of the most marketable superhero franchise of all time. Every superhero has an origin, and Coon & Friends are no different. Players will discover their backstory, assemble their unique costumes, and mix and match powers from numerous hero classes to create their own original hero.
Trailer
Gameplay Video