 Pokemon GO is a lot closer to release than many believed with late July 2016 being the aimed for release date announced at a recent live play event at Nintendo's E3 Treehouse. It was noted this is when the game is aiming to be released and it may have to be pushed back if problems arise. We also got our first look at direct feed official gameplay, right from the developers themselves which revealed some interesting new information as well as some laughs, such as this picture of one of the developers dogs vsin g a Nidorino.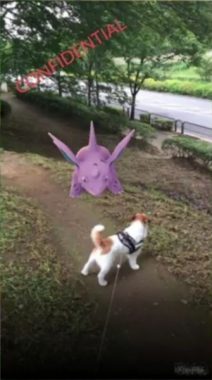 You can watch the footage in whole below but we've neatly listed all the highlights for you from that footage below.
The main focus of the game is catching Pokemon. You can earn XP for fancy Pokeball throwing methods such as a curve ball.
More Pokemon will be added later but at launch only the original first generation will be available.
The accessory GO Plus will flash green if a Pokemon is nearby. If you press the button it will then automatically try to capture the Pokemon for you, if it flashes rainbow then it's caught, if it flashes red the capture failed.
The GO Plus accessory is also aiming for a July release date and will be available at certain retailers for a cost of $34.99 US.
Pokemon GO will eventually have connectivity with the new series core games Pokemon Sun & Moon.
Trading will be implemented into the game at some point after launch through an update.
To evolve Pokemon in Pokemon GO you need to use specific candies. Catching a Pokemon will give you a candy. You can use these candies to Power Up or Evolve a Pokemon. For example, if you catch 25 Bulbasaurs you can use those 25 candies to evolve it into Ivysaur or Power Up 25 times.
There are plans to have events where players meet in one physical location, most likely similar to the Mewtwo capture in Times Square we saw in the announcement trailer.
Be sure to check out all our previous Pokemon GO! reports to see all the news we have collected over the last year, including how battles and gyms will work.