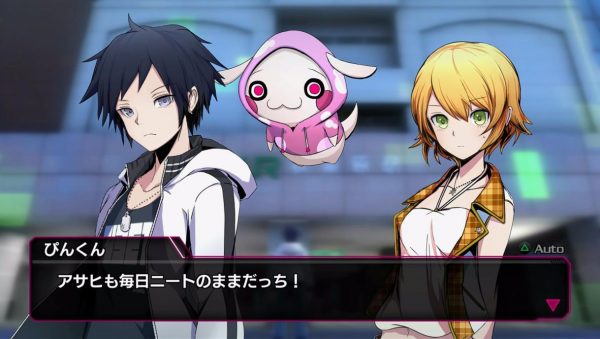 This week's issue of Famitsu magazine has revealed some new characters that will be appearing in Akiba's Beat and many of them happen to be right up Akihabara's alley thanks to nearly half of them being maids working at a cafe. These new eight characters and their voice actors are introduced below, courtesy of Siliconera:
Kotomi Sanada (CV: Sumire Uesaka): A 17-year-old third-year high school student, but she currently isn't attending school. She's the daughter of a reputable family. She's sharp-tongued and speaks with an authoritative tone.

Reiji Shinomiya (CV: KENN): A 28-year-old man who is on a manhunt in Akihabara. He works with Asahi and the others after certain events, and has a cold personality.

Mizuki Aihara (CV: Kensho Ono): A 20-year-old university student who is Asahi's childhood friend. Contrary to the free spirit that is Asahi, he's more of a serious and level-headed person.

Kanon (CV: Tetsuya Kakihara): His existence is the rumored "man in a pink cloak" of Akihabara. He contracts delusions of people and is known as the "Delusion Contractor" but his identity and motives are currently unknown.

Moe Suzumori (CV: Yuuki Kuwahara): An 18-year-old who works as a maid at a maid cafe. She's popular enough to be the face of the shop, and legend has it that she's never taken a day off since starting the job.

Yuno Saionji (CV: Hibiku Yamamura): A 28-year-old maid who works for Kotomi. She does nothing but spoil Kotomi.

Katana Saotome (CV: Juri Kimura): A 16-year-old Bokukko (a girl who uses male pronouns) maid that works in a bar located on the side-streets of Akihabara. She has a good sense of style and is popular with the costumers, but her lack of confidence can get the best of her at times.

Akemi Ecstasia (CV: Tsubasa Yonaga): A mysterious woman and owner of the bar where Katana works. She's also an information broker. She finds Asahi and his friends interesting and treats them favorably.
Akiba's Beat is currently slated for release in Japan sometime in fall 2016 and XSEED Games has already announced that they plan on bringing the PlayStation 4 and PS Vita RPG to North America sometime in winter 2016.