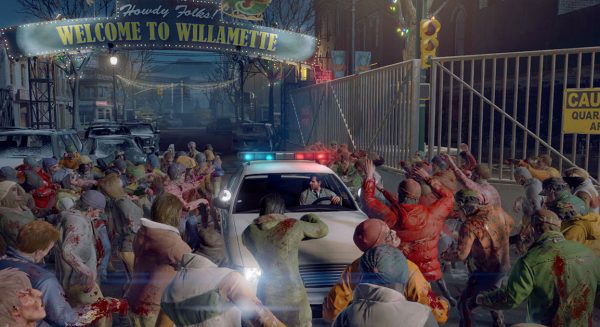 After leaking all over the place, Microsoft and Capcom Vancouver officially announced that Dead Rising 4 is indeed on the way. The game features the return of Frank West and, as you can tell from the sound of the Christmas music that the video is set to, it is set during the holiday season in Willamette.
Plenty of new weapons and the ability to travel outside the mall are shown off in the minute and a half long trailer. Dead Rising 4 will be released on the Xbox One and PC sometime during the holiday season and you can check out the announcement trailer as well as a summary for the game from Mirosoft below:
Frank is back in Willamette, Colorado, 16 years after the events of the original Dead Rising. A mysterious outbreak has overrun the Willamette Memorial Megaplex Mall and surrounding town with deadly predators… and Frank soon realizes that what's dead doesn't always stay that way.
As Frank seeks to uncover the truth behind the outbreak, he faces new undead enemies, including the Fresh – newly zombified victims that will turn in front of his eyes, and exhibit superior speed and ferocity. He also has to tangle with the Evo – zombies with superior strength and mobility that mimic the behavior of predatory hunting animals.
Additionally, several fan-favorite Dead Rising features return, including the ability to combine hundreds of weapons and vehicles to combat the horde – ranging from the practical, to the practically insane. Frank also gets access to all-new EXO Suits, giving him super-strength and incredible firepower, as well as the ability to rip down objects in the world to use as weapons. From giant pipes to parking meters, the world is filled implements of mass zombie destruction.
We're also bringing fans a new approach to multiplayer, allowing you to play together with four friends to complete missions and conquer the zombie-infested Willamette Memorial Megaplex. Or you can use quick match to join a game in progress with players around the world.