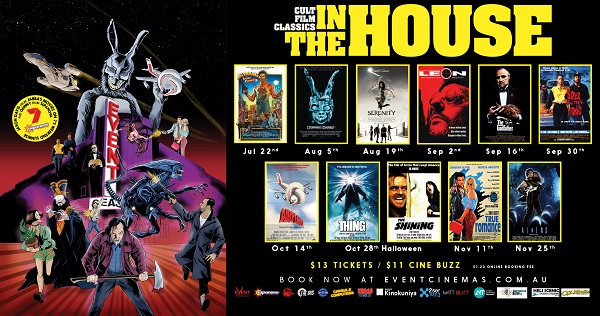 The folks over at In The House announced their line-up for the new season of cult classic film screenings starting mid-July of this year. This season will be a reboot (because they're all the rage these days) to help synch up all the In The House events nationally with cinemas in other states. This might also mean that old entries might be chosen to go up again so check out what I thought about the previous entries here (with my favourite being Toy Story).
As it stands, here are the films which have been announced so far:
Big Trouble in Little China (1986) –July 22nd
Donnie Darko (2001) –August 5th
Serenity (2005) –August 19th
Leon the Professional (1994) –September 2nd
The Godfather (1972) –September 16th
Boyz N the Hood (1991) –September 30th
Airplane (1980) –October 14th
The Thing (1982) & The Shining (1980)- October 28th Halloween Double Feature
True Romance (1993) –November 11th
Aliens (1986) –November 25th
I'm a fan of the In the House format and I quite enjoy the selection of films they have put up each season and I am looking forward to reviewing the new season as well. Airplane in particular is one of my favourites and alongside Serenity and The Godfather. It's good to see these films screened in a cinema (as they were intended to be watched) and I have no problem recommending coming along to In the House.
You can find tickets for all of their screenings here.