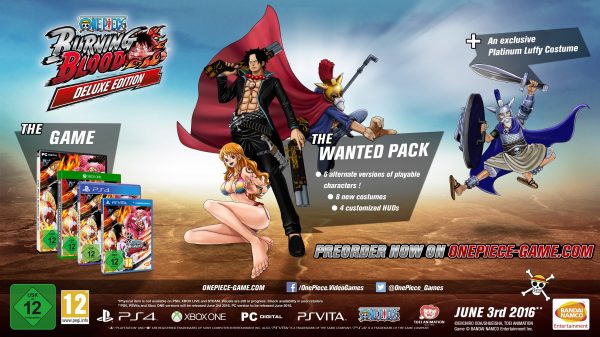 Bandai Namco has announced the digital pre-order bonuses that will be available for One Piece: Burning Blood. Two digital versions of the game will be available for the game, a standard edition and a deluxe edition. The deluxe edition comes with the full game the complete "Wanted" DLC Pack, and two exclusive items: a "Platinum Luffy" costume and a PS4 theme
Whichever version you pre-order, you still get the same bonuses as you do with a physical pre-order (minus the metal case): the additional playable characters of Luffy Gear 4th, Afro Luffy, and Kung Fu Luffy.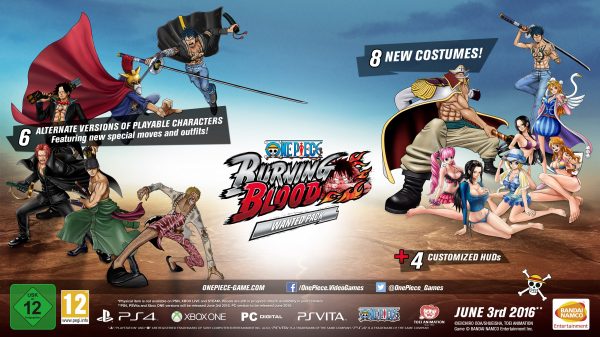 The "Wanted" DLC pack will include the following bonuses:
Six alternate versions of playable characters, featuring new special moves and outfits: Ace and Shanks in their classy black suits, Sabo dressed up as Lucy, Zoro wearing his well-know bandana and torn clothes, and Doflamingo and Trafalgar Law from their duel at Dressrosa.
Eight new costume

s

: Nami, Robin, Hancock, Perona and Koala are joining the fight in their sexy swimsuits. We also have the young version of Whitebeard, a new costume for Law and Bon Clay cloned as Nami!
Four customizable HUDs in the colors of Doflamingo, Sabo, Ace and Trafalgar Law.
One Piece: Burning Blood is currently set to be released in North America on May 31st and on June 3rd in Europe for the PlayStation 4, Xbox One, and PS Vita.