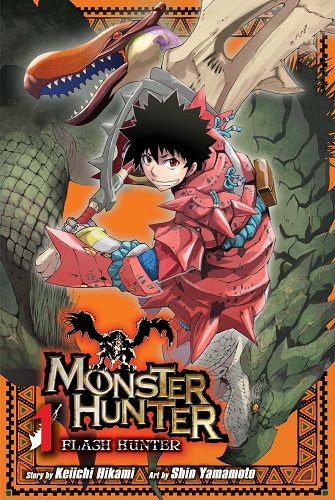 Viz Media has some news for fans of the Monster Hunter series or even those who enjoy seeing video games adapted into a different style. They have announced that they will begin releasing a Monster Hunter manga series called Monster Hunter: Flash Hunter on April 12th and will be releasing the ten volume series bi-monthly from then on.
Monster Hunter: Flash Hunter is written by Keiichi Hikami and features artwork by Shin Yamamoto. When released each issue of the volume will be priced at $10.99 U.S. / $12.99 CAN.
The story told in Monster Hunter: Flash Hunter is set in an age when monsters rule the world, soaring through the sky, treading the earth and filling the seas. Humanity survives on the fringes, relying on a special kind of hero to defend the people from danger, the Monster Hunters.
The opening volume follows Raiga and his comrades as they head off to confront the dragon-like Queropeco but quickly learn that challenging such difficult prey could make them pay the ultimate price.