Following an announcement in September 2016, over 6 months later we finally have some footage of Pokemon GO! It may be low quality, but we'll take anything at this point. The full leaked footage is at the bottom of this article.
The video goes for about a minute, showcasing the world map which seems to be an overlay of Google Maps. At the bottom of this we see a player profile with a username, display picture and current level as well as 3 Ivysaur images which I imagine are indicating Ivysaur are in the area. It seems the avatar picture matches the 3D model on the map, indicating trainers are customisable. On the map we also see some Pokemon Gym icons but we don't know the meaning of these yet.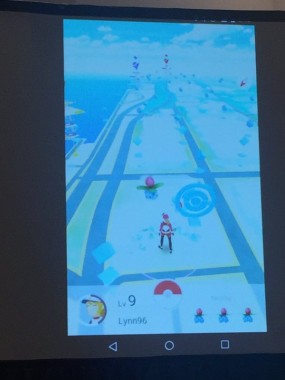 The trainer then engages with the Ivysaur which is presented on a real life background presumably through the players phone camera. The player flicks a Pokeball at the Ivysaur but misses. They then throw another ball that hits but the Ivysaur breaks free after the second shake.
It seems there is some skill involved in flicking the Pokeball as the player was awarded with a nice throw message on their second attempt. The player then switches to a Master Ball and the Ivysaur is caught, with the player gaining experience in the process and getting some Pokedex data. Pokemon retain their weight and height data from the games as well as their type. The player also earns Crystals which are some type of currency but not really explored.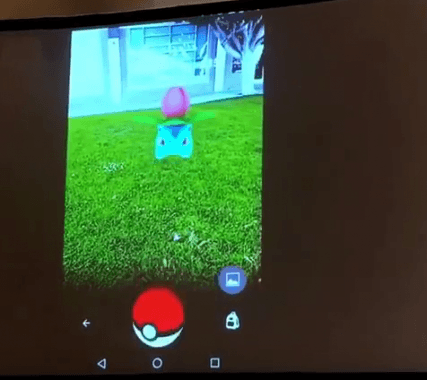 We also have some audio from developer John Hanke of Niantics Lab who was presenting the game. He goes on to mention Pokemon live in all types of habitats such as forests and mountains so you will have to travel far and wide to find them all.
For more details about Pokemon GO! check out our announcement coverage which covers details on gameplay and the Pokemon GO! Plus peripheral. Pokemon GO! is due out sometime this year for iOS and Android devices and a quick reminded you can watch the leaked footage for yourself directly below. Be sure to leave a comment on what you think below as well. As for this writer's opinion the game looks basically how I expected it to and I think that initial trailer got people's hopes up way too much. However it's obvious this is early footage and the presentation of the game will get cleaned up immensely before release, at least I hope so.