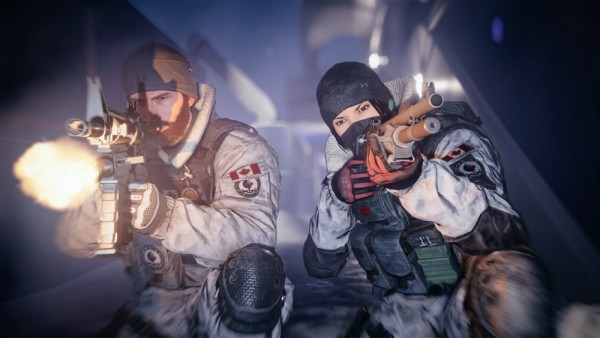 The first content update is out for Tom Clancy's Rainbow Six Siege today on PlayStation 4, Xbox One, and PC. Dubbed "Operation Black Ice," the arctic themed pack introduces a new map set on a yacht, two Canadian JTF2 operators, new weapon skins, and the Spectator Camera feature for all platforms in custom games.
The JTF2 is Canada's highly secretive Tier One special operations unit. Though now officially serving as part of the Canadian Special Operations Forces Command, the group was rarely acknowledged by the government for most of its life. Two parka clad JTF2 members will be joining the Tom Clancy's Rainbow Six Siege roster. Buck is a Quebecois assaulter wielding an underbarrel shotgun as his special ability. Frost has a leg trap ironically named welcome mat to trap unsuspecting foes in its grasp.
Season Pass holders will unlock the JTF2 operators right away. Non-season pass owners will have to pony up 25,000 Renown for each operation starting February 9th.