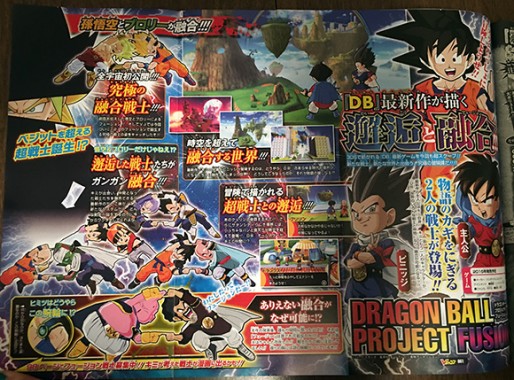 Dragon Ball Project Fusion for the Nintendo 3DS was a huge shock to fans when it was announced last month with it's core cool feature being that characters can basically fuse with whoever they want. A few examples in the latest scan include Saiyan Saga era Vegeta with Future Trunks, Yamcha and Tien (who we have seen before as Tiencha in Dragon Ball Z Budokai 2), Krillin and Piccolo, Videl and Pan from GT and perhaps the strangest one of them all, Majin Buu and Mr Satan…
For you hardcore fans questioning how characters of completely different body types and power levels are able to fuse using the Fusion Dance, the game circumnavigates that fact by introducing these armbands which you can see above and are said to allow any fusion to be possible. They seem to bear the Capsule Corp. insignia so it will be interesting to see how these bands factor into the main story.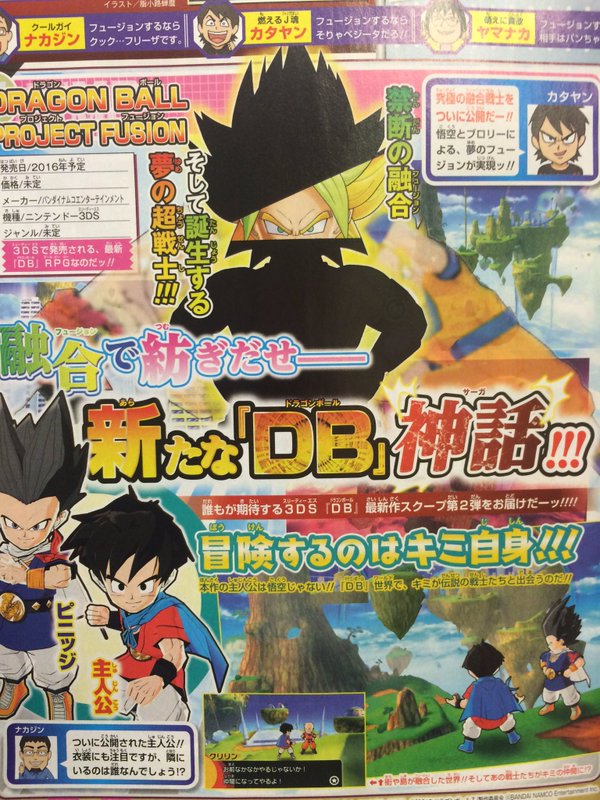 Apart from all the new fusion characters, two new original characters are being introduced can be seen on the scan above in the bottom left corner. Players take the role as the main character (wearing the red with the blue cape, you will most likely be able to name him yourself as he is only given the name of 'hero/protagonist') and travel around the world with new character Pinijji (pictured in the blue with the large hair). The world you travel is also strangely fused together with mixes of locations and times from all over the series, as is the trend in recent Dragon Ball games. The scan mentions you recruit characters into your party which can then be fused together. The main character and Pinijji can also fuse together.
A small glimpse at the Broly and Goku fusion shown last month is also shown. An accompanying promotional manga is being created for the game and will start being shown in the magazine Saikyo Jump starting in May. The game is set for a 2016 release in Japan, probably around October. Unfortunately no world wide release has been mentioned yet but I really hope this one makes it over here as it's one of the most interesting premises for a Dragon Ball game in a long time. Let us know who you want to see fused together in the comments below!