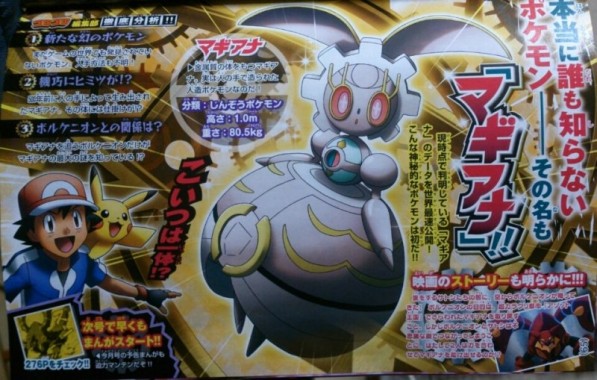 Once again popular Japanese magazine CoroCoro has been leaked and this time it has revealed something of huge interest to Pokemon fans. A brand new Pokemon named Magearna has been revealed and it is not in any previous game's Pokedex or hidden data. While it is possible Magearna could feature in the highly rumoured "Pokemon Z", which would serve as the third game to Nintendo's Pokemon X & Y, I would be more inclined to say it indicates a possible new generation of games and new Pokemon as the third version of a game has featured new forms before but never a brand new species of Pokemon.
We do have a few small details on Magearna, mostly regarding it's back story. Its classification is the Artificial Pokemon and it was said to be created 500 years ago. It will be featured in the upcoming Pokemon movie which stars the yet to be released Pokemon Volcanion, the movies official title is Volcanion and the Ingenious Magiana. Based on that and it's image it would seem Magearna will definitely be a Steel type, but it may have a secondary typing as well. It's official height is 1 metre and weight is 80.5 kgs.
For ongoing coverage of all things Pokemon and possible new games in the series keep checking back with Capsule Computers.