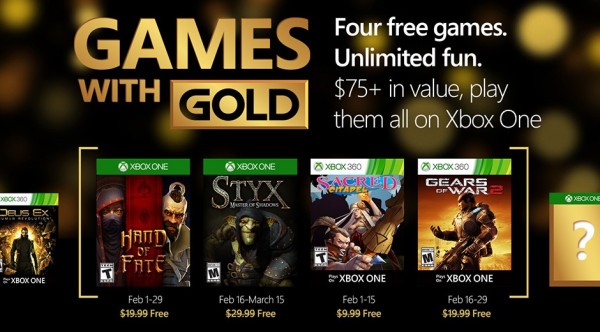 January is almost over, which means some big releases are just around the corner. This week's Xbox Newsbeat brings us new Games for Gold titles, the Tom Clancy's The Division beta, Rise of the Tomb Raider on PC, and more.
---
February's Games with Gold are Here!
This month's four free games for Xbox Live Gold members is a pretty varied bunch. Action RPG Hand of Fate will be available on Xbox One all month. Old-school stealth game Styx: Master of Shadows will be available on Xbox One from February 16 to March 15. Side-scrolling brawler Sacred Citadel for Xbox 360 will be free from February 1 to 15. Finally, classic FPS Gears of War 2 will be free from February 16 to 29.
---
Battling Through The Division's Apocalyptic Winter Wonderland
The Xbox One beta for Tom Clancy's The Division started a day early for Xbox One owners. Now into its second day, the open beta gives players a bite sized look at Ubisoft's upcoming sandbox shooter. The team at Xbox Wire released a write up on their initial experience with the open beta, check it out at Xbox Wire.
---
Insomniac Games Announces Song of the Deep for Xbox One
From the minds of Insomniac Games (Ratchet & Clank) comes a new Metroidvania style game inspired by Chief Creative Officer Brian Hastings' daughter. Hastings shared his inspiration with Xbox Wire and his desire to change how gamers think about heroines. The game is set underwater as Merryn tries to find her missing father. The game launches in summer 2016.
---
Rise of the Tomb Raider Debuts on Windows 10 Today
The Xbox One timed exclusivity period is finally over. Rise of the Tomb Raider is available for Windows on Steam and the Windows store. The game is 10% off at both stores, though the Windows Store is also throwing in a free Remnant Resistance Pack for those who purchase the game before February 3rd, 2016.
---
Race to the Finish Line with the Alpinestars Car Pack for Forza Motorsport 6
Forza Motorsport 6 is partnering with protective gear manufacturer and fashion brand Alpinestars to release the following seven cars ahead of the Rolex 24 Hours of Daytona race:
2015 Ford #02 Chip Ganassi Racing Riley Mk XXVI Daytona Prototype
1990 Mercury #15 Whistler Radar Cougar XR-7
1967 Sunbeam Tiger
2005 Pontiac Aztek
1992 Alfa Romeo Milano Quadrifoglio Verde
1974 Toyota Corolla SR5
1996 Subaru SVX
---
Halo World Championships – Qualifier #4 Wrap-Up
The final qualifier for the HaloWC ANZ Regional Finals ended this week. Though both Prime and Team Exile5 failed to qualify in the previous three tournaments, both teams bounced back from their previous losses. Prime completely dominated the tournament with a flawless performance during Qualifier #4. Team Exile5 came close to matching Prime's performance, but lost their momentum during the finals.
The HaloWC ANZ Regional Finals will run on February 7th at the Australian Technology Park in Eveleigh, Sydney.