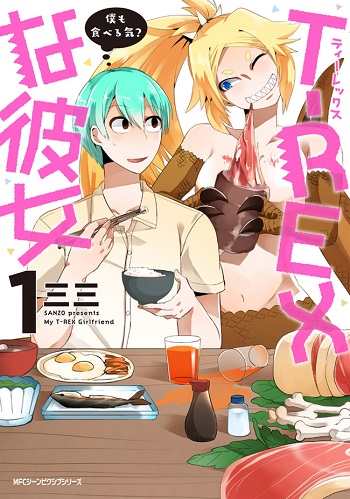 It appears that Seven Seas Entertainment is taking very kindly to the rising popularity of monster girls and unique manga series coming out of Japan as they have announced, as part of their recent licensing spree, that they have acquired the license to release the manga series My Girlfriend is a T-Rex in North America.
Created by Sanzo a little over a year ago, My Girlfriend is a T-Rex so far has been given one total volume but is still being produced in Japan. The first volume of My Girlfriend is a T-Rex will be released in North America on November 1, 2016 where it will be priced at $12.99.
While the story may be explained by the title alone, the My Girlfriend is a T-Rex manga takes place in a world where dinosaurs evolved to have more human-like features allowing them to live side-by-side with humans. While many of them have blended in well, there are still a few that are rather "cretaceous."
The story follows Yuuma Asahikawa who encounters a Tyrannosaurus Rex named Churio and begins to date her. However with her ferocious appetite, vicious claws, and razor sharp teeth it will be quite a challenge for Yuuma to survive this relationship.