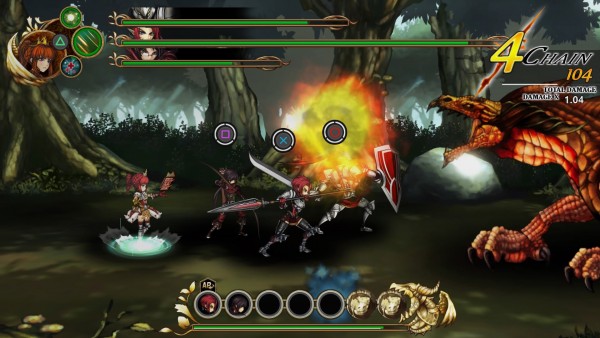 Acttil has announced that they are working with developer YummyYummyTummy and Mintsphere to bring Fallen Legion, a side-scrolling RPG to the PlayStation 4 in summer 2016. Fallen Legion will be released as a digital download for a currently unannounced price. The story begins with Princess Cecile standing on a battlefield with her army supporting her.
With an army of beasts approaching she has been given a special Grimoire by her recently passed father that allows her to breathe life into weaponry. You can check out a few screenshots as well as a teaser trailer below and those looking for more info on the story can check out the outline from the official website below:
For ages, Fenumia has ruled over the vast continent,
and now the crown has been passed down to the princess.

Among the artifacts of the recently departed king lies a sentient book that
holds timeless knowledge and an extraordinary power to breathe life into weaponry.

Guided by this mysterious tome,
the unwavering Princess Cecille journeys on a personal quest
to restore her kingdom to its former glory.

As she travels beyond the castle borders,
however, she finds nothing is truly as it seems.

How far will she go to save her home…?