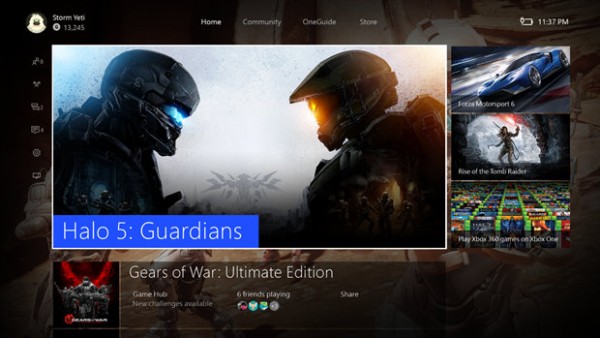 This week's Xbox Newsbeat focuses on the two big releases of the week: the New Xbox One Experience and Rise of the Tomb Raider.
---
Your New Xbox One Experience Begins Today
The new Windows 10 oriented Xbox One Experience launches today. It is probably bringing the biggest shake up to the Xbox Experience since the launch of the original Xbox. The full change log is as follows:
Xbox One Backward Compatibility. You'll be able to play over a hundred Xbox 360 games on Xbox One starting today, with hundreds more to come. Xbox 360 game play on your Xbox One includes the added benefits of Xbox One features such as screenshots, in-home streaming, and Game DVR. You can even enjoy multiplayer with friends playing Backward Compatible titles on Xbox 360. To start playing your Xbox 360 games on Xbox One after 12pm PST today, refresh your Game Collection to see your pre-purchased, digital Xbox 360 titles from the Backward Compatible title list in your ready to install queue or simply insert the disc for a supported Xbox 360 title and download the game to start playing it on Xbox One. In addition, for a limited time, all Xbox One owners can play backward compatible games on Xbox One with the multiplayer benefits normally available only with an Xbox Live Gold subscription. Take a look at the list of backward compatible games available now, and get started playing today.

A new Xbox One Home makes it faster and easier to get to the things you love. We redesigned Home to provide fast access to the games and apps that you've recently used. The new Home also enables you to get to social activities quicker:

Share your achievements and game clips with the Xbox Live community.
See whether your friends are playing the same games.
Access Game Hubs to get breaking news and updates from game developers and the Xbox Live community.

A new guide lets you rapidly access top tasks with just one button press. You can bring up the guide from Home by tapping left with the D-pad or left thumbstick. Or, while playing a game, you can double tap the Xbox button on your controller to instantly overlay the guide – without interrupting your gameplay. You can access your Profile, Friends, and Settings; quickly start a Party; view your Messages and Notifications; and Snap an application all from the new guide, saving you valuable time weaving in and out of apps.

A new Community section makes Xbox One more social. This section is designed to help you keep up with what other gamers are doing on Xbox Live as well as jump directly into the conversation yourself. Check out what your friends are up to and keep track of the games you follow in the redesigned Activity Feed. The new Trending section lets you view the most popular posts from other players on Xbox Live.

The revamped OneGuide is your single destination for TV, movies and video. Find the most exciting new movies, TV shows and videos from across apps on Xbox One. App channels help you discover what's new in your favourite apps, making it easier to find entertainment content. TV listings are viewable instantly in OneGuide – including listings from over-the-air channels and, coming soon, Sling TV. Picture-in-picture allows you to keep browsing for other things to watch without missing what's happening on live TV.

A new Store makes it easier to find the content you want. The new and improved Store includes four easy to explore areas – Games, Movies & TV, Apps, and Music – plus a new vertical gallery view to reveal more listings at a glance. You can browse through intuitive categories like Staff Picks, New Releases, Top played, Top rated, Coming Soon and Recommendations to uncover new games, apps, and entertainment for your Xbox One.

We have made a tremendous number of other improvements. Here are some to check out:

Xbox One Avatars. We know that our fans love Avatars on Xbox 360 and so we've brought them to Xbox One but with some critical, visual fidelity upgrades including anti-aliasing, lighting, and shading improvements. The end result is a modern take on a longstanding favourite.
Game Hubs. We redesigned Game Hubs from the ground up to bring everything you want to know about a game into one place. Follow your favourite games to keep up to date on the latest news and social media. The new Game Hubs are always literally at your fingertips: with one button press, access the Game Hub for each game in your recently played games list.
Remap buttons on any controller. The new Xbox Accessories app lets you reassign buttons on any Xbox One Wireless Controller. You can now customize your button mapping, invert thumbsticks, swap triggers, and more to create the best personalized experience
New ways to navigate and interact with Xbox One, including:

o    Narrator: screen reader that reads aloud in-focus text on the screen

o    Magnifier: allows you to zoom in and out and pan, providing an enlarged view of elements on your screen

o    High contrast: adjusts colour and transparency settings
---
Introducing Your First 104 Xbox One Backward Compatible Games
The much requested feature is finally leaving beta testing. Xbox One Backward Compatibility is the crown jewel in the New Xbox One Experience and seeks to eventually make every single Xbox 360 game run on Xbox One. Microsoft is starting small by releasing an initial batch of 104 games. Titles range from indie Xbox Arcade titles to triple A games like Halo Reach. The full list can be found at the new Xbox One Backward Compatibility page.
Microsoft is kicking off the new feature with a bang by bundling many new Xbox One games with Xbox 360 titles. New releases like Gears of War: Ultimate Edition, Fallout 4, Tom Clancy's Rainbow Six Siege, and Just Cause 3 will all come with free Xbox 360 digital downloads.
---
Rise of the Tomb Raider Offers More Ways to Play
Rise of the Tomb Raider is this week's big release in a very busy pre-holiday season. The game is an Xbox One timed exclusive, with other platforms not seeing a release until 2016. Our very own Travis Bruno is a huge fan of the game, giving the game 9.5 Capsules out of 10 in his review. A new Xbox Newsire blog post covers the three new gameplay elements that help draw the game's focus away from gunplay: stealth, crafting, and, of course, tomb raiding.
---
Cosplayer Scales World's Highest Bungee Jump for Rise of The Tomb Raider Launch
While it's not a Guiness World Record breaking event like like Halo 5: Guardian's launch celebrations, Rise of the Tomb Raider was kicked off by veteran cosplayer Jenn Croft leaping off the world's highest commercial bungee jump off the Macau Tower. Croft was dressed up in a Rise of the Tomb Raider Lara Croft costume that she made herself for the event, which was live streamed across Asia.
"Lara Croft is one of the most popular video game characters among female cosplayers, as well as the general cosplay community. She is a great inspiration for people to step out of their comfort zone, take a risk and achieve their goals. This jump is dedicated to all the passionate Lara Croft and Tomb Raider fans from Asia, as well as the rest of the world. I hope everyone will have as much fun playing Rise of the Tomb Raider as I did flying in mid-air," said Jenn Croft.