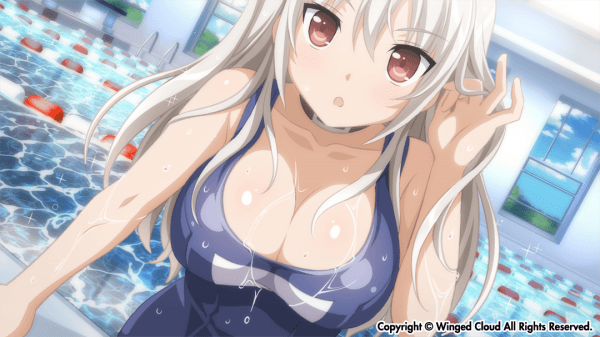 It comes as something of a welcome surprise that MangaGamer has announced their partnership with the English visual novel developers Winged Cloud. Winged Cloud is behind the popular Sakura series that has been appearing on Steam and by partnering with MangaGamer their titles will not only be able to be purchased through a separate site, but will also be taking a bit of a naughtier turn.
To kick off the partnership an adult version of Winged Cloud's Sakura Swim Club has been released on MangaGamer. This version which is now Adults Only features a number of sex scenes that were previously not included in the original release. Those who wish to download Sakura Swim Club's Adult Version can do so here for a currently discounted price of $7.46.
The company has also announced the development of a new PC game called Sakura Dungeon that follows the tale of a knight and fox girl who must work together to clear a dungeon of monsters as players make use of a combat system featuring various skills, attacks, and plenty of girls to bring into your party. Sakura Dungeon will be given an Adults Only release through MangaGamer while an all-ages version will be available through Steam sometime in early 2016.
As for a little something for everyone, it has been announced that an all-ages game called Sakura Santa will be released in December, both through MangaGamer and Steam, and will focus primarily on holiday romances. Those who wish to pre-order Sakura Santa can currently do so at a discounted price of $8.45 through MangaGamer.