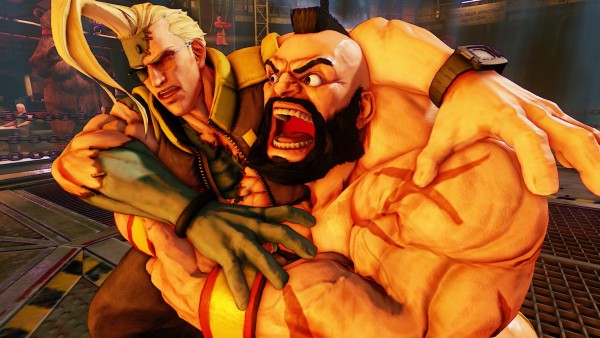 Capcom has had a few surprising announcements regarding the Street Fighter V character roster but for the most part it has been incredibly predictable and today's announcement is no different. During a showing at the IgroMir event in Russia today the company announced that the "Red Cyclone" Zangief, who has been a mainstay in the series since his debut in Street Fighter II, will be in Street Fighter V.
You can check out some of Zangief's debut screenshots and gameplay footage below as well as some details regarding his new "Iron Muscle" V-Skill and special abilities. As for the game itself, Street Fighter V is set to be released in Spring 2016 for the PlayStation 4 and PC.
V-Skill: Iron Muscle

Zangief shows the true power of his body when he activates Iron Muscle. During Iron Muscle, Zangief can absorb one attack, which leaves him with recoverable health.

If players hold down medium punch and medium kick and then press a direction on the stick, Zangief will begin to slowly close in on the opponent. Upon release from the walk, Zangief flexes his muscles and hits the opponent if close enough.

V-Trigger: Cyclone Lariat

Zangief lives up to his name "the Iron Cyclone" as he spins with high speed and velocity, pulling the opponent in close. If the player taps the V-Trigger activation buttons, Zangief will quickly spin and pull in the opponent. If the player holds the V-Trigger activation buttons, Zangief will continue to spin and hit the opponent multiple times.