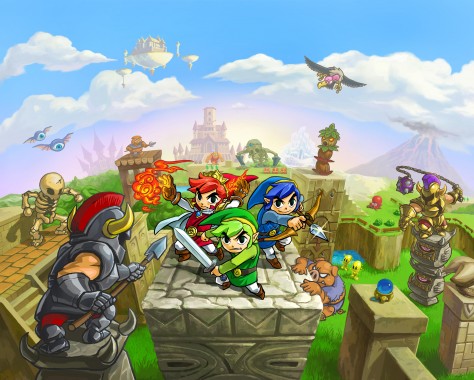 The Legend of Zelda: Tri Force Heroes is launching on the Nintendo 3DS on October 24 and as they usually do Nintendo have released a tidy overview trailer showing their fans all the cool things they can do in the game. Similar to Four Swords Adventure, this game has a huge teamwork aspect to it and will require players (or player if you prefer to work alone) to make use of Link and his two clones as you solve the many puzzles across the games world, collect new items and outfits and make your way through many dungeons to the end of this newest Zelda adventure.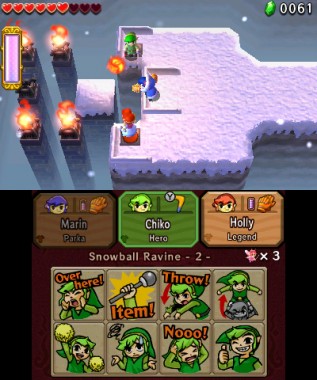 Presented in the same top-down style as the well received The Legend of Zelda: A Link Between Worlds, players will try to rescue the vain and fashion obsessed Kingdom of Hytopia, where an evil witch has placed a mysterious curse upon Princess Styla, making her appear bland and casting the realm into disarray. Players can work with two similarly heroic friends via online or local multiplayer, and cooperatively solve puzzles across the games many varied locations. In a more open minded move from Nintendo, inline play will allow you to play with randoms, communicating via predetermined messages and facial expressions. Teamwork will be crucial here, especially getting into the habit of forming a totem with the 3 Links which will allow you to reach new locations.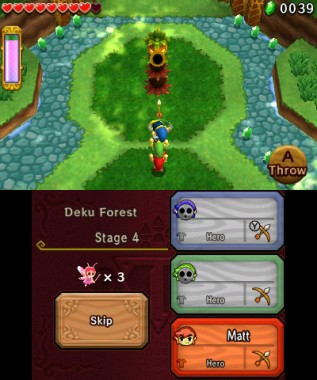 For those lone wolves out there,  you will be equipped with a pair of replica Link figures called "doppels" that come to life on command, allowing you to control each one in turn. However, with Download Play functionality, players can always link up with two other Nintendo 3DS system-owning friends to take on the action, even if they don't have a copy of the game.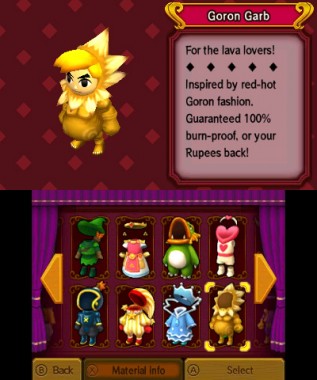 To fit the fashion-focused world of Hytopia, collecting in-game materials lets you order stylish outfits at Madame Couture's shop for Link to wear, with each one giving special abilities such as the "Goron Garb" outfit that allows you to swim in lava or a "Zora Costume" that lets you swim with greater speed. There are 36 unique outfits to acquire all with different looks and abilities, and you will need a fair few of them to tackle the games 32 stages to the best of your abilities.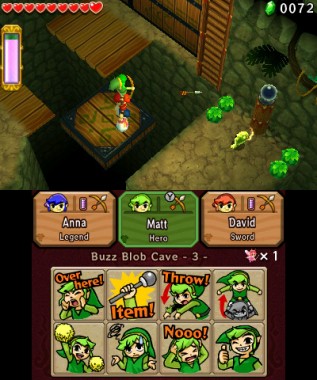 And of course as with all Nintendo games there is some cool Miiverse functionality. Players can receive a camera from the Photo Bro character managing the in-game Miiverse Gallery and snap away whilst out exploring the wilds of the Drablands. Players can then post these photos to Miiverse which will unlock Miiverse stamps of each outfit you can unlock in the game.
To see everything mentioned above in action be sure to check out the trailer below. The Legend of Zelda: Tri Force Heroes comes out exclusively for the Nintendo 3DS on October 24.