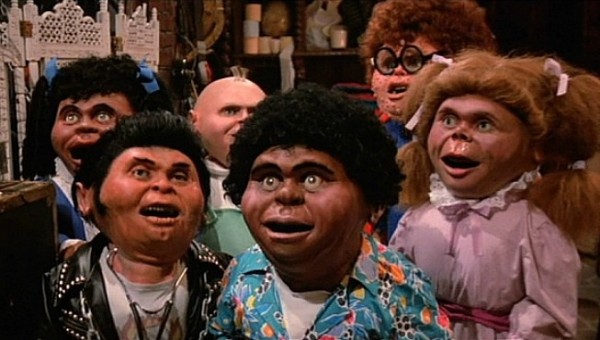 I remember when I was little I saw a random cover for a movie with kids in it. I remember renting it, and watching the little toy-like specimens snotting all over the place and for some reason sewing clothes (I might be wrong on that, but this is what I recall)? I also remember I loved every second of it. Maybe age has changed my opinion of The Garbage Pail Kids, but this is still a great gem to own on Blu-ray. Scream Factory (or SHOUT!, if you will) are releasing a collector's edition of the classic, with a good lot of special features that are as follows:
Special Features:
NEW The Effects of the Garbage Pail Kids Movie – interviews with special makeup effects creator John Carl Buechler and makeup effects artist Gino Crognale
NEW On the Set – an interview with first assistant director Thomas A. Irvine
NEW The Artful Dodger – an interview with actor Mackenzie Astin
NEW The Kids Aren't All Right – interviews with Garbage Pail Kids actors Arturo Gil (Windy Winston) and Kevin Thompson (Ali Gator)
Theatrical Trailer
It looks fantastic and the timing is great with the nostalgia wave in full force. You can pre-order from this little link (or Amazon – if you prefer) and enjoy a great but not-so-great to watch with popcorn flick on December 8th.