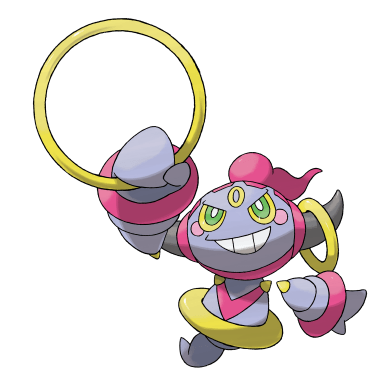 Ever since Pokemon X & Y were data mined way back in the day we knew of three event Pokemon, Diancie, Hoopa and Volcanion. While Diancie has since been released as an event and Volcanion has still yet to be mentioned in any official capacity, it seems players outside of Japan will now be able to get their hands on the mythical Pokemon Hoopa through means of a physical event.
Hoopa will be available across the UK in GAME stores between October 23rd and November 5th. Players will be able to receive a code which they can then put into the Mystery Gift option to claim their new event Hoopa from any Pokemon Center. While other methods for picking up Hoopa in other countries are still yet known, it is confirmed Hoopa will be available in North America and most likely in many other countries in the coming months.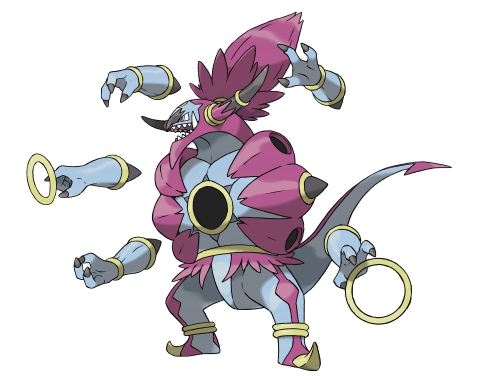 Hoopa can be downloaded into the 3DS games Pokemon Omega Ruby and Pokemon Alpha Sapphire as well as Pokemon X and Pokemon Y, but  it can only transform into it's Unbound form in Omega Ruby and Alpha Sapphire. To transform Hoopa in those games, simply receive the Prison Bottle by having Hoopa in your party and enter any Poke Mart.  Talk to the new clerk who is not normally there and he will give you the Prison Bottle. You can then use the Prison Bottle like any other Key Item, which will transform Hoopa into it's Unbound Form for 72 hours.
In it's normal, Confined Form, Hoopa is a Psychic/Ghost type with the Magician ability, which allows it to steal it's opponents hold item if it doesn't have a held item itself and the item can be stolen (unfortunately Mega Stones can't be stolen which would make for a great strategy.) It retains this ability in it's Unbound Form however turn's into a Psychic/Dark type along with a significant attack boost and smaller boosts in special attack and speed.
---
UPDATE: Hoopa will be available in Austraila and New Zealand from January 18 through January 29 via a special code distribution at select retailers in Australia and New Zealand. These include EB Games, JB Hi-Fi and Big W. No purchase is necessary to claim a code.