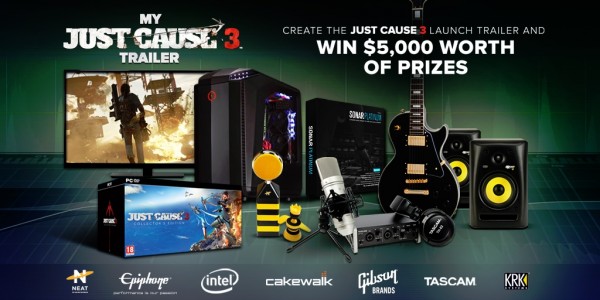 So, you wanna see a trailer? Well – not in this article. That is because Avalanche and Square Enix want you to make the next trailer of Just Cause 3, with the winner of the best getting a package valued at over $5000 (USD). That is huge! So here are the details for those of you ready to make the jump:
The trailer will be judged across three categories: Best Action, Best Use of Audio and Best Humor. From these categories, one Best Overall Winner will be chosen for the grand prize and their video will become the official JUST CAUSE 3 Launch Trailer.

"Just Cause 3 is a game designed with streamers and content creators in mind; a true sandbox built to be explored and played creatively. To that end, it felt right to offer our fans – who've posted over 4 million Just Cause 2 trailers to YouTube since launch – the opportunity to create our launch trailer" commented Jon Brooke VP Brand & European Marketing, Square Enix. "It takes a leap of faith to invite your fans to make something as important as your launch trailer, but we're really excited to see what they come up with."

Contestants may use the video footage in the online Creative Kit provided or shoot something entirely new to enter. Licensed music from Razihel is also provided as a full track or music stems to remix. Participants who don't have audio editing software can download a fully functional copy of Cakewalk's SONAR Steam Edition to make cutting edge tracks for their trailer.

A panel made up of experts from Square Enix and Avalanche Studios will decide on the best entries in each category, who will win prizes featuring the latest 6th generation Intel® Core™ processor, Neat Microphones, KRK Monitors, Cakewalk, TASCAM and Epiphone.

The grand $5000 USD prize includes an all new 6th generation Intel® Core™ i7 processor-based gaming rig.

For more information – or to submit your entry – head to: MyTrailer.JustCause.com. The entry deadline is 12th November, 23:59 GMT*.
So its a neat contest to unleash your creativity. Just Cause 3 launches in December (and looks great) and you can start thinking up your trailer before the November 12th deadline.